Are you looking for the best places to visit in Texas? So, get ready for some long road journeys because Texas is massive.
There are many wonderful places to visit in Texas, and we've listed some of them by region to help you get around and enjoy your time in the Lone Star State.
1. Austin
Austin is Texas' capital since 1846, and the University of Texas started there in 1883. It used to be a quiet college town and a place for politics until the 1980s, when more businesses and people moved in because of new technology. It's famous for its live music history, with lots of musicians performing all around the city.
When you're there, check out the cool stores along South Congress Avenue, like Allens Boots, which has been selling Western clothes since 1977. Across the street, you can grab a drink at the South Congress Hotel before heading to the famous Continental Club for live music.
2. Texas Hill Country
If you're in Austin or San Antonio, a short trip to Texas Hill Country is perfect. It's a cool place for both beer lovers and wine fans. You can tour Altstadt Brewery for German-style beer or visit William Chris Vineyard in Hye to enjoy some time around the grapevines.
Southold Farm and Cellar is another good vineyard around here. But if you're not into alcohol, stop by any of the peach stands along Highway 290 for a yummy summer treat. If you're up for some outdoor fun, check out the awesome views at Enchanted Rock or catch the bats flying out of an old tunnel at Old Tunnel State Park.
3. San Antonio
San Antonio is a big city in Texas known for the famous Alamo and the River Walk. The Alamo is a symbol of Texas history from the 1800s.
The city has other historic places like the King William Historic Area and the Institute of Texas Cultures with lots of old things.
If history isn't your thing, you can enjoy the beautiful River Walk along the San Antonio River. There are shops and cafes to explore, and the city has great Tex-Mex and barbecue food at fancy restaurants.
4. Houston
Houston has a bit of everything: history, fun, science, and great food spots. It's known as the heart of Texas. You can visit the Space Center, go shopping in the fancy Galleria Area, and see cool art in different galleries.
In downtown, there's a tunnel system and an observatory at Chase Tower you might like. If you're with kids, there are lots of places they'll enjoy, like the zoo, children's museum, and Buffalo Bayou Park.
5. Dallas
Dallas is like the heart of art in Texas. They have this Museum of Art that's been around for over 100 years and has over 22,000 pieces of art.
The museum isn't just about art. They do lots of cool things like shows, talks, and concerts, and tons of people visit – around 650,000 every year.
In Dallas, there's this really old painting from the 1700s by a person named Jean-Baptiste Marie Pierre. The Arts District is famous for its cool buildings, and if you love shopping, Dallas has a bunch of stores to explore.
6. Amarillo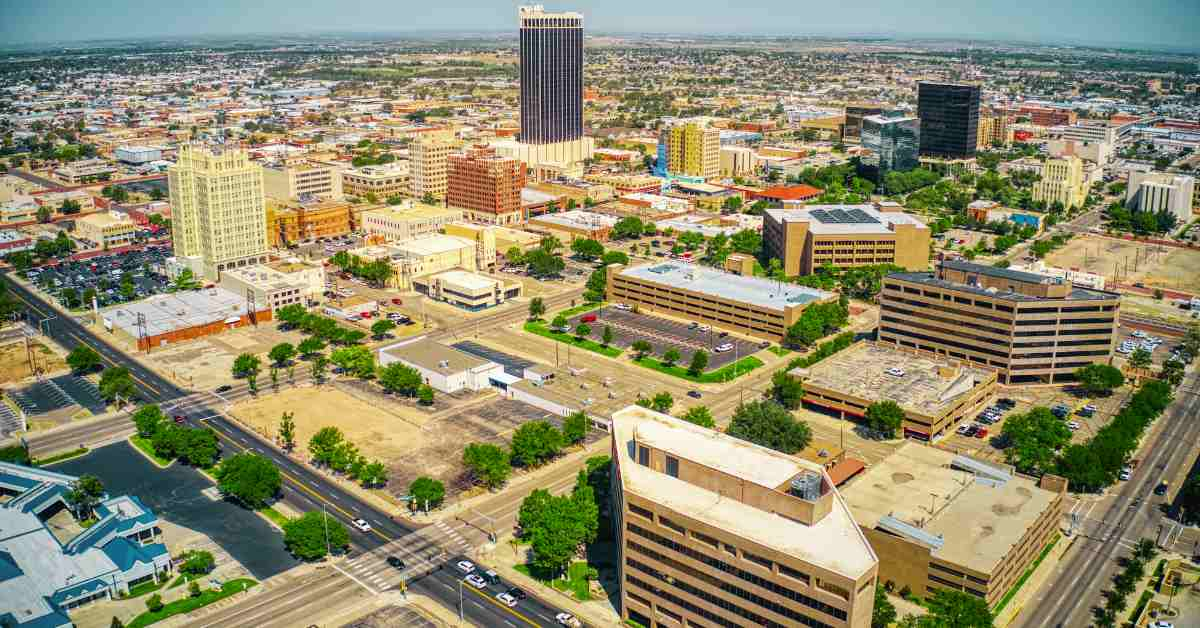 Amarillo is a spot in Texas where you can really feel the Texas vibe. You can try this famous huge 72-ounce steak at the Big Texan Steak Ranch and hang out with cowboys at the Amarillo Livestock Auction, close to the old Route 66.
If you love nature, check out the cool rocks at Palo Duro Canyon State Park or visit the Amarillo Botanical Gardens to see some really unique plants. And if you're into art, there's the Panhandle-Plains Historical Museum where you can see old Western-style art.
7. New Braunfels
New Braunfels is an old town from the 1800s in Texas. It was settled by Germans and is famous for being close to the Guadalupe and Comal rivers. People love it there for swimming, fishing, and kayaking.
If water activities aren't your thing, you can go to Gruene Hall, which is really popular. They have country music concerts and other performances at night. And if you like adventures, you can explore limestone caves at Natural Bridge Caverns.