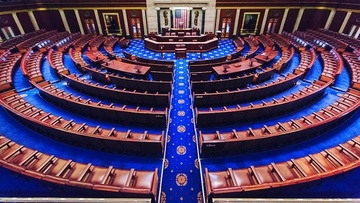 US Reps Pass Bill to Help Combat Global Islamophobia
The U.S. House of Representatives on Tuesday, passed a bill seeking to combat "worldwide" Islamophobia In a final vote of 219-212 along party lines.
The bill which heads to Senate, requires the U.S. State Department to create a Special Envoy for monitoring and combating Islamophobia and include state-sponsored Islamophobic violence and impunity in the Department's annual human rights reports.
It says the Special Envoy will "help policymakers better understand the interconnected, global problem of anti-Muslim bigotry." It will also establish a "comprehensive strategy for establishing U.S. leadership in combatting Islamophobia worldwide."
There was a skirmish during the floor debate when  GOP Rep. Scott Perry, of Pennsylvania, referred to Democratic Rep. Ilhan Omar, the lead author of the bill, as anti-Semitic and suggested without evidence that she has links to terrorist organizations. Furious Democrats gasped at the comment in the chamber and asked that the comment should be struck off record.
Read More: US Government Deficit is $356.4 Billion, a Decrease of 17% From Last Year
"Let's face it: Aside from the attempts to placate an anti-Semitic member of this chamber, all that's really happening here is that House Democrats are deflecting from the real issue confronting the House of Representatives, and that is that the maker of this bill has no business sitting on House committees has no business in this chamber," Perry said of Omar.
"American taxpayers shouldn't be forced to pay terrorist organizations, organizations that the maker of this bill is affiliated with, like the one that's an unindicted co-conspirator in the largest terror-financed case in the United States of America's history," Perry said.
Perry also said that by not defining Islamophobia, the term would be made up based on an individual's "political proclivities."
"And by intentionally leaving the definition blank in this bill, the gentlelady and my friends on the other side of the aisle are creating an office in our State Department that will likely spew anti-Semitic hatred and attack Western ideas throughout the world under the farce of protecting Islam," he said.
Democratic Rep. Debbie Dingell, of Michigan, was heard saying: "He (Perry) called her a terrorist! … We can't let this go."
The House parliamentarian later found that Perry made inappropriate remarks that were "not in order" with House rules.