A few hours in, in the year 2022, and President Joe Biden faces the prospect of entering his second year in office with a persistently low approval rating and an assortment of severe national challenges that might further erode his popularity.
Although Biden received widespread support during the first two months of his administration, his approval ratings have dipped significantly since August 30, according to a study by polling firm FiveThirtyEight.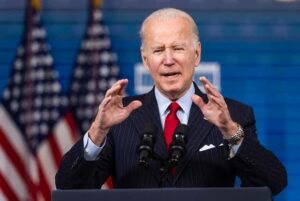 As a result, the president's approval rating has been stagnant in recent weeks, and he faces a challenging new year filled with unresolved concerns, such as Democratic efforts to enact the $1.75 trillion Build Back Better Act, which is a crucial component of Vice President Biden's legislative agenda.
This website follows the president's approval rating by evaluating a wide range of polls and also has its own pollster rating system that is available to the public. Biden had a 43.4 percent approval rating as of December 30th, according to the poll.
Biden's disapproval, on the other hand, received 51.6 percent of the vote. The situation has remained relatively stable since August 30th, the day before the final withdrawal of American soldiers from Afghanistan.
Must check: New Stimulus Checks Are Arriving This Month. Who Will Get The Financial Aid?
Since the beginning of September 2021, there has been an increase in public dissatisfaction with the president.
Though the president's approval rating appeared to be increasing in mid-December, reaching a high of 43.9 percent on December 19, it has since plummeted, and it is possible that Biden will have a difficult time recovering his lost ground heading into January.
Biden will be looking for a number of victories in 2022 that will help him improve his political status, including a halt to the current pandemic and passage of the Build Back Better infrastructure and social spending plan.
Senator Joe Manchin (D-WV) is critical to the passage of that measure in the Senate, which is evenly divided. However, hopes that he may be persuaded to support the legislation before Christmas were dashed.
In addition, the United States is dealing with an outbreak of the Omicron variant of COVID-19, with the possibility of many more infections in January. Meanwhile, the Centers for Disease Control and Prevention (CDC) has come under fire for recent recommendations on self-isolation for asymptomatic cases and the use of masks for children.
Additionally, in 2022, Democrats will be forced to fight midterm elections against Republican candidates who are seeking to seize power over both the House of Representatives and the Senate, potentially sabotaging Biden's plan.
Midterm elections are frequently viewed as a referendum on the president in office, and it appears that is how the Republican Party will frame the 2022 election.
When it comes to midterm elections, the president's party typically performs poorly, and Biden's personal approval rating does not appear to bode well for Democrats, while the economy remains a major issue.
Many Americans are still pessimistic about the economy, despite the fact that inflation reached a nearly 40-year high in November. However, there have been some good economic developments under Biden, notably the reduction of unemployment to 4.2 percent.
In spite of the fact that Biden is starting his presidency in 2022 with a low approval rating, the president may take some heart in the fact that he is more popular than former President Donald Trump was at the time of his administration.
According to FiveThirtyEight's study, Trump had a 37.7 percent popularity rating on December 30, 2017, while his disapproval rating was 56.2 percent at the time.