As we are in 2022, it has been around two years since the coronavirus first appeared in the United States. As the number of reported cases rises once again across the country, more safety precautions are being put in place to protect people.
Just as it appeared that certain aspects of the epidemic were coming to an end, several businesses are now reinstituting mask measures to combat the disease.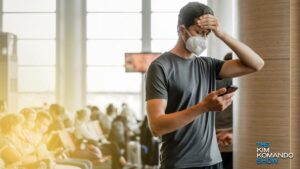 It is true that covering one's face can help to contain the spread – but some masks are better than others. If you want to survive the next wave of the pandemic, cloth masks may not be sufficient protection.
Because of the highly contagious Omicron type of COVID-19 that is currently ravaging the country, medical professionals believe it is time to replace your face mask.
The reasons why medical professionals believe N95 masks are the best
You may recall that N95 respirators were difficult to come by during the early stages of the pandemic. As long as you get your hands on the genuine article, this is no longer an issue.
Before approving N95 respirators for use, the National Institute for Occupational Safety and Health (NIOSH) conducts a thorough inspection of the devices. The NIOSH is a division of the Centers for Disease Control and Prevention, therefore these are severe processes designed to safeguard your safety.
Airborne particles are prevented from entering your body through your nose or mouth because of the several layers of melt-blown cloth and non-woven fabric used to construct these masks.
Respirators with the N95 classification used to be reserved for medical and construction experts, but they are now more commonly available. They are available without the need for you to visit any professional medical suppliers.
This is excellent news. On Amazon, you can acquire a large pack for less than $50.
The KN95 is the most generally available choice that still passes certification requirements, and it is also the most affordable. However, regardless of whether of these options you choose or any other, make sure you complete your research.
According to the Centers for Disease Control and Prevention, around 60% of KN95 respirators in the United States are counterfeit and do not meet NIOSH regulations.
Here are a few key pointers to keep in mind.
If you're still using the cloth mask, you purchased in the spring/summer of 2020, it's a good time to change to something that provides additional protection from the sun.
Must check: How to Avail American Opportunity Tax Credit Up to $2,500?
While research on the Omicron variation of COVID-19 is still ongoing, it has been well established that it is significantly more transmissible than prior forms, such as the delta variant.
Masks come in a variety of shapes and sizes, and there are several different types available. This summary from the Centers for Disease Control and Prevention has a few broad recommendations that you should keep in mind.
Even if you are unable to obtain an N95 mask, the KN95 and KF94 masks can be used as an alternative. Of course, with all of these acronyms and numbers, it may be difficult to distinguish between them.
That's why we created this quick and simple infographic to help you distinguish between them all.
Listed here are some of the most popular mask varieties and what you should know about them.
Cloth
Typically, they are constructed of cotton or linen.
They should be cleaned on a daily basis.
They don't provide the best possible protection.
N95
They're the industry standard in the United States for face masks.
Several layers of melt-blown cloth, as well as non-woven fabric, are used to construct them.
Recommended by medical professionals in the United States.
KN95
They're the equivalent of N95 masks in the Chinese market.
They're distinguished by their snug fit and compact size.
KF94
They're the South Korean equivalent of N95 masks.
KF is an abbreviation for "Korean Filter."
They have a band over the bridge of the nose that can be adjusted to provide a comfortable fit around the face.
In these types of situations, it is wise to seek the advice of qualified professionals. Make sure to stock up on some medical-grade face masks to keep yourself going into 2022.