The following credit cards provide some of the best rewards rates and signup incentives without charging hefty fees this winter. There are a number of options on our list if you're having trouble deciding on a cash-back credit card for your wallet.
Best for Flat-Rate Reward Points: Wells Fargo Active CashSM Card
American Express's Blue Cash Preferred® Card is the best option for earning bonus rewards.
Best for First-Year Rewarding: Discover it® Miles
With rotating categories, the Chase Freedom FlexSM is the best cash back credit card.
Best Credit Card for Fair Credit: Capital One QuicksilverOne Cash Rewards Credit Card
The best credit card for dining and entertainment is the Capital One Savor Cash Rewards Credit Card.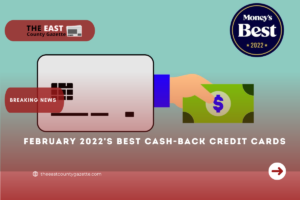 It is possible to obtain the credit card of your dreams by working with a credit restoration company.
Poor credit may make life difficult. Discover what credit restoration may do for your financial situation.
Wells Fargo Active CashSM Card is the best cashback card for flat-rate rewards.
The Wells Fargo Active CashSM Card gives you terrific flat-rate cash back on all purchases, all the time, so you can get the most out of your rewards dollars.
READ ALSO: Two New York Nurses Who Were Arrested Made $1.5 Million in a Phony Vaccine Card Scheme.
Pros:
All purchases can earn you up to 2% back in cash rewards.
Within the first three months of account opening, you'll receive a $200 cash rewards bonus.
Financing for new purchases and qualified balance transfers at 0% intro APR for the first 15 months
There isn't any recurring charge.
Cons:
3% of all international transactions are subject to this fee.
There are no restrictions, categories, or gimmicks with the Wells Fargo Active Cash Card, which offers 2% cashback on every purchase. All purchases are eligible for cashback benefits and there is no cap on how much cash back you will receive.
After spending $1,000 within the first three months after account opening, you'll receive a $200 incentive.
New purchases and balance transfers are also eligible for 15 months of 0% intro APR with a 3% balance transfer charge (or $5, whichever is greater). To qualify for the introductory offer, balance transfers must be conducted within the first 120 days after account opening. Additionally, there is no annual charge on this card.
American Express Blue Cash Preferred® Card is the best cashback credit card for bonus rewards.
This card is the best way to earn up to $350 in cashback on the purchases you make the most.
Pros:
At U.S. supermarkets and on some U.S. streaming subscriptions, you'll get 6% cash back on your purchases.
Unlimited 3% cash back at gas stations and on public transportation in the United States.
Get a $350 welcome bonus after spending $3,000 on purchases within the first six months of your new card's account.
For a period of 12 months, new purchases will have a 0% introductory APR.
Cons:
The first year's $95 annual cost is waived.
There is a yearly cap of $6,000 on the cashback you can earn at U.S. supermarkets at 6%. (then 1 percent ).
With this card, you have a slew of additional cashback possibilities to choose from. As a starting point, you'll receive a staggering 6% cashback every year on up to $6,000 in grocery store purchases made in the United States of America.
You can also get 6% back on some U.S. streaming subscriptions and 3% back on transit and gas. All other purchases will earn you 1% cashback. This provides you the opportunity to earn up to $400 a year in cashback on groceries alone.
Spend $3,000 on the Card within the first six months of membership and get $350 back (received in the form of statement credits). Additionally, you'll get a year of 0% intro APR financing on all new purchases (after that the standard APR applies). You get a lot of value for your $95 annual fee, which is presently waived for the first year of your card's use.
READ ALSO: Illinois Link Card Schedule for February 2022: Supplemental Nutrition Assistance Program (SNAP) Benefits
Best for New Customers: Discover it® Miles
The Discover it Miles Card offers 1.5 miles per dollar spent and miles are worth one penny each towards cashback. After the first year, Discover will match your miles, giving you three miles for every dollar spent, or 3% of your expenditure back in cash.
Pros:
Every dollar you spend earns you 1.5 times the Miles.
During the first year of your account, you can earn a rewards match.
Introductory APR of 0% on purchases for 14 months.
Miles can be redeemed for gift cards, cashback, or credit on your next trip.
Customer service is excellent.
There is no yearly fee and no international transaction cost.
Cons:
There are minimal perks for Discover cardholders.
There is no incentive to sign up.
You may use the Discover it Miles Card as a cashback card or a travel rewards card because you can redeem your Miles for either cash back or travel.
First-year: You'll get 1.5x Miles per dollar spent on all purchases, and Discover will match the miles you've earned. With this, you get 3% back on all purchases made in your first year of membership.
For the first 14 months, new cards will enjoy a 0% intro APR on purchases and a 10% intro APR on balance transfers (after that the ongoing rate applies).
Among Discover's many distinguishing characteristics are its dedication to outstanding customer service, no penalty interest rates, automatic waivers of late fees, and a lack of annual or foreign transaction fees.
Chase Freedom FlexSM is the best rewards credit card with rotating bonus categories.
In addition to the 5% quarterly incentives, this new version of the popular Chase Freedom Card (which is no longer available) includes valuable permanent bonus categories.
Pros:
After spending $500 during the first three months after account opening, you will receive a $200 incentive. You also get 5% back at gas stations for the first $6,000 you spend in the first year of your account.
When you use Chase Ultimate Rewards to pay for your travel, you'll get 5% cashback at participating merchants, with a quarterly cap of $1,500.
Restaurants and drugstores are eligible for a 3% cash back rebate.
For the first 15 months, purchases made with a new account have an introductory APR of 0%.
Cons:
A 3% foreign transaction fee is imposed.
Costco does not accept this card because it is part of the Mastercard payment network.
For many years, Chase Freedom has been known for its generous 5-percent cash back program, which rewards customers for making purchases from a select group of merchants.
New Freedom Flex also offers 5 percent travel cash back when purchased through Chase Ultimate Rewards, as well as 3 percent cash back on eating at restaurants (including takeout and qualified delivery services), and 3 percent cash back on drugstore purchases. No yearly fee, plus you get 1% cash back on all other transactions.
Fair credit card of choice: QuicksilverOne Cash Rewards Credit Card from Capital One
You don't have to have a flawless credit rating to get cashback on your purchases. With the Capital One QuicksilverOne credit card, consumers with good to fair credit can earn rewards on their everyday transactions.
Pros:
All purchases will earn you 1.5 percent cash back.
Affordability is available to those with average credit scores.
After your first six on-time payments, your account will be reviewed automatically for an increased credit limit.
There are no fees for making transactions in foreign currencies.
Cons:
An annual charge of $39 is required.
Standard APR is quite high.
Cash back on all purchases is possible with the QuicksilverOne card from Capital One. If you're looking for a cash-back card with a reasonable interest rate, go no further than this one. If you have a decent credit score, you should be able to get this card.
If you have good credit, you'll be able to receive cash back on every transaction. The annual cost for this card is $39, but there are no foreign transaction fees with it.
Capital One Savor Cash Rewards Credit Card is the best for dining and entertainment.
Takeout and delivery customers may still get excellent cashback on their dining and entertainment purchases, even if they're only purchasing online.
Pros:
At restaurants, theaters, and some online streaming services, you'll get 4% cash back; at supermarkets, it's 3% cash back.
After spending $3,000 within the first three months of account opening, you will receive a one-time incentive of $300.
Amazon.com or PayPal can be used to redeem incentives.
VIP tickets and five-star meals are just some of the perks available to cardholders.
Cons:
An annual charge of $95 is required.
On most transactions, you'll only get 1% back in cashback.
For food and entertainment (including restaurants, takeout, and delivery), as well as popular streaming services, you may get 4% cashback with the Capital One Savor Rewards Card. Purchases made at a grocery store earn a rebate of 3%, while all other purchases earn a rebate of 1%.
After making a $3,000 purchase with their card within the first three months of their account being opened, new customers can get a $300 cashback bonus. This card comes with a $95 annual charge, however, there are no costs for using it abroad.
PLAN AND PRICES FOR CREDIT REPAIR
Questions and answers concerning credit cards with cashback rewards
Q. Is there an annual fee for cashback credit cards? Many people do not. However, if you're willing to pay an annual fee, you may want to explore a rewards-based credit card. Capital One Savor, for example, has an annual premium for those with poor credit.
Is there a low-interest rate on a cash-back credit card? Standard interest rates on cashback credit cards are often higher than those on similar cards without rewards.
For this reason, if you anticipate carrying a balance, you should opt for a low-interest rate card that does not give rewards. The national average interest rate is roughly 15% APR, but if you have excellent credit, you can expect to get an interest rate that is at or below that.
Q. Do cash back credit cards provide 0% APR introductory financing deals? A. No. As far as I know, there are multiple 0% APR cash back credit cards. New purchases, balance transfers, or a combination of the two may be eligible for these discounts.
Q. How do you go about getting your cashback? Each credit card with a cashback incentive is unique. It's possible to redeem points for statement credits on some cash-back credit cards although it's not possible on others. Many of these incentive programs also let you exchange your points for gift cards, cash, travel, or other goods.
Q. Is good or exceptional credit required for the majority of cashback credit cards? A credit score of 740 or better is usually required to be eligible for the top credit cards. However, there are some credit cards that can be obtained even if you have a credit score of a few hundred dollars.
For those with poor credit, look into the Discover it and Capital One QuicksilverOne cards.
How did we select the finest cash-back credit cards for our customers?
The market was segmented into six major categories in order to determine the top cash back credit cards. After that, we looked at all of the main card issuers' cash back credit cards.
It was determined that each of their cashback credit card offers was investigated and compared to other cashback cards. Not only did we consider the cashback rates, but also the limits on how much you may earn in cashback, the fees you'll pay, and the perks you'll get as a cardholder.