Biden is out of sync with the states when it comes to taxation.
President Joe Biden and Democratic members of Congress have spent the previous year advocating for significant tax increases. They are entirely out of touch with the tax policies of their respective states.
While President Joe Biden is attempting to raise taxes in the face of growing inflation, supply shortages, and higher interest rates, the vast majority of states are lowering their personal and corporate tax rates.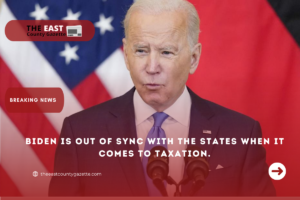 In 2021, 18 states passed tax cuts, with the majority of them lowering corporate or personal taxes – or both — on a state-by-state basis. Individual and small business tax rates in Arizona have been reduced.
State corporate tax rates were decreased in Arkansas, Nebraska, and Oklahoma, while a plan was enacted in North Carolina that would phase out all company taxes. At this point in the year, 19 states have proposed new tax cuts, which include reductions in tax rates as well as decreases in petrol and food taxes in order to combat inflation.
READ ALSO: Reactions to President Joe Biden's Address on Voting Rights in the United States
Governor Kim Reynolds of Iowa has suggested a comprehensive tax reform package that includes a reduction in the state's corporate tax rate by nearly half.
Individual and corporate tax rates are being reduced in Michigan, according to state officials. In Idaho, the governor has just signed into law the state's largest tax decrease in its history, which will take effect immediately.
All of these states are getting it right, and they are doing exactly the opposite of what President Biden and Democrats want. Tax reductions will aid in the fight against inflation by raising production and increasing supply. It will assist businesses in keeping up with international competition and in mitigating the effects of upcoming interest rate increases.
As Democrats prepare for a difficult election cycle in 2022, they would be well to take a look at the best examples provided by a number of states.
READ ALSO: President Joe Biden Urges Student Loan Debtors to 'Play a Role' in Preparing for Payments to Resume on May 1
Over his 22-year career, Bruce Thompson has worked as a Senate staffer, as Assistant Secretary of the Treasury for Legislative Affairs, and as Director of Government Relations at Merrill Lynch.