Maxwell, a progressive activist Alejandro Frost is the first Gen Zer elected to Congress.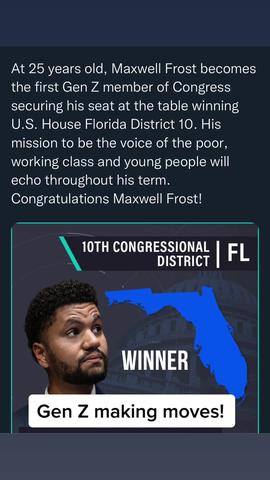 Frost, a former March for Our Lives and ACLU activist, defeated Republican Army veteran Calvin Wimbish in the race to represent Florida's 10th Congressional District, which includes the Orlando area. He received over 58% of the vote, with over 98% of all ballots counted.
When Democrat Val Demings decided to run for Senate against Republican Marco Rubio, the seat became available.
"WE WON!!!! Tonight, made history, "Frost posted on Twitter late Tuesday night. "We made history for Floridians, Generation Z, and anyone who believes we deserve a better future."
Frost, who has the support of prominent progressives such as Senators Bernie Sanders and Elizabeth Warren, as well as the Rev. Jesse Jackson, is barely old enough to serve in the United States House of Representatives. The Constitution allows the youngest age to hold a seat to be twenty-five.
This year's midterm elections will be the first in which members of Generation Z can run for congressional office. The Pew Research Center defines Gen Z as anyone born between 1997 and 2012.