Around three hundred plush animals were given to the Tampa Police Department this year thanks to a donation from Saint Leo University.
No one, especially a young child, can handle a catastrophe without some reassurance. For the second year in a row, Saint Leo University has collected Teddy Bears for TPD's behavioral health unit as part of the university's ongoing commitment to the notion of "community."
Nearly 300 teddy animals were donated to the Tampa Police Department on Thursday as part of the Teddy Bears for TPD collection drive, which was attended by Interim Chief Lee Bercaw, Deputy Chief Calvin Johnson, and employees of the department's behavioral health unit.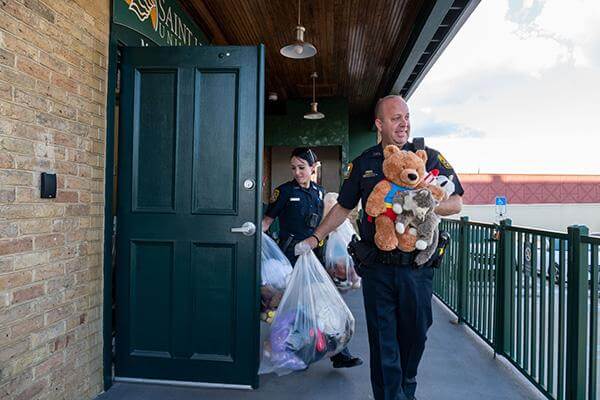 All the things were loaded onto TPD trucks at the Tampa Education Center, located at 1403 N. Howard Ave. in West Tampa, and organized by the university.
The stuffed animals were collected from the Saint Leo University main campus and the Saint Leo University education center by students, faculty, and the public.
Children in distress will receive them from officers on patrol and in the mental health unit.
This "comfort squad" was formed to help young victims of trauma.
Bercaw has remarked that the bears can be used to break the ice in tense situations. He said, "They can get a child smiling."
Officers from TPD's Behavioral Health Unit will make frequent use of the plush animals, and the public is welcome to use them as well.
The police protect the most vulnerable members of society and intervene in times of crisis to prevent further violence.
"What we really need is community support, like what Saint Leo University is giving us," Bercaw added.
We greatly value our relationship with Saint Leo and are grateful for their continued assistance.
One of the Tampa center's social work lecturers brought up the idea of providing teddy bears after talking about the effects of trauma on youngsters.
Rod Kirkwood, the area director of Saint Leo's Tampa Education Center, said, "We truly wanted to help our local community and give back."
We want children's experiences with the Tampa Police Department to be pleasant, even if they encounter the police in a tense circumstance, which is why it's crucial that we work together with them and offer our support.
The university's criminal justice and social work degree programs, for example, are a good fit for this endeavor. Bercaw is a recent alumnus of Saint Leo University.
This year he completed his Ph.D. program in criminal justice.
Source: Patch