U.S. President Joe Biden delivered a stunning broadside against Russian economic interests late on Thursday in reaction to Russian President Vladimir Putin's invasion of Ukraine with the second round of sanctions against Russia's business interests.
President Joe Biden announced on Thursday penalties that would cut Russia off from computer chips that power everything from vehicles to cellphones to even missiles. "We're going to damage their capacity to compete in the 21st-century economy," Biden said.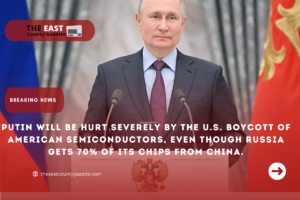 The new embargo imposed by President Joe Biden prohibits the sale of any semiconductor manufactured using American technology to Russia. There will be export restrictions on most products created overseas using sensitive American technology, according to U.S. Assistant Secretary of Commerce for Industry and Security Thea Rozman Kendler.
Withdrawal of US and partner country technology from Russia is imminent. China's military and intelligence services will not be able to purchase most Western-made items, Kendler added.
U.S. firms are leaders in semiconductor design and chip patents, even if they have just a modest semiconductor manufacturing base in the United States. In order to create their own chips, many foreign manufacturers rely on U.S. intellectual property.
Even while President Biden had intimated in the weeks leading up to the Russian strike that he planned to target Russia's semiconductor supply in reaction to a Ukrainian invasion, he had never taken such a sweeping measure before.
Huawei Technologies' smartphone business was crushed by an earlier application of the same rule by the United States: the ban on chip sales. Huawei's position as the world's leading smartphone manufacturer has been reduced to a distant fifth place.
Over time, "our efforts will have a significant impact on Russia's ability to obtain financing and technology for vital sectors of its economy," Vice President Joe Biden warned.
In spite of the fact that the embargo might be damaging for Russia, most global suppliers are unlikely to notice the increased cost of compliance. US Semiconductor Industry Association CEO John Neuffer said, "Russia is not a large direct semiconductor consumer."
According to the SIA, barely 0.1 percent of the world's chip purchases are made in Russia. IDC estimates that the Russian chip sector is worth $50 billion in trade out of a $4.5 trillion worldwide industry.
Russia buys 70% of its chip supplies from China, which is unlikely to abide by the embargo imposed by President Biden. The only chipsets that China can make are of a low enough quality to be useful for everyday household goods and autos, but not high enough to be able to direct Russian missiles.
Neon gas and palladium, both essential components in the chip fabrication process, are important suppliers in Russia and Ukraine. Some analysts are concerned that Russia will use its market position to retaliate against the U.S. sanctions on chip imports. Russia.
However, following Russia's invasion of Ukraine in 2014, which resulted in a 600% increase in neon pricing, many chipmakers began diversifying their neon supply. This means that chipmakers are better equipped to transfer vendors.
There should be little impact on neon supplies until the conflict in Ukraine lasts more than a month, says Morningstar analyst Phelix Lee.