When it comes to President Biden's first year in the Oval Office, a new NPR/PBS NewsHour/Marist survey found that more than half of those polled thought his policies were a failure.
In total, 56% believed Biden's first year in office was a failure, compared to only 39% who said it was a success.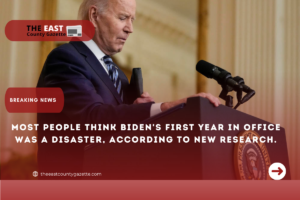 Another 54% said he hasn't kept his campaign pledges, and 52% said he has done more to split the country than to unify it, despite the fact that uniting the country was a key pillar of Biden's 2020 presidential campaign.
Only 39% of Americans approve of the president's job performance overall; 36% approve of his economic performance, and 47% approve of his management of the coronavirus pandemic.
Fewer than 30 percent of those polled indicated they believe the United States is on the right path, just a few days before President Joe Biden is scheduled to deliver his first State of the Union speech.
In the survey, he received the poorest evaluations for his presidency.
According to Lee Miringoff, director of the Marist Institute for Public Opinion, which conducted the study, "These are sort of rock-bottom levels." When it comes to Joe Biden, "this is about the lowest you're ever going to see him."
Inflation is a major concern for the public.
In the survey, 38 percent of Americans stated that inflation should be Vice President Biden's top priority.
Only 11 percent of those polled thought the pandemic should be his primary priority, followed by voting laws (11 percent), foreign policy (10 percent), and violent crime (10 percent) (10 percent ).
The Ukraine crisis has pushed foreign policy to the forefront of the national conversation. Again, the news isn't good for Biden here: As of this writing, only 34% are in favor of how he's handling the problem, compared to 50% who disapprove. Despite this, the poll was conducted prior to Russia's invasion of Ukraine.
If the Ukraine issue worsens and the price of gas continues to rise, Biden could face even more problems in the polls.
After Russia's invasion, President Joe Biden said, "I know this is difficult and that Americans are already hurting." "Every effort will be made to alleviate American citizens' gas-price misery. My life depends on it. However, this hostility must be retaliated against. If that were to happen, the ramifications for the United States would be even greater."
An optimistic outlook on the pandemic's eventual end.
Seven out of ten people polled believe that the pandemic is nearing an end. While the president and the country can profit from this optimism, it is unlikely that Biden will gain any political advantage until inflation and prices fall.
Even though addressing the pandemic has been one of Biden's strengths during his first six months in office, the country is divided on his performance.
53 percent of females approve of Biden's handling of it, while 56 percent of males disagree. There is a considerable gender discrepancy in
A lack of passion and a lack of support from Biden's independents
There are three important categories that Biden is struggling with: independents, suburban voters, and a lack of enthusiasm among his core supporters.
Among independents, only 29% say they are happy with the way things are going under President Obama. More than half of them (64 percent) disapprove, compared to only 28 percent who approve.
Since winning the independence vote in 2020, this is particularly worrisome for Biden, who has seen a long-term trend of critical swing groups moving away from him in recent months.
There has been an 11-point decline in approval among suburban residents, who now only approve of his job performance at 38%. In the last two months alone, his support among suburban women has fallen from 57% to 45%, a significant setback ahead of the 2022 midterm elections.
There is a great degree of criticism towards Biden, which is almost as high as the percentage of people who strongly disapprove of then-President Trump… Biden, on the other hand, does not enjoy the same level of popularity as Trump.
Only 14% of respondents in this poll highly approve of the job Biden is doing, which is the lowest approval rating for Trump's presidency.
Biden has a chance to reclaim some of the support he lost among these people, Miringoff said, given that the president has experienced a decline in support from those that helped elect him in the first place.
It is evident that Biden's efforts to win over Republicans have been a strategic failure, according to Miringoff:
In his words, "The Republicans are not for sale," he declared.
Intentions of the Supreme Court are supported by the majority of Americans
61 percent of respondents said they approve of Biden's statement that he will select a Black woman to the Supreme Court, which is good news for the Biden administration. That includes a third of the Republican Party's constituents.
Judge Ketanji Brown Jackson will be nominated by Biden, the White House announced on Friday.