Despite the fact that COVID-19 infections have continued to rise in the new year, some patients have been experiencing a weird and unusual new symptom: night sweats.
Night sweats, which are typically associated with various diseases such as the flu, anxiety, or even cancer, were less commonly associated with COVID before the Omicron form began spreading rapidly all over the world.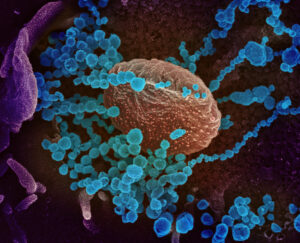 In accordance with the Mayo Clinic, they are characterized by frequent periods of excessive perspiration that can soak through your clothes and sheets.
Night sweats are one of the few distinguishing symptoms that appear to distinguish Omicron from other COVID variations, along with a sore throat that appears to distinguish Omicron from other COVID variants.
Omicron, in contrast to Delta and the initial COVID strain that was first detected in the United States, does not appear to be connected with a loss of smell or taste.
NBC News senior medical correspondent Dr. John Torres stated on the Today show that night sweats are a "pretty weird symptom" to have. Dr. Amir Khan, of the National Health Service of the United Kingdom, also advised people to be on the lookout for night sweats as a sign that they should be tested for COVID-19.
Read More: President Biden Prepares for a Gloomy 2022 With Approval Ratings Continue to Deteriorate
On social media in the last several weeks, a large number of people have expressed their dissatisfaction with COVID-induced night sweats. A few Twitter users have expressed concern that the new symptoms will just serve to increase uncertainty and anxiety over whether or not a person has COVID.
Others are attempting to raise awareness about a new symptom that is becoming increasingly widespread among the general public.
Despite the fact that it is now the most common variety in the United States, there are still many unknowns concerning Omicron. Even little is known about the long-term consequences of this practice.
Research on the Omicron version from South Africa reveals that the variant may result in a milder form of the disease, according to preliminary findings.
It is still too early to know whether the Omicron version would cause less serious sickness, however, according to the World Health Organization, which stated that there is not enough data to determine how the virus affects the people who are most at risk.
The Omicron strain has now spread around the world, contributing to the world's 1.5 million new cases per day, which is more than double the quantity recorded just a few days ago.
According to the New York Times, the United States has also more than doubled its daily COVID case rate to over 400,000 instances as of Monday.