Kansans Who Qualify for Free Housing Upgrades, Can Take Advantage of This Offer.
Worry not if you're struggling to keep up with high utility bills and energy costs; you may be eligible for free energy-saving upgrades to make your home more energy-efficient.
By visiting the Weatherization Assistance Program's website, Kansans can learn more about the resources that have been made available to them through the state's program.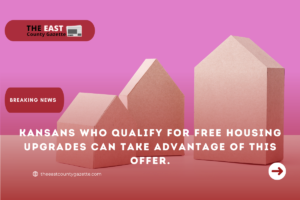 In order to help Kansans improve heating and cooling efficiency while saving energy, the program will ensure that their homes retain heat and air conditioning while keeping hot and cold air from entering or leaving their homes.
Read More: Right-wing commentator Dan Bongino Receives Permanent Ban From Youtube
Automatically income-eligible are households that receive Supplemental Security Income, Temporary Assistance for Needy Families, or utility assistance through the Low Income Energy Assistance Program.
The program is available to both renters and homeowners. All eligible households receive a comprehensive home energy audit, which identifies inefficiencies as well as potential health and safety hazards.
Improvements may be made to the home as a result of the audit results, which may include:
Sealing drafts and air leaks, caulking doors and windows, and weather-stripping are all examples of home improvement projects.
Heating and cooling systems, as well as water heaters, are subject to inspection, cleaning, and repair.
Ceilings, walls, floors, and foundations can all benefit from additional insulation.
Upgrades to lighting, refrigerator, and fan systems.
Licensed energy auditors and a network of professional crews and contractors provide all services and upgrades at no cost to the public.
Application materials are accepted and work is completed, on a year-round basis. If you are a contractor who is interested in working for this program, please fill out this online questionnaire.