Gunfire at Substations Caused NC Power Outages-Curfew Occurred on Sunday Evening
Damage to two power substations in a North Carolina county caused by gunfire is being investigated as a criminal act, leaving tens of thousands of people without power for days, authorities said on Sunday.
Following widespread blackouts beginning just after 7 p.m. on Saturday, officials in Moore County declared a state of emergency. They instituted a curfew from Sunday at 9 p.m. through Monday at 5 a.m. All county schools will be closed on Monday as well.
On Twitter, Governor Roy Cooper stated, "I expect state and federal authorities to investigate and bring those responsible to justice thoroughly." At a press conference on Sunday, Ronnie Fields, the sheriff of Moore County, stated that investigators have not yet found a motive.
The FBI was assisting state detectives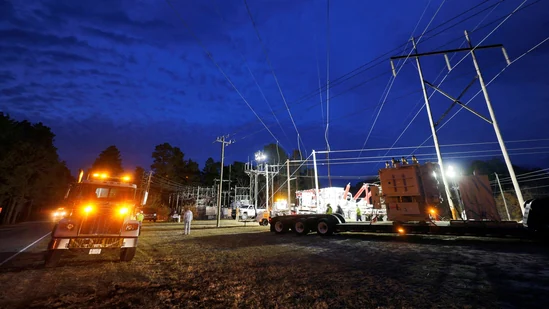 Someone pulled up and "opened fire on the substation, same with the second one," he claimed. Fields stated, "we're looking at all options," and added, "No group has stood out to acknowledge or accept that they're the ones that done it." The FBI was assisting state detectives, the sheriff said. And he added, "it was targeted."
It wasn't a coincidence, Fields insisted. The police, according to Fields, are keeping businesses and substations safe during the night. Fields promised, "people will be out there around the clock" throughout the night.
According to poweroutage.us, as of Sunday night, almost 36,000 electric consumers in the county were without power. The county also opened a shelter at a Carthage sports center due to the expected low temperatures on Sunday night.
According to Duke Energy spokesperson Jeff Brooks, several pieces of equipment were destroyed and will need to be replaced. He assured customers that the firm was working as rapidly as possible to restore power but warned that the outages could persist for days.
County Superintendent of Schools Stated there will be no School on Monday
Brooks said at a press conference a multi-day restoration for most customers is expected, with the process perhaps stretching into Thursday. "We are looking at a highly intricate repair with some fairly substantial equipment," he added.
County Superintendent of Schools Dr. Tim Locklear has stated there will be no school on Monday. We'll be making those choices incrementally as we go along," Locklear stated. One of the reporters at the Southern Pines Pilot noticed that a gate to one of the substations had been destroyed and was lying in an access road.
At the point where it entered the earth, a post supporting the gate had been broken. There was considerable damage to the substation's infrastructure, the article said. Located about an hour's drive southwest of Raleigh, this county of around 100,000 inhabitants is famous for its golf resorts in Pinehurst and neighboring areas.
source: nbcbayarea.com