Chappelle famously walked away from the show and his $50 million salary. In 2006, he abruptly left the set during production, effectively breaking his contract with Comedy Central. He was reportedly dissatisfied with the show's direction and needed to step down. But one person has remained by the comedian's side throughout it all: his wife, Elaine. Dave Chappelle and Elaine Chappelle are on the red carpet.
Dave and Elaine Chappelle live in Ohio with their three children, away from the spotlight.
The famous comedian's wife and their relationship are detailed below.
Dave Chappelle may be one of the world's most famous comedians, but to his wife Elaine, he's just Dave. Chappelle's big break came with his Comedy Central show, The Chappelle Show, which aired from 2003 to 2005. The show was a huge success, putting Chappelle on the map. Following the success of the first two seasons. Although planned, Chappelle's Show never got a third season.
Dave and Elaine Chappelle place family first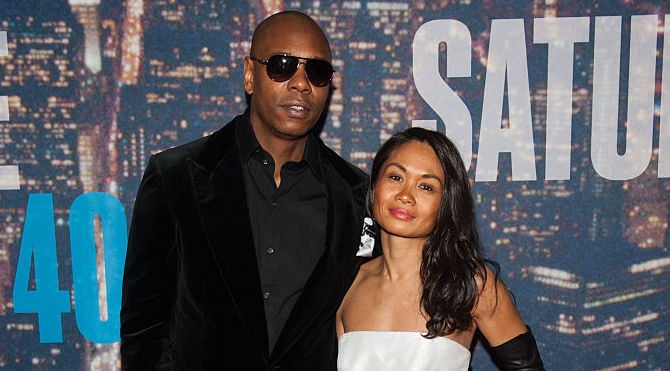 In an interview with Time, Chappelle explained why he moved to Ohio and quit.
"I don't have the distractions of fame coming here," he says on his show. It calms the ego. I'm curious about the type of person I'll be. Furthermore, I want to learn about the industry that allows me to do so. There are numerous opportunities. I want to be well-balanced. Man, I need to reconsider my intentions."
During this period in Chappelle's life, much speculation existed. Fans couldn't believe he'd walk away from his popular and successful show and $50 million.
Chappelle reorganized his life to make it better for himself and his family. People assumed he has a drug or alcohol addict. Some also thought Dave Chappelle's departure resulted from a mental illness. That was not true.
Chappelle reorganized his life to make it better for himself and his family.
Elaine Mendoza, Dave Chappelle's wife, supported him throughout the media circus. Dave and Elaine's marriage lasted 21 years. They were married in 2001 and had two sons—Ibrahim and Sulayman and Sanaa, their daughter.
Also read: Leonardo DiCaprio's Recently Seen Dating Gigi Hadid
Who exactly is Elaine Chappelle?
Elaine Mendoza, Dave Chappelle's wife, was born on August 31, 1974, to devout Christian Filipino parents. (Dave converted to Islam in 1991.) According to various sources, she grew up in Brooklyn and once wanted to be a professional chef. Dave and Elaine Chappelle met when she was in her twenties more than 20 years ago. Elaine devoted herself to raising the couple's three children after meeting and falling in love with Dave Chappelle.
What brought Dave and Elaine together?
Dave Chappelle revealed to Howard Stern in the early 2000s that he met his then-girlfriend Elaine Mendoza in Brooklyn and that she was pregnant with his child. He said he was immediately interested in her. Still, she wanted to get to know Dave before committing to a relationship.
Dave Chappelle discusses his worst experience
He also revealed that she was Filipino, prompting Stern and his co-host Robin Quivers to make snide remarks about Asian stereotypes. Dave Chappelle was a regular guest on Stern's show up until now. He even credited Stern's exposure with helping his career.
He has consistently refused to appear at Stern's performance since they made those alleged jokes about Elaine Chappelle's future. Though he publicly claims that it is because the show is taped too early in the morning. It appears that he is demonstrating allegiance to his wife, Elaine Chappelle
Dave Chappelle's s

upport system

is Elaine
During his standup routine, Dave Chappelle wears a green jacket and holds a microphone.
Dave and Elaine Chappelle's marriage has been strong for over two decades. Dave Chappelle has frequently stated that his wife has been his support system for years. "She was there for me when I was poor," Chappelle says in his final interview with Howard Stern.
A celebrity like Chappelle needs to have a robust support system in place. Fans and the media can harshly affect public figures like Elaine Chappelle's husband. She has been with Dave through some difficult times in his care. Such as when he left Chappelle's Show and the more recent controversy over anti-trans content in his standup routine.
"If it gets bad, my wife will tell me, 'Oh, you should look into this,' but for the most part, I try not to pay attention to it because you don't want to be careful as a comedian," he says. "I try to keep my company small enough to maintain its authenticity."
Speaking of the $50 million Chappelle walked away from when he left Chapelle's Show. In 2006, he told Conan O'Brien, "My wife is still irritated… She isn't mad at me, but don't think she is." "You'll walk away from $50 million, and your wife will just be cool with it."
Where is the Married Couple Now?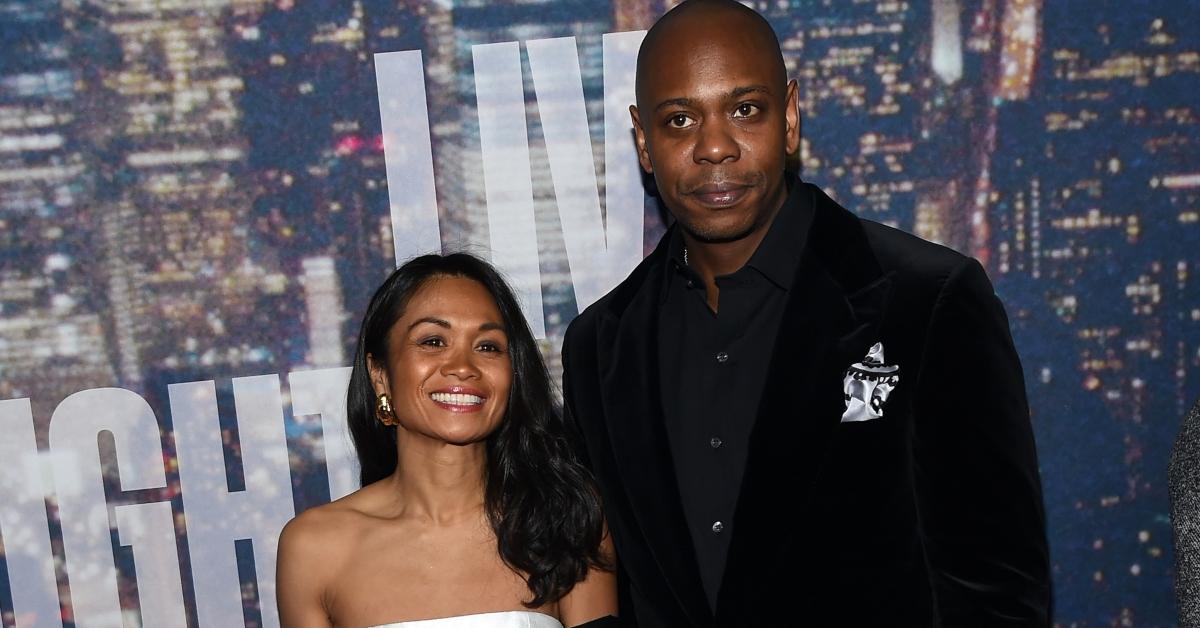 Dave Chappelle, wearing a white hoodie, attends a basketball game with his wife, Elaine.
Dave and Elaine Chappelle live on a 65-acre farm in Yellow Springs, Ohio, about 20 miles from Dayton, with their three children. "I was once cable's hottest star, but now I'm just a Yellow Springs guy," he says. Chappelle said in 2006. You don't need $50 million to live in these parts; all you need is a pleasant smile and a kind demeanor. You're the best neighbors I've ever had. That's why I returned and why I'm staying."
Chappelle's father was the student affairs dean at Antioch College when he was growing up in Yellow Springs.
Dave and Elaine Chappelle appear to live peaceful, quiet, and everyday lives in Ohio with their children. She avoids the limelight and does not do you have any social media accounts. They appear to be a grounded couple who care about each other, which is lovely.