Following the revelation that 75% of Kroger grocery employees are food insecure, more than 8,000 Kroger grocery workers in Colorado went on strike this week to demand higher wages and healthcare benefits.
According to the Wall Street Journal, approximately 8,400 unionized employees at King Soopers, a grocery chain owned by Kroger, walked off the job on Wednesday morning, seeking salary hikes, greater retirement benefits, and safer work environment during the flu pandemic, among other demands.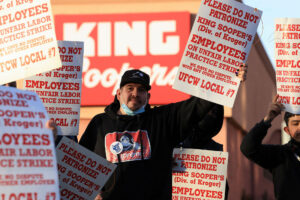 Kroger has labeled the strike as "reckless and self-serving," and the company has hired outside workers to take the place of striking employees. Approximately half of the company's 151 King Soopers outlets are affected.
It happened to me: I've been robbed at gunpoint, I've been shouted at, I've been slapped, I've been shoved, I've been spit at, I've had products thrown at me, and I've had Covid at the company." "More than half of the time, there is no security," Loni Madrid, a King Soopers employee, commented on the company's website about her experience working there.
"I've been on food assistance and have been homeless. Because of this, I've had to tell our son, "I'm sorry, but we don't have enough money."
The union that represents the workers, United Food and Commercial Workers Local 7, has stated that while its members worked tirelessly to ensure that people were fed throughout the pandemic, they were unable to purchase food for themselves because of financial constraints.
According to a survey released Monday by the Economic Roundtable of over 10,000 Kroger employees, including some of those who are currently on strike, the rate of food insecurity among Kroger employees is seven times higher than the national average.
Read More: Schedule for SNAP Benefits in 2022: Lone Star Card Benefits Schedule
As reported by the report, the average full-time employee earns less than $30,000 per year, and nearly two-thirds of workers say they do not earn enough money to cover their living expenses and purchase necessities.
According to the data, only 39 percent of grocery store employees who were polled stated they were unable to pay for their own goods.
Kroger is one of the largest employers in the United States, employing nearly half a million people. Fourteen percent of respondents who responded to the survey said they were presently homeless or had been homeless during the previous year.
This comes after the grocery company's stock has increased by about 50% in the past year, according to the Post. The grocery giant also said the Economic Roundtable's survey was "misleading," and that the walkout had left them "disappointed."
Specifically, the study claimed that "more than two-thirds of Kroger employees struggle to afford food, housing, and other basic needs," which the company argued was inaccurate in its statement. Kroger pays "competitive wages" and hires people from "underserved groups" in order to provide them with opportunities for advancement, the company claims.
The chain has recently come under fire for raising the prices of COVID-19 tests that can be done at home.