The Illinois governor's mask regulations were upheld by the court.
The Illinois Court of Appeals dismissed an appeal of a judge's decision that invalidated Gov. J.B. Pritzker's order that masks be worn in schools to prevent the spread of COVID-19.
It was issued late Thursday, about two weeks after a central Illinois judge struck down the mask mandate, and a week after Illinois' Democratic governor lifted the requirement that face coverings be worn in most indoor spaces — but not in schools — as the number of COVID-19 hospitalizations plummeted, prompting the decision.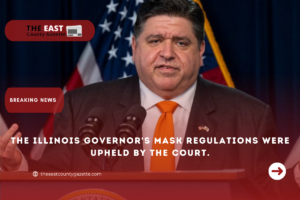 The order was declared "null and void" by Sangamon County Circuit Judge Raylene Grischow on February 4, 2019. With students and instructors from more than 150 school districts, she reached an agreement that no one may be dismissed from the school for health reasons unless the family agreed or a public health order had been issued.
On February 7, Illinois Attorney General Kwame Raoul filed an appeal with the court, requesting a temporary restraining order.
He argued that enforcing Grischow's decision could result in "widespread transmission" of the coronavirus "within schools and in the broader community," as well as "increased hospitalizations and deaths," as well as "school staff shortages," which could result in a return to distance learning or even school closures.
Pritzker contended that the verdict applied exclusively to school districts that were listed in the litigation against the state. According to him, any district that is not covered by Grischow's ruling should continue to require masks for students and personnel.
Other Pritzker orders were also declared unconstitutional by the judge, including the requirement that school staff receives vaccines.
After a parliamentary oversight commission expressed opposition to school masks, the appeal court requested additional information this week. School mask regulations were put in place by Pritzker on Sept. 17, according to the Chicago Tribune.
Earlier this week, the Illinois Department of Public Health sought approval from the Joint Committee on Administrative Rules, which is comprised of nonpartisan and bicameral politicians. They were denied approval. The committee voted unanimously against adoption, expressing a need for greater involvement from the Legislature.
Because of the committee's judgment, the court of appeals determined that Pritzker's directive was rendered irrelevant.
A reviewing court will generally not address topics that are abstract, hypothetical, or moot, according to the ruling of the appeals court. "The existence of an actual controversy is a precondition for appellate jurisdiction," the decision stated.
Following a month of illness from the extremely contagious omicron variety reaching its height, the story unfolds in front of an increasingly dangerous COVID-19 landscape.
In fact, the number of new cases and hospitalizations has declined to such an extent that Pritzker said on February 9 that the restriction for facial coverings at most indoor locations would be repealed on February 28.