According to figures released on Friday by the Labor Department, the United States added 199,000 employment in December as the omicron strain of COVID-19 began to spread across the country.
Despite the fact that the unemployment rate declined to 3.9 percent in December from 4.2 percent in November, the number of jobs added in December fell far short of expectations.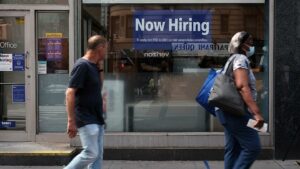 Following many weeks of low unemployment claims and signs of momentum from private-sector payrolls, economists predicted that the United States would have added approximately 420,000 jobs last month.
The data indicated evidence of increasing competition for desperately needed workers, despite the weak job gain in December, as firms fight to keep up with the recovery of the economy in general.
The unemployment rate fell to its lowest level since March 2019 as the labor force participation rate remained stable, while average hourly earnings increased by 4.6 percent on a year-over-year basis in March.
The Labor Department also raised October and November job growth upward by a combined 141,000 jobs, marking the latest significant upward revision to a poor initial employment report.
The change in total employment is 390K when one takes into consideration the upward revisions to the previous two reports, according to Joe Brusuelas, the chief economist at tax and audit firm RSM.
The trading community may be disappointed, but from the perspective of the actual economy as a whole, this is a very positive development."
Read More: What You Need to Know About Cryptocurrency Filing With IRS

The employment data for December certainly reflects only a portion of Omicron's overall influence on the economy. The two surveys undertaken by the Labor Department in order to produce the employment data took place the week of December 12, well before the number of cases in major U.S. cities began to rise.
The pandemic's impact on several businesses resulted in little to no job growth in December, a concerning sign as the number of COVID-19 cases continues to rise.
In December, the leisure and hospitality sector added only 53,000 jobs, a far cry from the six-digit monthly gains witnessed earlier in the year in the sector.
Employment in health care and retail remained stagnant last month, although manufacturing, construction, and transportation services all had significant job growth during the same period.