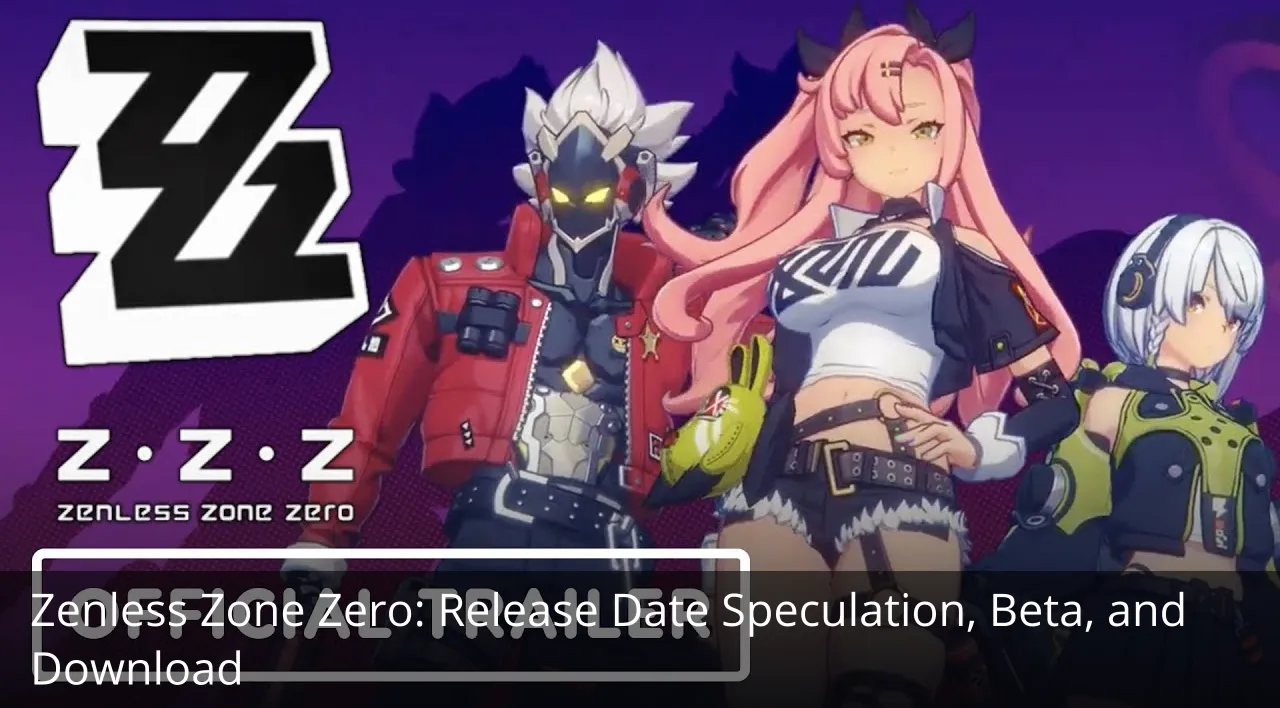 Zenless Zone Zero: Release Date Speculation, Beta Version, Download & Much More
The Mihoyo team surprised everyone this month by announcing a new game called Zenless Zone Zero.
Distinguished Proxy,
Zenless Zone Zero's Tuning Test starts soon. Welcome to New Eridu!

▍Test Start Time:
2022/08/05 10:00 (UTC+8)

▍Test End Time
To be announced later. Follow official news for more info.#zzzero pic.twitter.com/hsHPP6a0D4

— Zenless Zone Zero (@ZZZ_EN) August 4, 2022
The beta test for Zenless Zone Zero will begin this week, with the final release date and time set for August. Find out if you can still sign up here.
We adore it when an up-and-coming videogame studio decides to expand its scope and explore new territory, and Hoyoverse is no exception. We don't yet know when Zenless Zone Zero will be released, and we know very little about it in general, but we do know that it will take place in an urban fantasy setting.
While you wait for Zenless Zone Zero to be released, why not read our Dead Island 2: Release date, Trailers, and Gameplay release date guide to getting pumped for another new game?
MiHoYo, the creators of Genshin Impact, is back with a new game, Zone Zero, set in a more futuristic setting. In any case, Genshin Impact will be very interesting, especially given the remaining anime styles.
When and how will the Zero Zone Zero Beta be released?
Zenless Zone Zero will go live on Friday, August 5, 2022, at 10 a.m. (UTC+8).
Because there is no set end date, we don't know how much content will be available during the test.
While the Zenless Zone Zero beta begins this week, registration is no longer available.
The hiring process concluded at the end of July, and the sign-up survey on the official website has now closed. As a result, those who do not register will have minimal access.
What Happened to the "Zero" Testing Period?
According to miHoYo, this month's "Zero" testing period will be a closed beta with a limited number of accounts and no payment options. There will be no carryover of testing progress into the final product.
"This test represents Zenless Zone Zero's first small-scale tuning test," the Zone Zero team said in a statement. Because Zenless Zone Zero is still in development, the content found in the beta test does not reflect the final product.
Thank you so much for your help and patience. Once the sign-up period is over, proxies that pass the tuning test will notify via email and SMS. Before the trial begins, please keep an eye out for an email from us with instructions on installing the test client.
On what platforms can Zenless Zone Zero be accessed?
Given Mihoyo's track record for release, it's safe to assume that this game will be available on Android, iOS, and Microsoft Windows. It could follow Genshin and may be out on certain consoles.
We are aware for the time being that closed beta is available on iOS and PC (Windows). When the game is released, it will likely be available on more platforms than these two.
Three characters from Zenless Zone Zero.
Also, Check The official Zenless Zone Zero Twitter for updates https://twitter.com/ZZZ_EN.
Rumors about Zenless Zone Zero
As of this writing, the only rumors about Zenless Zone Zero concern the gameplay elements and what the TV broadcasts mean. The Hollows, for example, appear to be some void or portal leading to another dimension or time.
The phrase backs this up "a record of unknown time awaits your discovery," which appears in the website's description. Potential players believe this game will include gacha elements and thus many characters to add to your team.
Because it only supports iOS and PC, you can't participate in this beta if you're using a console or an Android smartphone.
✉️ HoYoverse's all new IP, action game Zenless Zone Zero's first closed beta recruitment starts!

Fill out the survey for a chance at the valuable test qualification!

Welcome to New Eridu —  Where Humanity Rises Anew!

Sign up here >>> https://t.co/UYx0Bk58TW#ZZZ #TuningTest pic.twitter.com/361sDX2bgQ

— Zenless Zone Zero (@ZZZ_EN) May 13, 2022
The game's final release date has yet to be out. But more testing is expected before then. Fans are hoping that the entire game, Zenless, will be released on platforms other than the PlayStation 4.