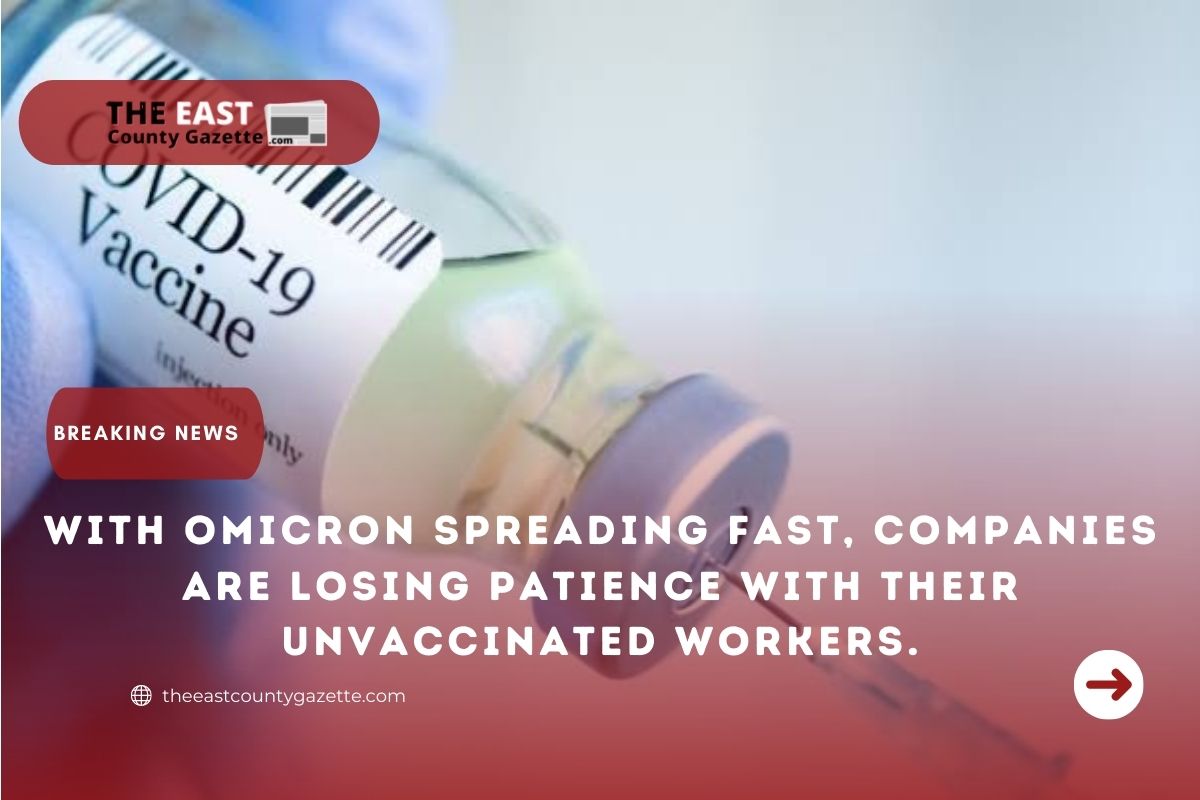 With Omicron Spreading Fast, Companies Are Losing Patience With Their Unvaccinated Workers.
50.3 million cases, 801,000 deaths in the United States with California topping the list with 5.18million cases and 75,718 deaths, Texas 4.4million cases and 75,112 deaths, Florida with 3.72 million cases and 62,074 deaths, New York with 2.88m cases and 57,867 deaths and the fifth is Illinois with 1.93m cases and 30,076 deaths.
These are not numbers and figures they are people. Cases of COVID and deaths caused by COVID in America. This data is according to New York Times and Our World In Data. This figure is from the first case and death till the moment of compiling this report.
These are people, parents, Uncles, Aunts, Friends, Neighbours, Co-Workers, Boss at Works, Employees, Religions Leaders, Grand Parents, Son, Daughter; these deaths are people and they are gone and COVID is still here will its variants and it's still making people sick and killing people not only in America but all over the world.
Read More: Get a Car Insurance Stimulus Check: $400 refunds are arriving to millions of drivers
For companies with a larger workforce to protect their workers from contracting the virus and dying, companies like Google, Kroger, Apple, and JPMorgan have all announced vaccination rules at the workplace. Let's take a moment to consider the COVID vaccine rules of these large organizations.
GOOGLE
Google has at least 140,000 employees in the United States and it is its responsibility to protect them at the workplace. CNBC got a hold of a Memo where Google gave their employees until December 3 to upload proof of vaccination or apply for a medical or religious exemption otherwise, those who are unvaccinated will have salary cut and eventually be fired.
Once December 3 passed, Google informed that workers who refuse to comply with the company's COVID vaccine policy by January 18 will be placed on a paid administrative leave, for a month, next the leave will be turned to unpaid personal leave for 6 months, and afterward, their employment with Google ends if they still won't comply.
The memo added that "a small handful of employees already based outside of Google's offices may be able to continue working remotely without the vaccine."
KROGER
In a bid to ensure that the workplace is safe for both workers and customers at the biggest grocery retail chain, Kroger in a memo which was obtained by Wall Street Journal told employees that there will be no more 2 weeks emergency paid leave for unvaccinated workers who are sick due to COVID.
For unvaccinated and employees who don't belong to a Union, they will pay $50 for the company's health insurance..All these changes apply from January 1, 2022. Kroger has also been giving its employees $100 to get vaccinated.
APPLE
"Amid rising cases in many communities, we now require that all customers join our team members in wearing masks while visiting our stores". Apple recently in October 2021 relaxed the nose mask rule for customers but has not made it compulsory again for everyone. This was reported on Tuesday by Verge.
JPMORGAN
According to reports from New York Posts, JP Morgan has declared the bank's Manhattan offices "vaccinated only" workplaces. It told all unvaccinated employees and customers to stay away from the bank.
Read More: Student Loan Debt Harming Numerous Americans: Why Is There Much Pushback About Forgiveness?
It has also relaxed updated its nose mask guidelines in those offices. Those locations "will now follow relaxed mask guidelines, which only require masks be worn when walking through lobbies, riding in elevators, and cafes when not eating, of course, you may continue to wear a mask when not in these areas if you're more comfortable doing so."