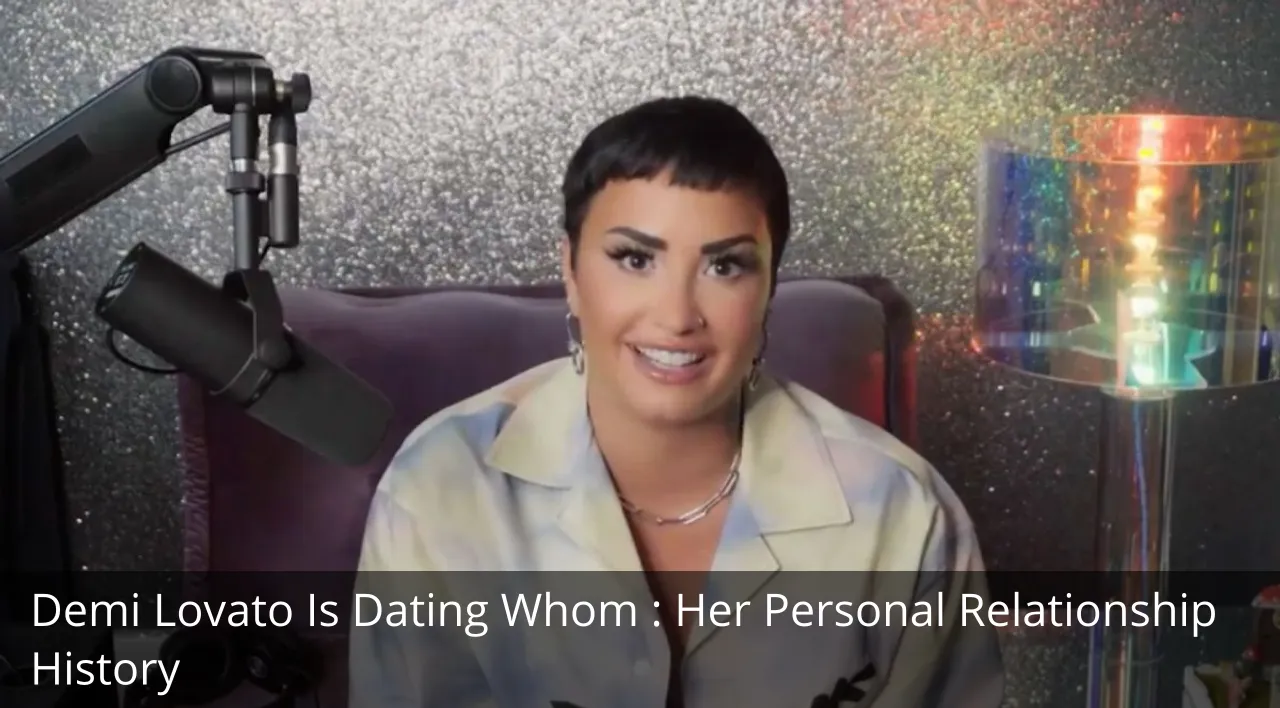 Who's Demi Lovato Dating? Know About Singer's New Boyfriend And Love Life
Fans of Demi Lovato are 'freaking out about how much her new boyfriend resembles this famous musician.
Demi Lovato has a new boyfriend named Jute$, and fans are obsessed with how much he resembles another celebrity. Here's who fans think Lovato's partner looks like and what they think about it.
Demi Lovato and her boyfriend Jute$ look like Travis Barker to fans.
Demi Lovato is dating Jute$, a fellow musician.
https://www.instagram.com/p/ChfbHVWJ-jO/?utm_source=ig_embed&ig_rid=f2dcc086-977d-480b-af01-0e960f263645
Demi Lovato, an actress, and musician have a new love in her life: her boyfriend, Jute$. Lovato recently stated that she would use both she/her and they/them pronouns and has been spotted with her fellow musician several times. Jute$ has also shared several photos of herself with the pop star on social media.
Jute$ Dedicated An Instagram Post To His Girlfriend On August 20
"Happy birthday, little one. "You're a 30-year-old minx, and I'm the luckiest schmuck on the planet because I get to call you mine," he wrote. "I'm so proud of you for making it through everything you've been through and triumphing in becoming your healthiest, happiest, and sweetest self."
He praised his partner, concluding, "Literally bursting with joy?" "How are you real?"
Fans are blown away by Demi Lovato's new boyfriend, Jute$'s resemblance to Travis Barker.
Demi Lovato fans are shocked at how much her new boyfriend resembles another famous musician. They discussed how closely The similarities between Jute$ and Travis Barker, the drummer for the band Blink-182. Demi Lovato discussed this in a Reddit thread titled "Jute$ & Demi Lovato."
"For a brief moment, I believed this was Travis Barker!" "One fan wrote, "Are you telling me that isn't Travis Barker?" another asked."
"He reminds me so much of Travis Barker," says. one fan wrote, while another added, "I can't help but think of Travis whenever I see this image."
'HOLY FVCK,' the singer's new album, was co-written with her new boyfriend.
Demi Lovato's new boyfriend, Jute$, is also a musician. In 2021, he released the album "Careful What You Wish For." Which included songs like "Fvck, Your Boyfriend" and "Here We Go Again," He also collaborated with Lovato on her new album HOLY FVCK.
Celebrated The Record
https://www.instagram.com/p/ChcwpQ-u0Zz/?utm_source=ig_embed&ig_rid=7e3dd8e0-b4a4-471c-8922-55ad62a53838
Jute$ celebrated the record with an Instagram post on August 19. "Holy fvck by @ddlovato is now available! "I collaborated on substance, happy ending, and city of angels," he wrote. "It's an honor to have had a small part in such a monumental album." "I'm so proud of you, Demi; watching you rip is a pleasure."
Jute$ concluded after sharing some thoughts about the recording process, "Anyway, I'm overwhelmed with gratitude that I get to be a part of something that I adore." Best wishes to everyone involved."