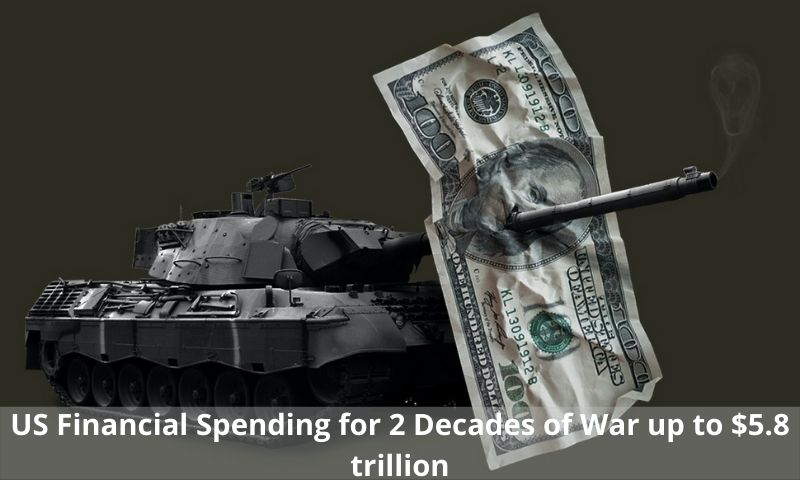 US Financial Spending for 2 Decades of War up to $5.8 trillion
Following US President Joe Biden's declaration to pull all American troops out of Afghanistan, the full financial tab used for these 2 decades of war is coming into view.
"I was not going to extend this 'forever war,' and I was not extending a 'forever exit,'" the president told the nation in a Tuesday afternoon address.
Starting from the September 11 attack 20 years ago, the USA will have spent $5.8 trillion in its war against Afghanistan, Iraq, Pakistan, and Syria by the end of 2022. The data revealed from the Costs of War project by Brown University also included interest on debt used to finance the wars.
The amount also includes the money that Congress approves each year like the funds used by the Department of Homeland Security and increases in the Pentagon's "base" budget.
"It's critical we properly account for the vast and varied consequences of the many U.S. wars and counterterror operations since 9/11, as we pause and reflect on all of the lives lost," said Neta Crawford, a co-director of the Costs of War Project and chair of the political science department at Boston University.
Recommended Read: Afghanistan: 29 Students from California Remains Stranded
The Cost of War
According to results from Crawford's research, the financial costs from the war will continue to accrue even after it has ended with health care for veterans projected to top $2.2 trillion through 2050, bringing total costs to more than $8 trillion.
Most of the financial spending during the war between Afghanistan and Iraq was paid through borrowing whereas previous US wars were funded using taxes and war bonds.
"What that does is shield the American public from the costs currently," says Heidi Peltier, director of the "20 Years of War" Project at Boston University's Pardee Center for the Study of the Longer-Range Future.
"So, Americans don't realize that they're paying for the cost, because their taxes are not increased. And they're not buying more [war] bonds, they're not in any way feeling the [financial] effects currently."
Based on a study released last year by the Costs of War Project, interest alone on funding borrowed to pay for the wars in Afghanistan and Iraq may reach more than $6.5 trillion through 2050.
"Of course, this report on the budgetary impact of the counterterror wars is not the full story of the costs and consequences of the post-9/11 wars," Crawford wrote in her report. "Behind every one of these numbers is people — inspecting containers for possible weapons of mass destruction, deploying overseas, and caring for veterans."
With the U.S. withdrawal, the Afghan economy is expected to contract sharply, shrinking by 12% to 22% in 2021, according to economics firm Global Data.