Thousands of migrants poured into El Paso over the weekend
On Monday night, Victor Wilson was one of a few dozen migrants huddling in the snow and wind near a downtown bus terminal, all of them covered in tiny white blankets that did little to ward off the weather.
One of the thousands of migrants that jumped the Rio Grande into El Paso over the weekend was Wilson, a 46-year-old Creole guy from Nicaragua's Corn Islands.
Now, with the temperature outside hovering around 45 degrees, he sought shelter in a nearby parking garage, bringing along a bag of potato chips and a 2-liter bottle of pineapple soda for the ride.
A group of approximately two dozen other migrants was also preparing to spend the night on the streets, some of them fashioning cardboard into a primitive tent and wrapping themselves in Red Cross blankets, so he lay his blanket over a piece of cardboard.
That's when Rosa Falcon, a local of El Paso and a teaching assistant at a nearby elementary school, showed up at the garage and asked Wilson and four other migrants to stay the night in her house.
Wilson expressed his appreciation for being back on American territory and his relief at not having to spend another night in a parking garage.
As for how he was feeling, he remarked, "I feel terrific. I feel pleased because I know God is going to heal me."
More than a thousand migrants, primarily from Nicaragua, Honduras, Guatemala, and the Dominican Republic, made the dangerous journey over the Rio Grande on Sunday between 4 and 8 p.m.
In December, the El Paso sector, which spans 268 miles from El Paso to New Mexico's border with Arizona, had an average of 2,150 migrant interactions every day, according to Claudio A. Herrera-Baeza, a spokeswoman for the United States Border Patrol.
It's the latest chapter in a year that has broken all sorts of records along the Southwest border:
The number of times immigration officers interacted with migrants reached a record high during the fiscal year that concluded on September 30.
Nearly 1.4 million interactions between agents and migrants were documented only along the Texas-Mexico border.
During the 2020-21 fiscal year, 27% of all migrants were taken into custody more than once.
The number of repeat offenders for the fiscal year 2022 has not been made public by the federal government.
A seemingly endless line of migrants, stretching for what seemed like a mile on Monday morning, snaked between the river and the steel border fence as they waited to be taken into custody and processed by Border Patrol officers.
On the concrete that lines the riverbed, people lit small bonfires. Agents released an average of 398 migrants per day to local shelters, El Paso County institutions, or the streets between Friday and Sunday.
Over the past 30 days, that number has averaged out to 151 daily. Wilson was one of them; he claimed he fled Nicaragua because he couldn't provide for his family of four (wife and two sons, aged 7 and 10) by fishing alone.
He has $300 every two months, but intends to make that much more in Florida, where a cousin will put him up for free, and he can work odd jobs to save up for a car.
El Paso has requested federal aid to assist migrant families.
In March 2020, immigration officers began using Title 42, a public emergency health order, to swiftly send immigrants back to Mexico or their home countries without allowing them to request asylum.
This week, the Biden administration is due to discontinue the use of Title 42. An appeals court is set to rule by Friday evening on a petition filed by the Biden administration last week challenging the judge's order that the agency suspends Title 42 by December 21.
Meanwhile, this year has seen the launch of centers by both the city and county to aid migrants in reaching their destinations.
Officials from El Paso County have reported that since opening their center on October 10, they have assisted 18,779 migrants.
The county is seeking a new, larger building now that Title 42 is coming to an end.
Around 14,000 migrants were transported to New York and Chicago through 294 chartered buses by the city between late August and early October.
During a press conference on Tuesday, El Paso Deputy City Manager Mario D'Agostino said that the city welcomes migrants but does not have enough resources to serve everyone who needs it.
According to him, the locals have "a huge heart" and "a big willingness" to help migrants.
We also need to be aware that there isn't enough to deal with the current volume of work.
D'Agostino elaborated, saying, "Our infrastructure cannot keep up. There are not enough flights, not enough bus services out of town daily to facilitate same-day travel."
As a result, homeless migrants have begun squatting in various locations across downtown El Paso.
The city reports spending $9.2 million on migrant assistance this year, with the federal government reimbursing it $2.2 million.
The city has already spent $4.6 million while waiting for payment.
El Paso's Democratic representative in Congress, Veronica Escobar, said in a statement that she spoke with Homeland Security Secretary Alejandro Mayorkas about increasing federal funding for the city on Tuesday, and that Mayorkas told her that doing so is a top priority.
Escobar emphasized the importance of the United States "rising to the huge challenge that we are experiencing on immigration today" in a way that protects national security and supports core values.
While confronting this enormous issue, we need not compromise our humanitarian beliefs. It's a tough call to have to make.
Wilson, a native of Great Corn Island, claimed he first started fishing when he was 12 years old.
He said he had worked in the lobster fishing industry for the previous 16 years, and that his job required him to spend two months at sea at a time with a crew.
He was the second captain of the boat, and he made $20 for every box of lobster that weighed 100 pounds.
According to him, during times of plentiful lobster, they may bring back as many as 50 boxes.
But as the years passed, he claimed, there were fewer lobsters and more costs at home, and his income shrank until it was barely enough to feed his family.
Wilson's wife started a business catering to tourists and locals by selling their famous fried fish and white rice.
He then spent $650 on a visa application, only to be denied entry to the United States in September. He contemplated whether or not he should go to America for weeks.
After much deliberation, he made up his mind in November to relocate to Miami, where his cousin and her husband were based.
Inside the couple's bedroom, he broke the news to his wife that he was leaving. I know it was tough for her, he remarked.
He brought along $1,500 in cash, his passport, and a few changes of clothes in a compact black backpack.
After seeing his two boys off to school, he kissed them both on the cheek and informed them he would be gone for a few months to work offshore.
He and his wife had mutually agreed to lie to their children. His youngest child advised him to, "Catch a lot of fish."
Wilson started crying as they approached the school. It's tough to decide to uproot your life and leave your loved ones behind, he said.
Wilson claimed he took a boat across the 43 miles to the mainland, where he reunited with two pals from the island's ex-pat community who had also decided to leave Nicaragua.
A charter bus brought them to Guatemala, where they changed to another bus that would take them to the southern part of Mexico.
He stated they were able to find churches whose members were willing to take them in for the night as they traveled north.
After getting off the bus in Juárez late on a Saturday night, he and his companions took a taxi to the Mexican side of the Rio Grande, where they encountered hundreds of other migrants wading through the water.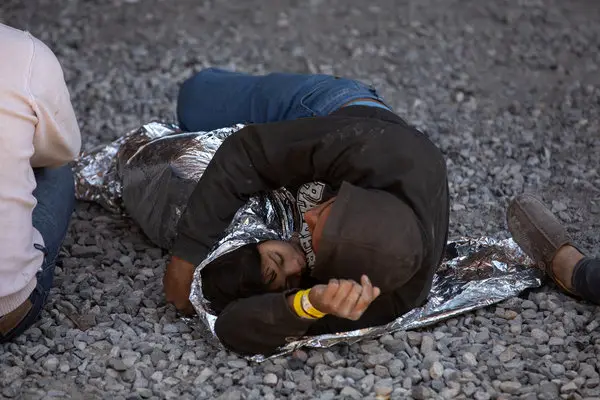 Wilson said he was so ecstatic when he first stepped foot in the water that he immediately dialed his wife's number. He finally informed her, "I made it."
He said his phone fell out of his fingers and washed away before she could react.
According to Wilson, Border Patrol personnel on the American side of the river instructed the Nicaraguans to form a line. It informed the Venezuelans that they would be deported back to Mexico without further delay.
He claims that at noon on Sunday, he and a small group of migrants were taken into custody by Border Patrol officials, processed, and then released at the downtown bus station.
To report to, immigration officials gave him paperwork with the Miami address of an Immigration and Customs Enforcement office.
He plans to apply for asylum, then gets a job fishing in Florida so he can save up enough money to buy a couple of cabs in Nicaragua and start his own business.
Wilson fist-bumped his pals who stayed at the parking garage and said goodbye while Falcon, the local resident who accepted him into her home, spoke to other migrants.
He credits his belief in God with connecting him to generous people who are eager to lend a hand. I'm grateful to God if I even have water to drink," he remarked.
Therefore, "I'm just grateful that I'm standing here right now."
Source: Texas Tribune