The Department of the Treasury Has Allocated $8.7 Billion for Lending in Minority Communities
The Treasury Department of the United States announced on Tuesday the release of $8.7 billion to assist in the expansion of lending to small and minority-owned enterprises as well as those living in low-income neighborhoods with restricted access to banking services.
A total of 186 community-based financial institutions will benefit from funding provided by the Emergency Capital Investment Program, which was established earlier this year.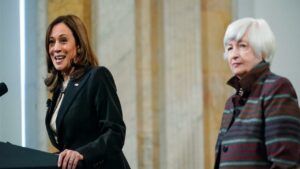 Former Vice President Kamala Harris and Treasury Secretary Janet Yellen spoke at the Freedman's Bank Forum, which was organized by the Treasury Department, and highlighted the investments.
"The wealth gap continues to exist today, and the homeownership gap continues to exist," Harris said when asked about the necessity for the investments. Specifically, "Black entrepreneurs are three times more likely than white entrepreneurs to claim that a lack of access to finance has a detrimental impact on their profit margins."
"Just Add Honey" tea company in Atlanta, Yellen said, was unable to keep all of its shops open due to a lack of financial credit. "Just Add Honey" was unable to maintain all of its shops open because of a shortage of financial credit, Yellen said.
"It's extremely simple to make the connection between policy and personal," Yellen explained. In this case, it will be possible to prevent small company owners of color from closing two of their sites. And, even better, it will assist folks in opening two more."
Despite the fact that black Americans account for 13.4 percent of the country's population, according to Federal Reserve data, they own only 4.3 percent of household wealth.
Read More: Disabled veterans expelled from Cypress home, despite qualifying for rental assistance
In the black community, pension entitlements account for more than half of total household wealth, and these benefits cannot be passed on to future generations.
Because of this imbalance, people who live in predominately Black communities have a more difficult time qualifying for business loans and mortgages, which might help them increase their net worth.
In addition to organizations with headquarters in 36 states, as well as Guam and Washington, DC, the $8.7 billion will be distributed among them.
Approximately 54 percent of the funds are directed to banks, with 46 percent directed to credit unions. It is anticipated that distributions for the largest institutions will total more than $200 million, while smaller institutions will receive less than $100,000.