If you have any unneeded electronics, video games, or even car seats lying around your house, you may be able to trade them in for gift cards, coupons, and other rewards. You can cash in on your old items at popular retailers such as Target, Amazon, and Walmart.
Here's all you need to know about the trade-in programs available at these and other stores.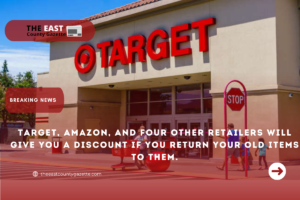 Amazon
When you send in your old electronics and devices, such as Kindle e-readers, tablets, streaming media players, Bluetooth speakers and headphones, home security devices, wireless routers, cellphones, and gaming systems, Amazon will reward you with an Amazon gift card as part of the Amazon Trade-In program.
Despite the fact that you will receive the biggest rewards for electronics in good condition, you may still be eligible for a gift card if your device is not functional.
Apple
With the Apple Trade-In program, you can trade in a qualified gadget for credit toward your next purchase or for an Apple gift card, depending on your preference. The program is applicable to iPhones, iPads, Macs, Apple Watches, Android devices, and other Apple products.
And, depending on how recent your equipment is and how well it is maintained, you may be able to recoup a significant amount of money. Take, for example, the iPhone 12 Pro Max, which may be returned for up to $790 in trade-in value.
Best Buy.
Best Buy provides a robust Trade-In program that takes a wide range of devices, including cell phones, tablets, e-readers, smartwatches, and other electronic devices, as well as cameras, video games, televisions, and other items.
To trade in your item, simply share information about it online, including its specifications and condition, and you'll receive an instant trade-in offer. Bring your trade-in item into a Best Buy store or send it in to earn an e-gift card equal to the value of your trade-in item.
GameStop
You will be given the option of receiving cash or store credit in exchange. Smartphones, tablets, wearables, headphones, gaming consoles, video games, and controllers are all accepted by the merchant.
You can search for your item online to receive an offer, and then bring it into your local GameStop to receive in-store credit or cash in exchange for your trade-in item. If you are a PowerUp Rewards Pro Member, you will receive an additional 10 percent in value.
Target Target
Target hosts its annual Car Seat Trade-In Event in September, which is held every year. As reported by USA Today, Target stores will accept and recycle all sorts of car seats during the two-week initiative.
This includes infant seats, convertible seats, car seat bases, and harness or booster seats – even if they are damaged or expired, according to the company.
By trading in your used seat, you will receive a coupon good for a discount of up to 20 percent on a new vehicle safety product such as a car seat base, travel system, stroller, or select baby home equipment.
Walmart
Walmart's trade-in program accepts a variety of items, including cell phones, tablets, game consoles, voice speakers, laptops, and wearable technology. To receive your free trade-in offer, simply select your device and answer a few questions on the next page.
Simply return it to us by FedEx for a free e-gift card once it has been received and analyzed by our team of experts.