Suki Waterhouse and Robert Pattinson's Relationship Timeline
The Batman actor and the model began dating in 2018 and have kept their relationship private. Here's a rundown of their relationship.
Despite being two of Hollywood's most famous people, Robert Pattinson and Suki Waterhouse keep their relationship private.
In 2018, the Twilight star and the model began dating. However, they had only shown us snippets of their relationship over the years.
Pattinson has spoken about Waterhouse during interviews, going out for date nights, and birthday parties.
Pattinson talked about how she was by his side when he saw Batman for the first time. She responded in a way that "kind of changed the entire thing," he said when he promoted his movie on Jimmy Kimmel Live.
More information about the couple's under-the-radar romance follows.
According to director Jeffrey Wright, Robert Pattinson's Batman is "fierce" and "ferocious."
Robert Pattinson and Suki Waterhouse sparked relationship rumors in July 2018.
The two sparked relationship rumors when they were photographed showing PDA in London in July 2018, according to E! News. PEOPLE later learned from a source that the two were indeed dating.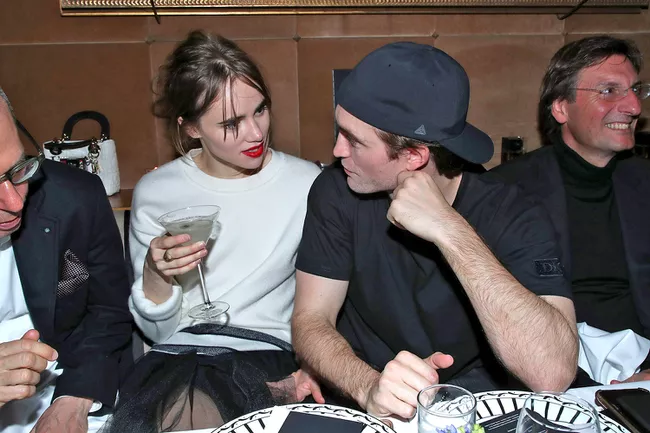 Suki Waterhouse celebrated her birthday with Robert Pattinson on January 11, 2019.
Waterhouse celebrated her 27th birthday at Casa Cruz in London with Pattinson. Liv Tyler, Cara Delevingne, and Ashley Benson reportedly attended the special event with the two.
A few weeks after going on a run together, the couple was seen holding hands while strolling in London.
Robert Pattinson publicly discussed Suki Waterhouse for the first time on April 28, 2019.
Suki Waterhouse and Robert Pattinson
Pattinson opened up about Waterhouse for the first time in an interview with The Sunday Times. While discussing his love life, including relationships in the past with FKA Twigs and Kristen Stewart.
Even though he was complimentary about his ex-girlfriends, the former Harry Potter star was more hesitant to discuss his current romance with Waterhouse. Responding, "Do I have to?" when asked.
"Letting people in devalues what love is," he later added. "You'd think it was insulting if a stranger on the street asked you about your relationship. Please build a wall."
"I find it incomprehensible how someone can hold hands and walk down the street while a hundred people are snapping photos of them, just like when I do. Eventually, the distinction between your performance and non-performance will vanish, and you'll go bonkers, "He said.
Robert Pattinson celebrated his birthday with Suki Waterhouse on May 13, 2019.
Pattinson celebrated his 33rd birthday with dinner at the Chateau Marmont in Los Angeles. In addition to Waterhouse, They were seen outside the restaurant with actor Tom Sturridge before getting in their car and driving away.
Robert Pattinson and Suki Waterhouse reportedly have a double date with Taylor Swift and Joe Alwyn on May 31, 2019.
US Weekly reported in June 2019On on May 31. Taylor Swift and actor Joe Alwyn joined the couple on a double date.
According to an onlooker, the four dined at San Vicente Bungalows in Hollywood, where they were seen "laughing and talking."
Robert Pattinson and Suki Waterhouse sparked engagement rumors
Pattinson and Waterhouse sparked engagement rumors in early 2019. When the model was seen wearing a ring on her wedding finger at a Dior dinner party with the actor in Paris. The couple, however, never confirmed anything.
May 2020: Robert Pattinson and Suki Waterhouse move to London to film The Batman
Pattinson and Waterhouse lived together in London after The Batman was halted in March 2020 due to the COVID-19 pandemic. According to GQ's June/July 2020 cover story.
Robert Pattinson and Suki Waterhouse exhibit PDA in London on September 16, 2022.
After production for Batman halted on September 3 due to a positive COVID-19 test, I spotted PDA between the two in London. On September 16, 2020. According to Vanity Fair, Pattinson was the one who tested positive. According to Variety, filming resumed on September 17 after Pattinson was cleared to return to set.
Suki Waterhouse posted a photo with Robert Pattinson in the background on April 15, 2021.
https://www.instagram.com/p/CNsdRkjDL_C/
Waterhouse made her Instagram relationship with Pattinson somewhat official. She posted a cute photo of her in her apartment in April 2021. Fans noticed what appears to be a framed photograph of Waterhouse—kissing Pattinson on the cheek in the image's background.
Suki Waterhouse blasts the Gossip Girl reboot for making a joke about her relationship with Robert Pattinson on July 29, 2021.
Waterhouse called HBO Max's Gossip Girl reboot in July 2021 for making fun of her and her relationship with Pattinson.
In episode 3, Luna (Zión Moreno) is one of Constance Billard's new queen bee's minions. An attempt to improve public perception of Zoya (Whitney Peak) after she begins dating her long-lost sister's ex-boyfriend Obie (Eli Brown).
"When are you going to get it? In the press, he's R-Patz, and you're Suki Nobody," Luna says to Zoya, appears in the scene.
"Yet another day to be reminded that women can be patriarchy," Waterhouse tweeted, tagging the show and writer Lila Feinberg before adding, "Seeing critiques of patriarchy and sexism, then I get name-checked as somebody's 'nobody' girlfriend." Make it logical!"
Robert Pattinson claims Suki Waterhouse teased him about his Batman role on February 8, 2022.
Pattinson recalled Waterhouse teased him when their repairman turned out to be a DC Comics superfan of cover interview for GQ in March 2022 (which oversees Batman).
"He just started talking about how big of a DC fan he is, and I'm sitting there looking the other way, and my girlfriend just keeps talking with him," Pattinson explained.
"And I'm looking at her as if to say. He went on, "'Shut up!' She asked, amusing herself, "Why are you doing this to me?" while conversing with a devoted follower.
On February 17, 2022, Robert Pattinson claimed that his role in The Batman made Suki Waterhouse cry. The superhero "Batman."
The Batman, starring Robert Pattinson (2022) WARNER BROS./JONATHAN OLLEY
Pattinson discussed how he first saw The Batman with Waterhouse by his side on Jimmy Kimmel Live, noting that her reaction "kind of changed the entire thing."
"I'm pretty sure she doesn't usually watch superhero movies," he explained to the host. "She touched my hand to her face while holding it, and I felt a small tear come to my eye. "No way!" I thought.
In May 2022, Robert Pattinson will celebrate his birthday with Suki Waterhouse.
Pattinson was joined at his birthday celebration by his girlfriend Waterhouse on May 13. The list includes Donald Glover, Zo Kravitz, Tessa Thompson, and other celebrities. Pattinson could be seen hugging Waterhouse as he leaned in to kiss her in a photo shared by photographer Myles Hendrik.
On July 12, 2022, Robert Pattinson and Suki Waterhouse went out in New York City.
The couple, who occasionally makes appearances in public, was spotted holding hands in July while strolling through New York City.