Storer H. Rowley: UN Warns of Rising Journalist Attacks
A record 67 journalists were murdered this year. The UN warns of the "misuse" of courts to limit journalistic freedoms by strengthening criminal and civil defamation laws and threatening lawsuits.
Undermining Free Press
A record 363 reporters were imprisoned globally on December 1. Authoritarian crackdowns on criticism, antidemocratic laws, and greater intolerance of independent reporting undermine a free press.
From Russia's ban on Ukraine conflict facts to the slaughter in Haiti, organised crime in Mexico, and threats to press freedom in China, Saudi Arabia, Myanmar, and too many other nations, the press is under attack like never before for exposing the truth.
Also read: A Dispute with a Reporter- S. Korea's Leader Yoon Suspends Q&A with Journalists Amid the Media Row
Democratic nations and societies must heed the U.N.'s warning and fight back harder, raise public awareness, and combat these trends with their own legislation and litigation to maintain international free speech values against growing criminalization laws.
UNESCO noted a worrying trend of states toughening or reinstating libel, defamation, and insult laws to tackle cybercrime, "fake news," and hate speech this month.
In the age of online conspiracies and fake news, fighting misinformation is justified.
Attack on Freedom of Expression
160 countries—80% of the world—criminalize defamation, harming journalists. UNESCO warns that 57 laws established in 44 countries in the last six years contain ambiguous language or high punishments that jeopardise internet freedom of expression and media freedom.
Tawfik Jelassi, assistant director-general of UNESCO, said when the report was released, "This analysis shows that the issue of defamation, both criminal and civil, needs to be addressed in the national legislatures according to international standards, in order to protect freedom of expression and the important work of journalists."
Criminal and civil defamation may silence journalists, overwhelm them emotionally, drain their time and resources with costly, often unjustified lawsuits, and bankrupt them. This may damage their reputations, impose self-censorship, or jail them for reporting.
UNESCO deemed "strategic lawsuits against public participation" (SLAPPs) particularly destructive. Powerful individuals or government officials accuse minor parties who provide information of public interest. These nuisance lawsuits dissuade journalists from writing negative material.
Favorable Courts and Judges
SLAPP litigants sue locally and internationally to block global inquiry consortiums. The UNESCO research said they use "forum shopping" or "libel tourism" to discover more favorable courts and judges.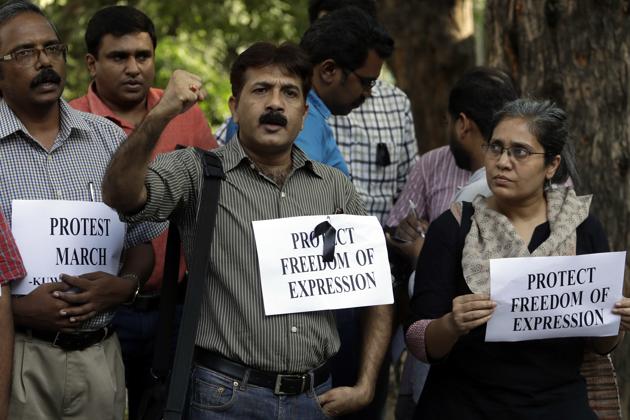 Also read: US Journalist Jailed for 11 Yeard in Military-ruled Myanmar
Examples abound. While facing 43 civil and five criminal libel claims from companies and politicians, Daphne Caruana Galizia was killed by a vehicle bomb in 2017.
The Guardian said that her eldest son, investigative journalist Matthew Caruana Galizia, dubbed the SLAPP lawsuit "a daily nightmare" for his heroic anti-corruption activist mother.
The Nobel Peace Prize-winning U.S.-Filipino journalist Maria Ressa was convicted of criminal cyber libel for reporting on a renowned Filipino businessman.
She and a co-defendant plan to petition the Philippine Supreme Court to preserve press freedom and avoid libel prosecution.
The First Amendment's petition clause shields Americans against nuisance lawsuits. Jamie Raskin, D-Md., has suggested House legislation to minimise meritless federal lawsuits against free speech and penalise the wealthy and powerful who bring them.
American journalists to Global Progress
UNESCO is right that democracies and international organisations must encourage other states to replace criminal defamation laws with international-standard civil ones.
Public officials are not shielded from reporters performing their jobs. Opinion writing is commentary and not prosecutable speech; journalists are not harassed; and governments crack down on bogus SLAPP cases.
Civil society, nonprofit organisations, media, and public figures must speak out on this issue to increase awareness and action, and courts and prosecutors should follow international principles in all defamation cases.
Human rights organisations need help.
Journalists who report openly, often in dangerous conditions, preserve our rights. They need moral, legal, and global backing.
Source: https://www.chicagotribune.com/