The Omicron form of COVID-19 is becoming increasingly prevalent. During the final week of December, the number of new COVID cases reached a record seven-day average of 265,000 instances, surpassing the previous record of 252,000 cases set on January 11, 2021, according to a report by CNBC.
The symptoms of the new type are typically milder, resulting in quarantines and increased absenteeism, as well as disruption of supply lines and, in some cases, the closure of schools.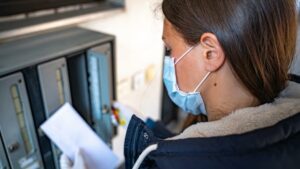 However, fewer hospitalizations and fatalities are reported now than there were in January 2021 when the original strain of COVID was in effect, resulting in a minor improvement in the economy's overall health.
Furthermore, despite the fact that roughly 62 percent of the population of the United States has received a full vaccination, an alarming number of those who have been vaccinated are contracting the virus.
According to Johns Hopkins Medicine, breakthrough infection instances have occurred in as many as one out of every 100 people in some communities.
While the federal and state governments appear unwilling to impose lockdowns once more, local governments may be forced to impose shutdowns due to a lack of staff who are unable to work since they are in quarantine.
According to Motley Fool, President Biden has stated that he does not aim to compel widespread business shutdowns. But if consumers aren't out buying or dining, or if there aren't enough personnel to cover shifts, businesses may be forced to close their doors.
Furthermore, despite the fact that unemployment rates are low and the economy appears to be healthy, many Americans are still battling to get back on their feet financially.
A study conducted by the United States Census Bureau during the first two weeks of December 2021 revealed that more than 25 percent of Americans had difficulty meeting their household expenses the previous week.
All of this begs the question: Can U.S. residents expect another stimulus check to boost the economy? The demand for a fourth stimulus payment, or possibly continued monthly payments through 2022, has been made by several campaigners and legislators.
Read More: Unbelievable Events Where Facebook Fact-checkers Wrongfully Marked an Article as "False Information."

More than 4 million individuals signed petitions on Change.org advocating for $2,000 recurring monthly payments for residents of the United States.
Last April, 21 Democratic senators from across the country sent a letter to President Biden in which they also advocated for recurring monthly payments.
While some economists believe a fourth stimulus check is possible, Wall Street experts believe this is unlikely, in part because putting additional money into the economy could accelerate inflation.
According to a memo obtained by CBS News, Brad McMillan, a chief investment officer of Commonwealth Financial Network, stated that "one driver of inflation has been an increase of demand fueled by federal stimulus," according to the article. He believes that now that the stimulus program has concluded, inflation and supply chain difficulties will continue to decline in severity.
Inflation could rise as a result of an increase in the amount of money injected into the economy, negating the benefits of additional stimulus monies.
According to Maurie Backman of the Motley Fool, rather than wishing for more stimulus money, it is preferable to hope that businesses can continue to operate and that the omicron strain remains weak and passes fast.