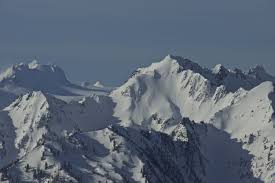 Snowpack in California's mountains at 38% of the average.
California has seen one of its driest spring seasons in decades, according to data released Friday.
If the state doesn't get a heavy dose of rain in April and May, California's drought will worsen, which could lead to stricter water use restrictions and another devastating fire season.
In recent readings, California's mountain snowpack is at 38% of average water content.
The mark is the lowest since the end of the last drought in 2015; only twice has it been lower since 1988.
Standing at a snow-measuring station near Lake Tahoe, where grass had overtaken snow in the landscape, state officials underscored the severity of the drought.
"You need no more evidence than standing here on this very dry landscape to understand some of the challenges we're facing here in California," Karla Nemeth, who is the director of the California Department of Water Resources, said.
"All Californians need to do their part."
According to Abc7news, California's water supply is about a third derived from snowmelt flowing into rivers and reservoirs.
The snowpack peaks on April 1st, which is used as a benchmark to predict the state's water supply during the drier, hotter months that follow.
"Some may say this is a wake-up call, I disagree," California Department of Water Resource Secretary Wade Crowfoot said.
"The alarm has already gone off."
Winter in California ended disappointingly, despite heavy storms in December that left the snowpack at 160% of average.
However, little precipitation has been reported since Jan. 1.
This week's storm, which brought significant snow and rain to parts of the state, made little difference to the drought.
Moreover, warmer than normal temperatures have resulted in snow melting and evaporation rates that are higher than normal, according to state officials.
"This has a big impact on our water supply here in Santa Clara County," Santa Clara Valley Water District's Matt Keller said.
According to Keller, we receive more than half of our water from outside of our county, which includes snowmelt.
With the warmer months rapidly approaching, it is time for the community to come to the rescue.
"The actions that we need to take is reduce the outdoor watering," Keller said. "That's the biggest use of water in Santa Clara County."
Approximately half of the county water use in the county is outdoors.
"The reality is, if you use less water, you're going to pay less on your water bill," Keller said.
"If you use more water, you're going to pay more on your water bill."
Now is the time to begin taking action, since we will be facing more dry weather in the future.