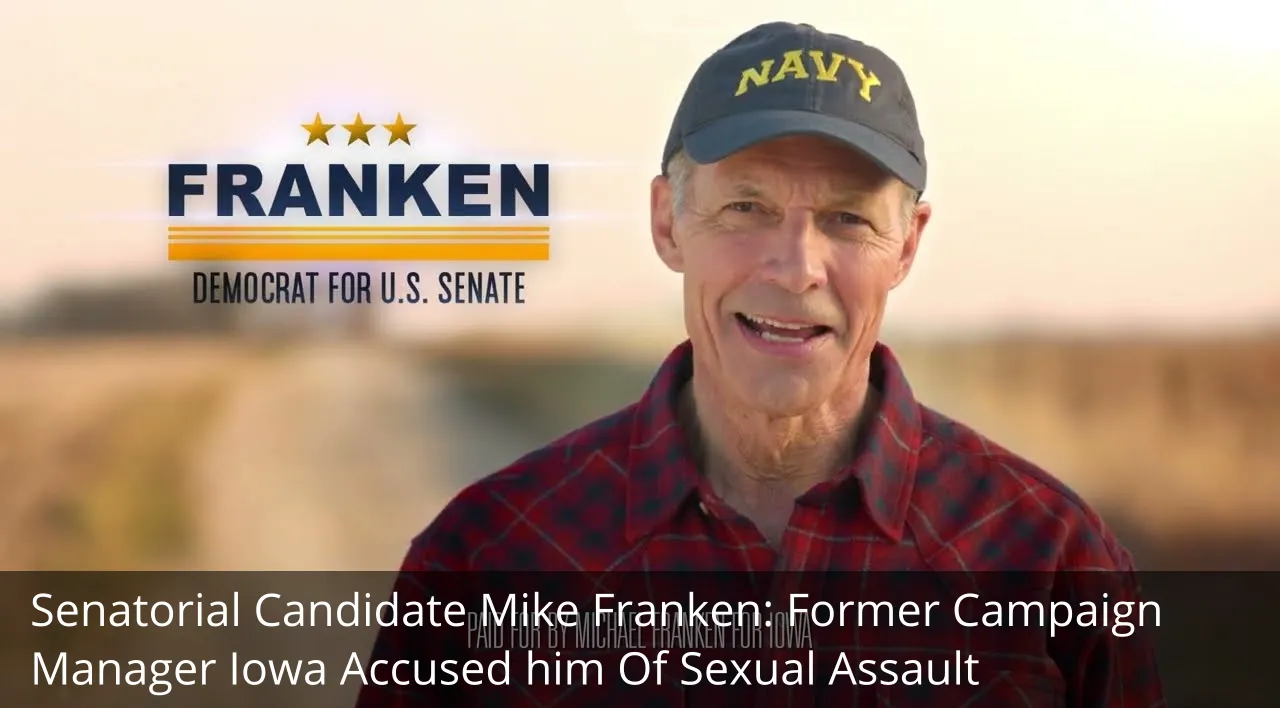 Former Campaign Manager of Iowa Democrat Accuses Mike Franken of Sexual Assault
According to the victim, Mike Franken had "1950s interactions" with "several other women."
Accusation Sexual Assault
According to police files obtained by the Iowa Field Report, a former campaign manager for an Iowa Democratic Senate candidate accused her boss of sexual assault.
My Statement on the Allegations Against Admiral Mike Franken. pic.twitter.com/Sl6QYGRy0U

— Dr. Miller-Meeks (@millermeeks) September 19, 2022
According to an April police incident report, Mike Franken grabbed and kissed Kim Strope-Boggus without her consent in March. They blacked out The assailant's name in the report. But another Franken campaign manager's name and the candidate's previous electoral history are mentioned. According to Strope-Boggus, the candidate had "1950s interactions" with "several other women."
The Allegations Jeopardize Franken's Campaign
The former Navy admiral has made "civility" a cornerstone of his platform. His platform also promises to "put an end to sexual discrimination and workplace sexual harassment." Franken is married and has two children. The assault appears to have occurred during a night of drinking in Des Moines.
A campaign spokesman for Franken did not immediately respond to a request for comment.
Franken campaign manager Maddy Leahy fired Strope-Boggus in February. Strope-Boggus' wife Becky confirmed her expulsion from the campaign in since-deleted tweets. According to the police report, Franken's legal team also pressured Strope-Boggus to remove her tweets about the firing, claiming they violated a "nondisclosure agreement that she signed."
Police closed the case after consulting with the county attorney, who determined there had been no criminal activity. Julie Stauch, another campaign manager, resigned in July but returned later one week.
Christina Bohannan and Liz Mathis are Democratic congressional candidates who did not attend a town hall meeting on Monday with Franken. The campaign leader denied the assault allegations to reporters and said his fellow Democrats had scheduling conflicts.
"Sexual assault is always unacceptable and the allegations against Admiral Mike Franken are deeply troubling. A "scheduling conflict" is no substitute for denouncing sexual assault allegations and State Senator Liz Mathis must disavow Mike Franken immediately." – @hinsonashley pic.twitter.com/2u7Wq3MdUn

— Team Hinson (@Team_HinsonIA) September 19, 2022
Democratic Fundraising Platform ActBlue
Franken raised $1.7 million during his most recent fundraising period and is listed on the Democratic fundraising platform ActBlue, which has previously removed candidates for credible allegations of sexual harassment. ActBlue kicked disgraced New York governor Andrew Cuomo off its website in 2021. He was accused of sexual misconduct by 11 women.
ActBlue did not respond to any comment.
In November, Franken will face incumbent Republican Senator Chuck Grassley. Grassley led in a July Des Moines Register poll by 8 points.