Seattle has been ranked as having the worst air quality in the world by IQAir for the second day in a row. The city's air quality has decreased due to the heavy smoke from nearby wildfires.
Problems with wildfire smoke
The air quality in Seattle has dropped to the worst in the world due to the nearby wildfires. For the second day in a row, the city and Western Washington have been warned about poor air quality. Wildfire smoke is getting heavier, worsening air quality. On Wednesday, Seattle's air quality ranked among the worst five cities in the US, hopped around the bottom 15 all morning, then peaked at the top spot in the afternoon.
Starting in second place on Thursday morning, Seattle regained principal by 8 a.m.
Alerts and Announcements to the Public. According to the State Health Department, schools should limit pupils' outdoor activity to indoor recesses and modest physical education sessions. Sports events and practices will be canceled or relocated indoors or to a location with better air quality if schools decide to take such measures.
The Puget Sound Clean Air Agency issued a similar warning to its Seattle community on the day the study was released, advising people to stay inside due to the hazardous air quality produced by wildfire smoke. Across the Puget Sound region, "conditions are UNHEALTHY to VERY UNHEALTHY and will likely remain until tomorrow," the agency said on Thursday. "Everyone needs to safeguard their health. If you can, stay inside."
Thursday saw Portland, Oregon, become the world's second-worst city for air quality. By 3:40 p.m. EDT, however, it had fallen to third place, behind the Indian capital of Delhi.
In September, dry and windy conditions fueled 18 significant fires in Oregon and Washington, forcing thousands to evacuate and causing widespread and localized power disruptions.
Bolt Creek Fire accounts for most of the air-pollution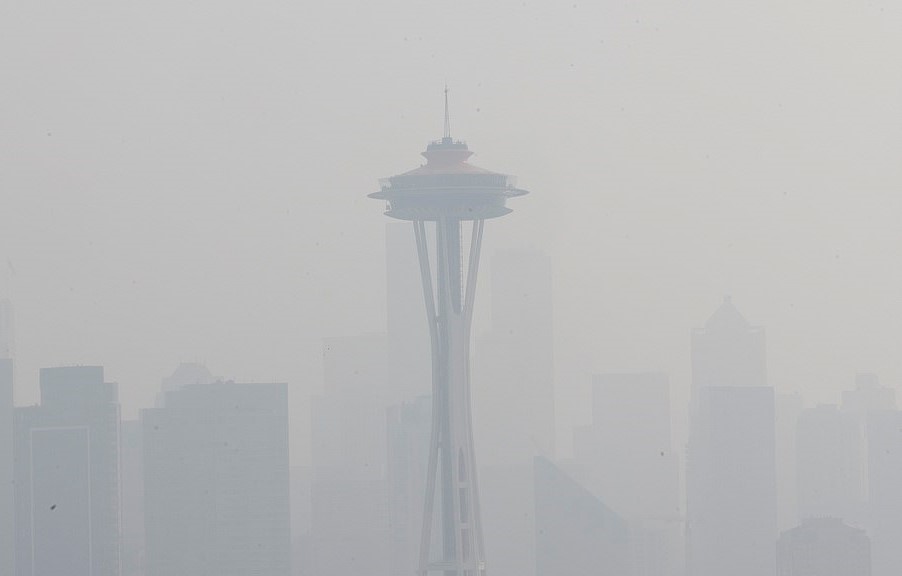 According to the most recent data from the National Wildfire Coordinating Group's Incident Information System, 43% of the Bolt Creek Fire has been contained since it began on September 10. The fire has burnt over nearly 15,000 acres since it began.
Meanwhile, in Washington, the Nakia Creek Fire has reached the Oregon state line and continues expanding.
According to the Incident Information System of the National Wildfire Coordinating Group, it has burned 1,918 acres and is just 23% contained. The Washington State Department of Natural Resources reports that the hot weather in the Pacific Northwest contributed to the rapid fire spread that caused thousands of residents' evacuation. Fire authorities reported increased visibility and the ability to use planes in the suppression efforts on Wednesday.