RYVID Secures $20 Million To Produce in California
A rising number of electric bikes at affordable prices are entering the U.S. market, although
the majority are still manufactured abroad. Nonetheless, thanks to a $20 million California
subsidy, electric motorbike maker RYVID will be able to produce its RYVID Anthem
motorcycles in the Golden State, therefore generating hundreds of employment.
The business intends to use the $20 million award to construct its headquarters in Hawaiian
Gardens, create an electric motorbike production plant in San Bernardino, and establish a
second lithium battery manufacturing facility in El Cajon.
RYVID anticipates that the three sites will generate more than 900 full-time jobs.
Dong Tran, co-founder, and chief executive officer of the firm, expressed thanks and his
desire to generate manufacturing employment in California.

The RYVID team is very appreciative to Governor Newsom and the California Competes
Program for providing this award. We appreciate the chance to help our California
neighborhood, the country, and the whole world via the development of electric vehicles that are environmentally friendly.
RYVID's founders are immigrants and children of immigrants who moved to California in search of a better life, and we are dedicated to bringing high-paying manufacturing employment to our home state for years to come in one of the fastest expanding areas of electric mobility.
The new financing was part of a bigger total of $123 million in CalCompetes awards offered
to businesses that would generate local employment in the technology manufacturing and
environmentally friendly energy industries. The assistant director of CalCompetes, Scott Dosick, explained how the awards would
benefit both RYVID and California:The CalCompetes initiative anticipated precisely these sorts of investments and employment.
This funding will allow RYVID not only to launch company activities in California but also firmly maintain its presence here for the foreseeable future. California will once again be the epicenter of innovation and investment that increases employment, creates living-wage jobs, and contributes to the state's world-leading climate objectives.
Before accepting pre-orders in August, the RYVID Anthem electric motorbike was introduced earlier this summer. Compared to higher-performance flagship bikes such as those manufactured by LiveWire, Zero, and Energica, the Anthem's $7,800 price tag is 2 to 3 times less expensive. It had highway-capable speeds of over 75 mph (125 km/h) and city ranges of up to 75 miles (120 km) with a 4.3 kWh battery.
The detachable battery also allows apartment dwellers and anyone without street-level charging alternatives to buy and charge an electric motorbike. Toll Micah Micah Toll, of Ryvid Anthem Electrek, demonstrates two RYVID Anthem electric bikes.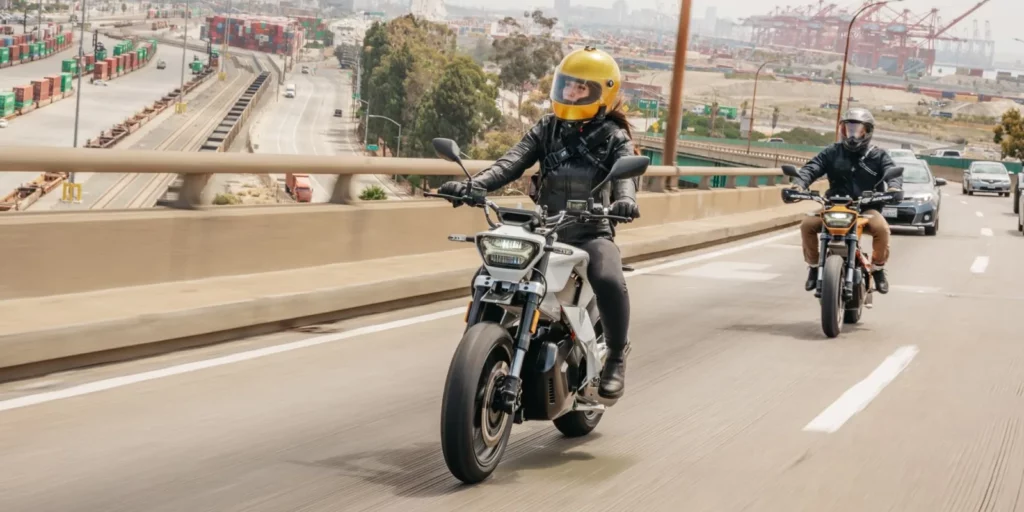 The bicycle also has a variety of innovative features, such as a metal frame that can be
folded for a lightweight design and a seat height that can be altered by 4 inches (10
centimeters) while the bike is in motion.
During a number of test rides with Dong Tran,we were able to ride a pair of early RYVID
Anthem prototypes. Mixing freeway and surface street riding, we traversed the southern
region of Los Angeles.