Roger Stone's Predictions Of Political Violence: Shown in Documentary Clips At A Hearing On January 6th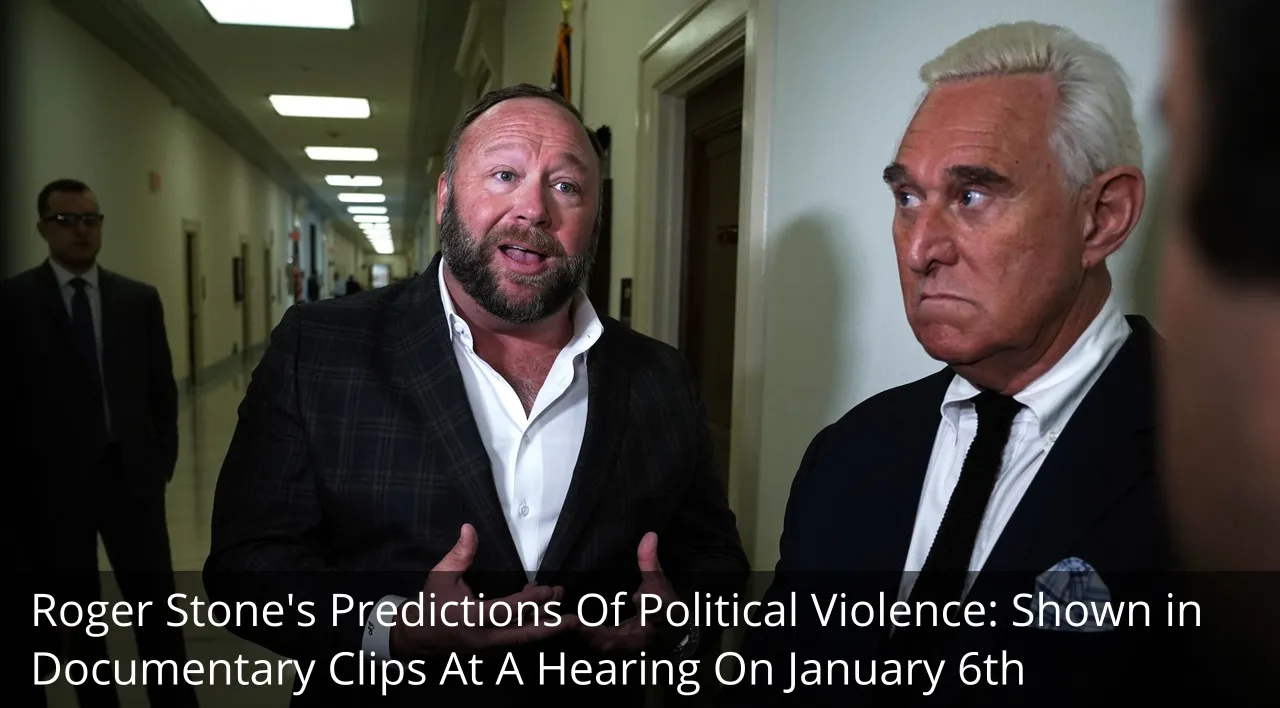 The House Select Committee on Investigation's final scheduled hearing. On January 6, 2021, the Capitol attack will include documentary footage of former Trump adviser Roger Stone. They predict political violence following the 2020 election.
According to the Washington Post, the Wednesday hearing will feature film footage. The clip is from a Danish crew led by director Christoffer Guldbrandsen. Who is working on a documentary about Stone called "A Storm Foretold," which is due out later this year?
According to the Post, which cited a source familiar with the situation, the Danish crew's footage showed Stone predicted months before the 2020 election that Trump would maintain power by using armed guards and loyal judges.
According to the Post, the videos will also reveal remarks made by other Trump officials. Such as former White House Chief Strategist Stephen Bannon. About claiming victory regardless of the outcome of the election. On election night, Trump did exactly that.
"After nearly three years of working with Roger Stone and those around him. We realized that "The anti-democratic movement in the United States did not reach its apex. After the 2020 election and January 6, but rather just getting started," Guldbrandsen told the newspaper.
Last month, Politico reported that on January 6, committee aides traveled to Copenhagen, Denmark, to review the footage.
According to the Washington Post, the committee reviewed three years' worth of footage and ultimately decided to play 14 clips totaling about 10 minutes of footage at Wednesday's hearing.
The Washington Post reported on a recording made months before the 2020 election. Stone discussed with a staffer how Trump should use the courts and federal judges to stay in power if he lost the election.
In another video, shot the day before the election after a rally for former Rep. Doug Collins (R-GA), Stone discussed violence, saying, "F— the voting." Let's get right to the fighting," he said before clarifying that he was joking.
A final report on its investigation will follow the final scheduled hearing of the House committee. The panel has placed Trump at the center of the events that led to the Capitol attack.
Lawmakers claim he made numerous attempts to stay in power, including attempting to sway the vote in battleground states, pressuring former Vice President Mike Pence not to certify the election, and allowing rioters to attack the Capitol for hours before realizing the effort was failing.
During the summer hearings, the committee showed documentary footage from two other filmmakers who documented the riot and the events leading up to January 6.