Retail sales increased by a seasonally adjusted 3.8 percent in November, far beyond the expectations of the majority of economists. It was a significant improvement over sales in the previous month, which fell 2.5 percent, according to revised numbers provided Wednesday by the United States Commerce Department.
Inflationary pressures were expected to have pushed the numbers even higher in January.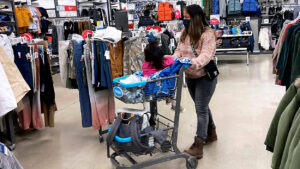 Retail sales were up across the board in all categories. Compared to the previous year, sales at general merchandise stores increased by 3.6 percent, while sales at department stores increased by 9.2 percent.
Sales at furniture and home furnishings retailers increased by 7.2 percent in the last quarter. Sales on the internet increased by 14.5 percent. While restaurants had a 0.9 percent reduction from the previous month, this was largely due to people refraining from going out to dine for fear of contracting the virus.
Because so many people called in ill as a result of the omicron variety that surfaced in late November, there were widespread staffing shortages.
However, the wave of infections caused by the most recent variation appears to have been short-lived, with infections beginning to fall by mid-January at the same rate as they had been rising late last year. The number of new cases has dropped from 436,000 a day two weeks ago to 136,000 on Monday.
What is growing is inflation, which has reached levels not seen in four decades, wiping out pay rises and likely evoking a more aggressive response from the Federal Reserve, which is expected to begin raising interest rates to cool the economy in order to cool the economy.