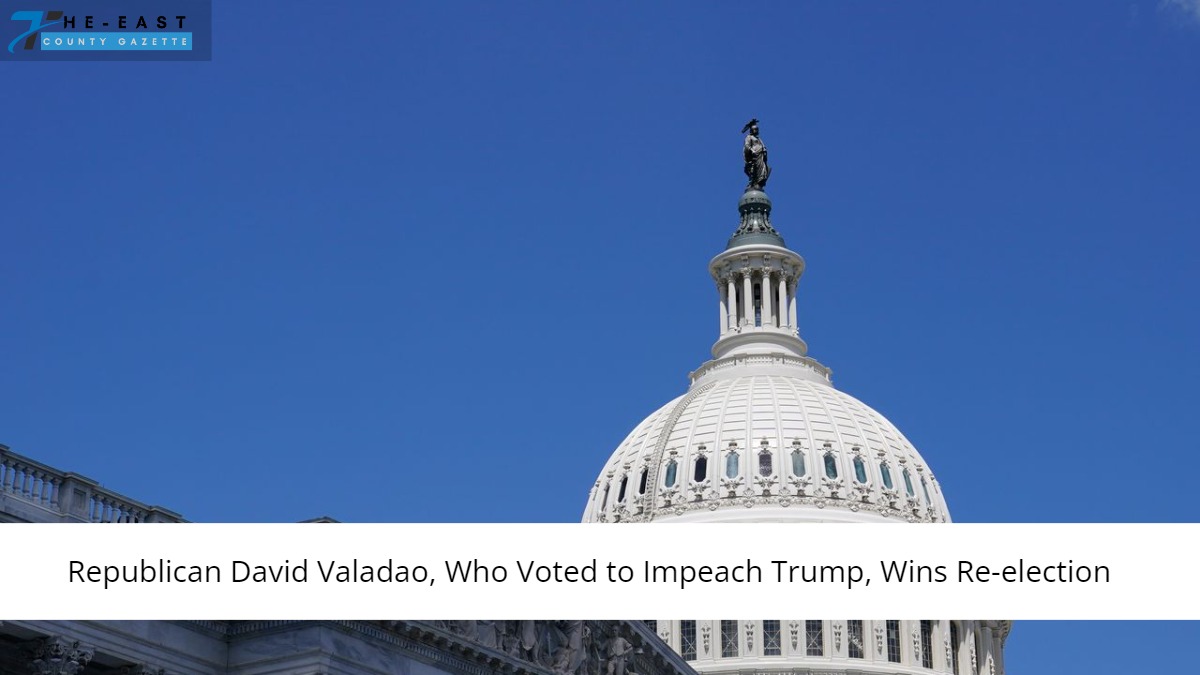 Republican David Valadao, Who Voted to Impeach Trump, Wins Re-election
California Rep. David Valadao won re-election on Monday, bringing the number of Republicans who voted to impeach former President Trump over the Capitol riot to two.
According to the Associated Press, Valadao will defeat Democratic State Assemblyman Rudy Salas, retaining his seat in a swing district that stretches from Fresno to Bakersfield.Mr. Valadao received 51.7% of the vote versus Mr. Salas' 48.3%.
Four of the 10 House Republicans who voted to impeach Trump after the Jan. 6, 2021, assault lost to Trump-backed opponents in GOP races, and four retired.
Rep. Dan Newhouse; Other GOP Candidate
Rep. Dan Newhouse (R., Wash.) ran first in a tough open primary in August and comfortably beat businessman Doug White in November.
Lisa Murkowski of Alaska is the only Republican running for reelection among the seven who voted to convict Trump of inciting an uprising.
Also read: Republican Focus Shifts From Gas Prices To Gaslighting After House Victory
The Senate acquitted him when the 57-43 vote fell short of two-thirds. Ms. Murkowski is favourably positioned to win in Alaska based on the vote count thus far, ahead of Wednesday's ranked-choice tabulation.
Valadao and Newhouse's victories complicate the GOP's midterm outlook. Trump's backing regularly helped his favourite candidate in primaries. The candidates' general election results were uneven. Democrats won House, Senate, and gubernatorial contests against Trump's candidacy.
Reps. Peter Meijer of Michigan and Jaime Herrera Beutler of Washington lost to Trump-aligned candidates in their primaries.
Both Lost to Democrats
In Pennsylvania, Lt. Gov. John Fetterman defeated Trump-backed TV doctor Mehmet Oz. This triumph, along with Democrats' retention of three Trump-backed seats in Arizona, New Hampshire, and Nevada, helped the party keep its Senate majority. Georgia's Senate runoff is Dec. 6.
Katie Hobbs upset Trump-backed Kari Lake in Arizona's governor's race. Clark County Sheriff Joe Lombardo, a Trump supporter, defeated Nevada Gov. Steve Sisolak.
Trump didn't back Valadao's opponent. Democratic PACs spent hundreds of millions of dollars attacking Valadao for his impeachment vote to help his pro-Trump GOP competitor, Chris Mathys, and set up a more advantageous general election battle for Democrats. Mathys lost in California's top-two open primary against Valadao and Salas.
Mr. Valadao first ran for Congress in 2012. His Central Valley district has become more Democratic since then. In the 2018 Democratic wave, Valadao fell to T.J. Cox. Valadao won the seat in 2020 despite President Biden's 11-point win in the district.
After the Supreme Court abolished abortion access this summer, Democrats ran on it.
Democrats lambasted Mr. Valadao for proposing federal abortion bans
Valadao campaigned with former Vice President Mike Pence and stressed his support for Trump's agenda and bipartisanship.
Also read: Illinois' Minority Republican Leadership Aims to Strike a Balance
Valadao told local media during Pence's visit last month, "I think there will always be furious people." "When we look at what's happening in the nation right now, I hope they concentrate on how we can change things in this election," she said.
Republicans regained the House majority last week, but numerous elections remain. With their gains, Republicans will have a slender majority and must work together to accomplish legislation.