Recent Report Predicts Gas in This State Might Be Roughly $6 in 2022
Gas price tracking company GasBuddy estimates that driving a car will be significantly more expensive in 2022. So start saving those pennies now.
A new analysis released on Wednesday by GasBuddy predicts that the average price of gasoline across the country will be $3.41 in 2022. The current national average price is approximately $3.29. GasBuddy predicts that prices will be near $4 a gallon by June when people return to the roadways for summer.
It should come as no surprise that California is expected to witness an increase in gas prices in 2022.
According to GasBuddy, petrol prices in San Francisco might reach $6 a gallon, while rates in Los Angeles and Sacramento could be around $5.50 a gallon.
According to AAA, the average price of gas in California is currently $4.65 per gallon at the pump.
In sum, the average household in the United States will spend $2,341 on petrol next year, compared to $1,977 in 2021. According to GasBuddy, that would be the highest amount of money spent on gas by households since 2014.
As the bulls begin to retake control of the oil market, the fast-spreading Omicron variety is beginning to weigh on global economic growth, prompting calls for higher gas prices to be accompanied by inflation.
Oil prices have been hovering around one-month highs over the past few days.
The price of Brent crude oil fell marginally on Wednesday, to $78.43 a barrel. In the first two weeks of December, prices for the item have risen by 15 percent.
Read More: $15 Minimum Wage Arriving in 2022 to These States! Check Here!

Oil analysts believe the price of oil will continue to rise as the world tries to claw its way out of the pandemic in the coming months. Higher gas prices will likely be supported as a result, according to GasBuddy's forecasting system.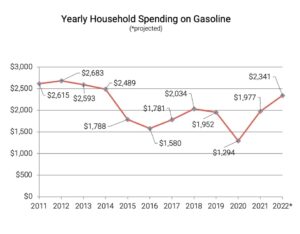 "Going into the [summer] driving season, we can expect to see the demand situation continuing to improve. Hopefully, we will be able to put this epidemic behind us.
All of the pent-up travel demand will finally be released, and the economy will begin to recover. Flights were rather busy over the holiday weekend, and we expect them to become even more crowded as capacity increases in the coming weeks.
When it comes to crude oil, we have 432 million barrels available on the supply side. Because the five-year average is 460 million, supplies are extremely limited. In terms of OPEC's response, we don't expect them to react in any way by changing their supply picture.
As a result, we anticipate that any type of tiny supply shock will cause prices to rise. We predict oil to be between $85 and $90 [per barrel] next year "On Yahoo Finance Live, Phil Streible of Blue Line Futures shared his thoughts on the market.