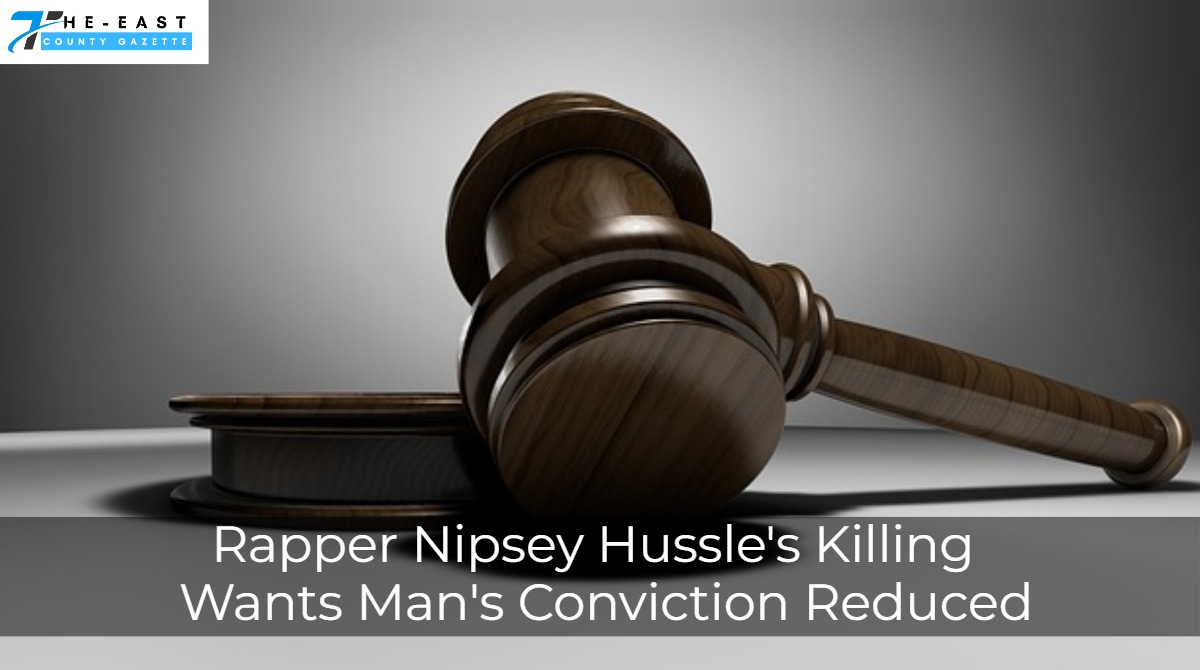 Rapper Nipsey Hussle's Killing: Defense Wants Man's Conviction Reduced
A defense lawyer for the man who was found guilty of shooting rapper Nipsey Hussle dead in front of the musician's clothing store in South Los Angeles said on Thursday that he intends to seek the court to modify the verdict of his client from first-degree murder to voluntary manslaughter.
The murder charge will be "reduced to voluntary manslaughter to be consistent with the other two verdicts," according to defense attorney Aaron Jansen, who spoke to media outside a courtroom in downtown Los Angeles. In those two verdicts, Eric Holder Jr. was found guilty of attempted voluntary manslaughter rather than the more serious charge of attempted murder involving two additional people who were hurt in the shooting on March 31, 2019.
The defense's request, which is anticipated to be considered in a hearing on December 1st, has drawn the objection of deputy district attorney John McKinney.
Sentenced on December 19, Holder could receive a life sentence in jail. According to Jansen, the defense intends to submit a notice of appeal and provide Judge H. Clay Jacke of the Superior Court with "significant evidence relative to Mr. Holder Jr.'s mental health."
In addition to two counts of attempted voluntary manslaughter and assault with a firearm, the 32-year-old defendant was found guilty on July 6 of one count each of first-degree murder and gun possession by a felon.
Moreover, investigations supported claims that he personally and purposefully discharged a firearm and personally caused significant physical harm to one of the victims.
The prosecutor claimed that Holder had "quite a bit of time for premeditation and deliberation" before returning to the parking lot near Slauson Avenue and Crenshaw Boulevard, where the rapper was shot 10 to 11 times, adding that the murder was "cold-blooded" and "planned."
"Kicking him in the head, that's personal, and saying "You're through" before shooting him multiple times The premeditation and deliberate nature of this murder makes it a first-degree murder "explained the prosecution.
"Nipsey cannot be brought back. But you can make things right. Please be fair "Just before the case was turned over to the jury, McKinney implored the panel.
The rapper, whose true name was Ermias Joseph Asghedom, was shot and died, as Holder's counsel admitted at the beginning of the trial. However, he claimed that the crime, in which his client used a gun in each hand, was committed in a "heat of passion."
Nine minutes and ten seconds earlier, Holder had been "called publicly a snitch by someone as famous as Nipsey Hussle," and the defense attorney informed the jury that Holder had "no cooling-off period" after that.
Eight days of testimony were heard by the jury during the trial, which was postponed for one day as a result of what Holder's lawyer claimed was an assault on Holder while he was in custody.
According to Jansen, while waiting to be carried to court, his client was attacked and lost consciousness in a detention holding cell with other convicts. According to the lawyer, he later got an MRI and required three staples to the back of his head. He also had a swollen left eye and swelling on the left side of his face.
Holder declined to provide a defense testimony. He was detained after being taken into custody two days after the shooting. He turned himself in at a Bellflower mental health facility, his attorney told the jury.
Thousands of people attended Hussle's memorial service in April 2019 after his passing, and artists like Stevie Wonder and Snoop Dogg paid tribute to him.
Barack Obama, the former president, wrote the following in a letter that was read during the service: "While most people see only gangs, violence, and hopelessness in the Crenshaw community where he grew up, Nipsey saw the opportunity. He perceived a ray of hope. He encountered a group of people who, in spite of their shortcomings, taught him to never give up."
In 2020, two Grammy Awards were presented posthumously to the rapper-entrepreneur for best rap performance for "Racks in the Middle" and best rap/sung performance for "Higher."