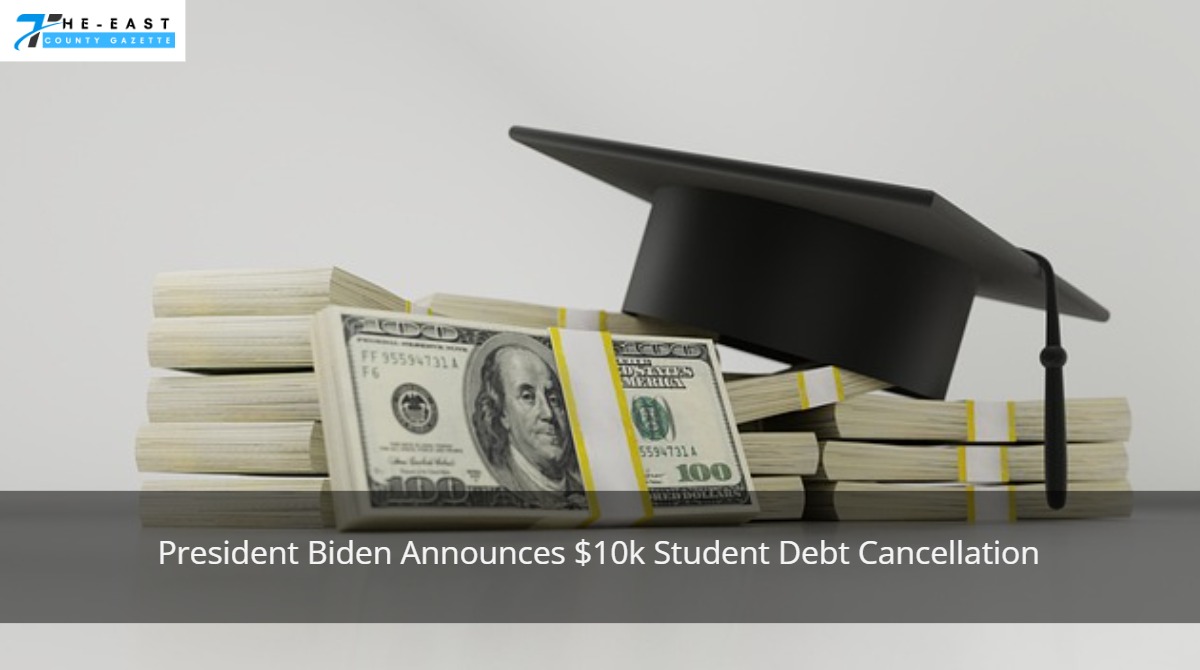 President Biden Announces $10k Student Debt Cancellation
On August 24, President Joe Biden unveiled a broad plan for student loan debt payback and debt forgiveness. Since then, more specifics—and some backtracking—have been revealed.
By presidential order, borrowers of federal student loans who satisfy the required income thresholds will have their debt forgiven up to $10,000. The forgiven sum increases to $20,000 if the borrower got a Pell Grant to help with education expenses. The White House reports that as of Nov. 3, close to 26 million people had already applied, and 16 million of those requests had been granted.
Borrowers must continue to wait through appeals in the hopes that the entire plan will not be derailed, as relief had been anticipated to start as early as October 23. On November 19, the Department of Education contacted those who had been accepted but added that debt relief was on hold until it dealt with the cases.
Americans who have federal student loan debt number 43 million. According to the White House, for 20 million of them, the plan cancels the whole outstanding sum. Individuals must have earned less than $125,000 in the prior tax year, while married couples filing jointly must have earned less than $200,000 in order to qualify for high-income household assistance.
An estimated 95% of borrowers will profit from cancellation, with borrowers earning less than $75,000 and receiving the majority of the benefits (approximately 90%). The Congressional Budget Office pegs the cost to the Treasury over the next ten years at $400 billion.
The Biden administration also disclosed an eighth extension of the payment forbearance on November 22. Federal student loan borrowers have been exempt from payment obligations since March 2020, and they would not be obliged to make another payment until as late as August 2023, depending on whether litigation is successfully concluded before then.
Additionally, the education department has expanded the types of payments that qualify for loan forgiveness through a long list of updates to the existing loan forgiveness schemes.
The Education Department also put forth a new income-driven repayment plan that would lower future costs and stop loans from growing if payments are made on time.
The White House has already changed its position on advice for borrowers with old, commercially held Perkins loans and Federal Family Education Loans that are government-guaranteed, albeit the cancellation process has not yet started in earnest. The phrasing that appeared to entitle those debtors to the cancellation scheme was abruptly modified on September 29.
The StudentAid.gov website provided the following advice before that date: "ED is in discussion with private lenders on whether to offer relief to borrowers with privately held federal student loans, such as FFELP and Perkins Loans. By combining their federal student loans into the Direct Loan program, borrowers with privately held federal student loans can get assistance in the interim. The deadline for all qualified borrowers to file a debt relief application is December 31, 2023."
The website now states that students who have federal student loans that aren't owned by ED won't be able to use consolidation to get a one-time debt relief break.
According to the Education Department, borrowers who had already applied to combine their debt, which was a requirement for loan cancellation, would still be eligible.
According to the most recent federal data, private lenders are holding loans totaling $108.8 billion for about 4.1 million federal borrowers. As the remaining borrowers might have other cancellation paths or otherwise be ineligible, the administration projects that only about 770,000 borrowers will be impacted by the change.
Federal data show that around 15.2 million borrowers have debts under $10,000. Sen. Elizabeth Warren sent a data request to the Department of Education in April 2021, claiming that around 1.38 million such borrowers have been paying back their loans for more than 20 years (D-Mass.). The White House predicts that there will be about 23 million borrowers who still owe money.