Positive Covid Tests May Exclude You From Receiving Unemployment Benefits. What Should You Do?
It is almost certain that as the Omicron variation spreads throughout the country, a fresh generation of employees will require time off from their jobs.
Early pandemic-era federal benefits provided unemployment pay as a measure of compensating for time missed from work, but unemployment compensation is now unavailable to persons who test positive for COVID-19.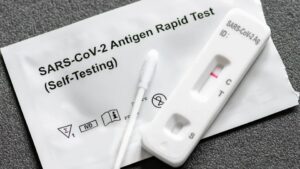 People who test positive for COVID-19 and remain at home to recover are not eligible for unemployment benefits, according to Michele Evermore, senior policy advisor for unemployment insurance at the United States Department of Labor.
During the early stages of the epidemic, the federal government supplemented an eligible individual's unemployment benefits with an additional $300 per week on top of whatever state unemployment benefits were being paid to him or her.
However, this policy, which provided one of the most generous jobless benefits packages in history, was set to end at the beginning of September 2021.
Unemployment benefits are a sort of social insurance that is provided on a weekly basis to those who are out of work. In order to qualify for the help, Americans must be "able and available" to work, according to the law. According to Evermore, an individual who possesses COVID-19 does not meet this fundamental need.
Unemployment benefits may be available as a result of potential exposure. Claim Unemployment is not intended to be used as sick leave, but a loophole in the law may allow you to get benefits if you are in need of them.
People who test positive for COVID-19 do not qualify for unemployment insurance, however, this is not always the case for those who must be isolated as a result of potential exposure to the virus.
Read More: Automatic $125 Stimulus Check Payments Are Scheduled to Be Distributed — How to Get Registered by the Deadline? 
Those who are isolated are technically capable and ready to work, but they are unable to do so because of circumstances beyond their control.
The initial step for these folks will be to contact their place of employment, since they may be eligible to take sick leave from their company. If they are unable to do so, they should consider asking for unemployment insurance for the period of time during which they are obliged to isolate themselves.
A 5-day isolation period is now recommended by the Centers for Disease Control and Prevention (CDC), down from a previously recommended 10-day duration.