Nicole Has Issued A Tropical Rain Threat For New York City
Nicole, which made landfall in Florida early Thursday morning as a deadly Category 1 hurricane. It is now moving up the East Coast and will dump a lot of rain along the I-95 corridor. Which passes through New York City region and its surrounding suburbs.
• Nicole's rain will hit New York City between 11 am and noon. 1 pm EST and EST. Friday EST. Dave Dombek, a senior meteorologist for AccuWeather. Predicts that it will begin as a drizzle or light rain and could last through the Friday evening commute.
• The heaviest rain anticipate from late Friday night to early Saturday morning. Flash flooding causes by tropical downpours. But it is not expected. Like Ida was in New York City, to be as harsh on September 1, 2021.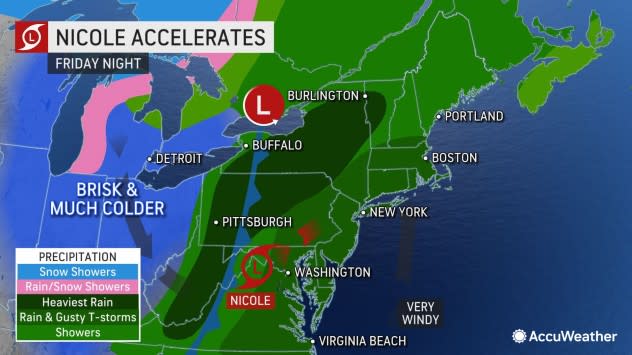 Even if Nicole changes from a hurricane to a tropical downpour. New York City may still experience tropical-storm-force winds. According to Dombek, the best chance for strong to damaging wind gusts overnight is between 40 and 45 mph on Friday night. He added that there is a possibility that winds in some places will gust to 50 miles per hour.
Risk of severe weather Damage-causing wind gusts are undoubtedly possible, and Dombek believes that there is a minimal chance—not none—that someone in the NYC area will witness a brief tornado.
• If a tornado does develop, it will probably be brief and have an EF0 or EF1 rating, but damage is still possible.
On Saturday, the rain should stop around 7 am at 9:00 am EST. EST. The Big Apple expected to receive between 1 and 2 inches of rain, which would be the most since October 4, when 1.85 inches fell.
• Following Nicole, New York City is expected to receive significantly cooler air. With temperatures dropping from around 70 degrees Fahrenheit on Saturday to approximately 50 degrees on Sunday and 40s in the early part of this week.
According to Dombek, it is unusual for a tropical system. Like Nicole, it affects the mid-Atlantic this late in the year. Additionally, the wind typically blows from the east or northeast during November storms. The wind will come from the southeast. Shores facing southeast that might not flood during an early season. Nor'easter could experience minor coastal flooding due to the wind direction.
Also Check: World Weather Forecasts https://www.weather.org/