New York City Officials Issue Health Advisory, COVID-19 & RSV Spreads
N.Y.C. – Due to the increase in RSV, flu, and COVID-19 cases, New York City health officials are recommending that residents use masks indoors and in crowded areas.
Dr. Ashwin Vasan, the city's health commissioner, said, "The holiday season is about togetherness, and there is a way to gather safely," despite an exceptionally high incidence of respiratory infections in the area. "Making sure you're safe is the first step. Although vaccination and boosters are important, so are measures such as wearing a mask in crowded areas and staying at home if you're ill.
Likewise, testing is encouraged prior to any planned gathering, and prompt treatment is essential for those who test positive. We hope the holidays find you well and in good spirits." As the number of flu, COVID-19, and RSV cases in the state rises, state health and education officials have written a letter with recommendations to school districts, including the use of face masks in the classroom.
"A variety of respiratory viruses, including influenza, RSV, and COVID-19, has taken over our state and many of our communities. Although these diseases are typically controllable, they can have severe consequences, especially in youngsters, "written communication from Education Commissioner Betty Rosa and Health Commissioner Dr. Mary Bassett.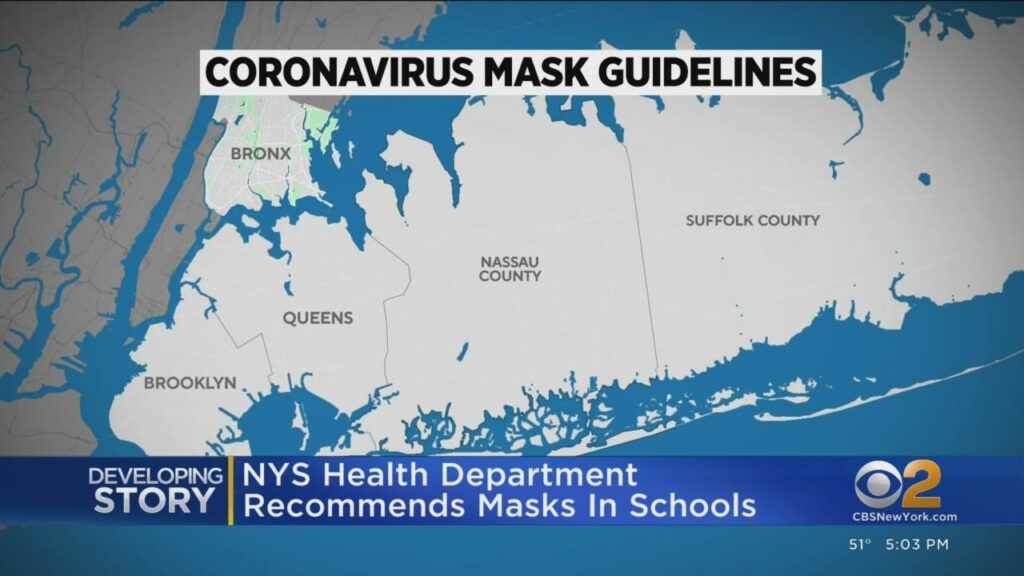 There has been an increase in the number of pediatric RSV cases, putting a strain on medical facilities. Schumer has demanded action from HHS, arguing that hospitals, particularly in upstate New York, require more resources.
Hospitalization of children for RSV has prompted Cohen Children's Medical Center on Long Island to build 75 beds. According to some doctors, multiple viruses have been found in the same patient.
The reason is, "because if you have one, you already have very weak immune system," as Dr. Muneeb Khan put it. The primary care physician director at Columbia University Medical Center is pleased with the new guidelines because they will help reduce the spread of influenza.
"The flu is spreading like wildfire," Dr. David Buchholz remarked. "Methods include the use of masks, frequent hand washing, covering the mouth with the elbow when coughing, and possibly avoiding close social contact. Stopping the spread of respiratory infections requires going back to the basics."
The newest COVID Data Tracker report issued by the CDC advised mask use across five New York County jurisdictions, including all of Long Island, Brooklyn, Queens, and the Bronx. However, while COVID cases have increased in the Tri-State Area, flu-related hospitalizations have risen to the top.
According to the latest data, "the number of laboratory-confirmed flu cases has nearly quadrupled over the past three weeks, and the number of flu hospitalizations has more than doubled," the letter to school districts added. As a result, "we are advocating a community-wide approach, including schools, to take steps again this holiday season and winter that can minimize the spread of respiratory viruses and protect small children, elderly individuals, and those with underlying health concerns."
The state's governor, Kathy Hochul, has advocated for a statewide vaccination drive against influenza and chronic virologic viral illness. The booster injection rate is extremely low, with only 13% of the population over the age of 5 have had it, according to Hochul.
Moderna and Pfizer's revised COVID-19 booster doses for children aged six months to 5 years were approved by the Food and Drug Administration on Thursday.
Parents on the Upper West Side are covering their children's faces again in masks due to more than simply the spread of the COVID virus outside of P.S. 84. The triple epidemic has been labeled as such.
"There's no harm in trying. If I could keep my child from being sick and her pals well, "remarked Joanne Shea. "What they're suggesting is fantastic. That's why we need to look to them for advice, "in the words of Karen Pham Van.
"We've been immunized, so it's only fair that you have the option; myself, I'll be wearing a mask. Those who don't wish to participate in anything shouldn't be forced to do so, "she remarked Shenae Osborn.
"They are free to suggest anything they like. And I believe parents should have an ultimate say in the health decisions their children make, "the Chinese scholar Yiatin Chu added. "In light of the virus's impending return, I suppose this is a prudent move. The re-emergence of COVID, ", Rosendo Martinez remarked.
Eventually, the COVID outbreak caused by the Omicron variant began to decline in March, and schools were no longer required to enforce the wearing of face coverings.