Miss Rodeo Wyoming Completes Miss Rodeo America In 2023
Madelaine McElwee of Laramie, Wyoming, competed for the Miss Rodeo America (MRA) 2023 title from November 27 to December 4, 2022, as Wyoming's representative at the Nevada state of Las Vegas' Miss Rodeo America Pageant.
Although the Miss Rodeo America Pageant may appear to be just a beauty contest, it is a scholarship competition, and the contestants are vying to become Miss Rodeo America 2023.
Also, do check the Website: https://missrodeoidaho.com/index.html
Four categories were up for grabs in the contest: personality, horsemanship, speech, and appearance. Each of the 28 contestants represented one of the 28 states in the United States. They underwent a personality interview to kick off the week.
The horsemanship competition came after the personality competition. Each competitor performed a fly-by and a small reining pattern during the horsemanship competition. The Rodeo Queen's signature maneuver, in which she rides the horse around the arena while waving to the crowd, is called a fly-by. On Tuesday, November 29, McElwee competed in the second round of horsemanship. The public was welcome to attend the horsemanship competition, but recording and taking pictures were prohibited.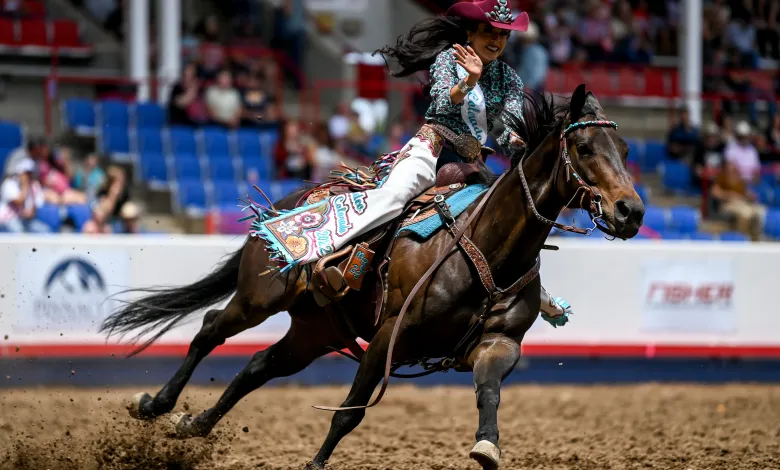 Speaking contests were the main focus of the third day. To prepare a 3-minute speech, a topic was assigned to each contestant. Each day, the contestants delivered speeches ranging from personality relativism to supporting agriculture.
The exact list of songs was provided to each contestant and was required to select. The one that spoke to them the most and explained why.
Following the impromptu speeches, McElwee and the remaining competitors had horsemanship interviews.
Additional horsemanship interviews and a dress rehearsal took place on the fourth day in Las Vegas, Thursday, December. Each contestant had the opportunity to spend their evening. They were attending the NFR 2022 Welcome Ceremony and viewing the live stream of the ten-day rodeo championship since it was also the beginning of the Las Vegas location of the Wrangler National Finals Rodeo (NFR).
A fashion show was held for the MRA Pageant's appearance portion on Friday, December 2. McElwee waltzed down the carpet while wearing a maroon dress.
For the new MRA awards and coronation ceremony, which was held on Sunday, December 4, rehearsals and preparation took place on Saturday, December 3.
The Miss Rodeo Wyoming pageant recently crowned its 2023 winner. The annual event has been a staple of the Wyoming State Fair for years, and for many, celebrates and represents the sport of rodeo and the Western way of life.https://t.co/8ApyXO0P1C

— Wyoming Public Radio (@WYPublicRadio) August 27, 2022
Although Madelaine McElwee did not place first in any contests, Wyoming is still proud of how well she represented our state.
Reata Cook Of Sheridan Wyoming Named 2023 Miss Rodeo Wyoming https://t.co/6MIXYJaFzS A rodeo queen from Sheridan is now the rodeo queen of Wyoming. pic.twitter.com/zCQNronsD4

— Sheridan Media (@sheridanmedia) August 19, 2022