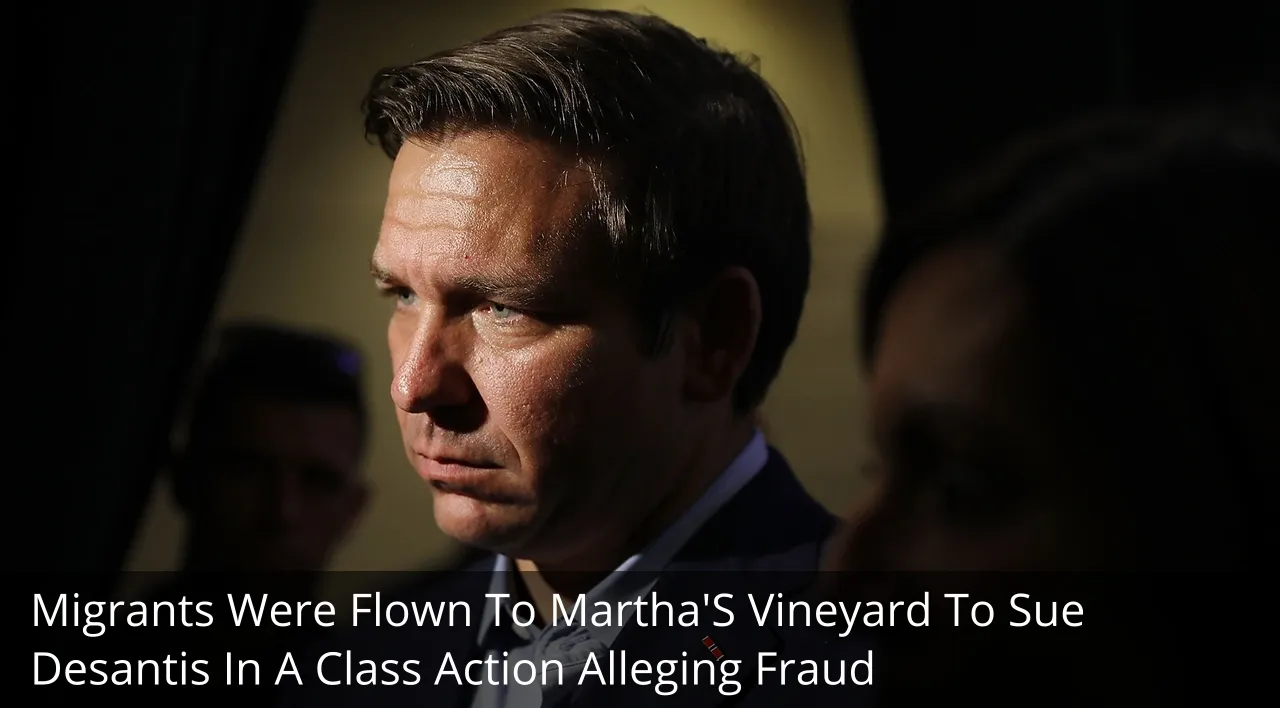 Migrants flew to Martha's Vineyard to sue DeSantis in a class action lawsuit.
On Martha's Vineyard, Mass., a group of migrants huddles on the sidewalk in front of St. Andrews Episcopal Church. Two planes carrying Venezuelan migrants landed on the island unexpectedly Wednesday night. 
On Tuesday, undocumented migrants flew to Martha's Vineyard last week. They filed a class action lawsuit against Florida Gov. Ron DeSantis and other state officials.
Migrants Complaint Against DeSantis
The migrants claim in their complaint that the information promises. What are cash assistance, employment services, and housing assistance, which they describe as "bold-faced lies" and misleading?
According to the complaint, nearly 50 migrants. Mos ly Venezuelans were told they were on their way to Boston and Washington, D.C.
They claim Florida officials "fabricated" a "official-looking brochure." Using language from the Massachusetts Refugee Resettlement Program to "buttress their false oral representations… in furtherance of the conspiracy."
According to the complaint, they fled a humanitarian crisis in Venezuela. Only to be used as "pawns in a political stunt" by DeSantis.
The migrants, who Lawyers for Civil Rights in Boston represent. That claim they have "suffered economic, emotional, and constitutional harms," totaling at least $75,000 in damages. They also request that the federal court prevent DeSantis from repeating his actions.
What else are they saying?
The complaint claims that the Florida officials' actions are discriminatory "based on alienage" and violate the 14th Amendment's guarantee of equal protection under the law.
They claim that Florida officials "intentionally targeted only individuals who are non-white and born outside the United States."
"Defendants' actions not only violated all notions of fairness, but they also violated due process by depriving Plaintiffs of their basic human dignity."
The Other Side
"It is opportunistic that activists would use illegal immigrants for political theater," Taryn Fenske, a DeSantis spokesperson, told Axios.
"If only a fraction of these active ts spent this much time and effort at the border. Perhaps the Biden Administration's reckless border policies will be held accountable le. It compels illegal immigrants to embark on dangerous and often lethal journeys through Central America, putting their lives in the hands of drug cartels and Coyotes."
According to Fenske, who attached a redacted consent form for the flight, it was a voluntary program that provided "homeless, hungry, and abandoned" immigrants with a "fresh start in a sanctuary state."
The Big Picture
Migrant lawyers have asked the Massachusetts attorney general and the federal government to launch criminal investigations in response to the transports, eliciting strong reactions on both sides of the political aisle.
DeSantis has stated that he intends to spend millions of dollars from Florida's budget to continue the contentious practice.
In response, the Biden administration is considering "litigation options."
A sheriff in Texas has launched a criminal investigation into the flights.
It's worth noting that this fiscal year, American border officials have had over 2 million encounters with migrants at the US-Mexico border, setting a new record after sustained surges in migration.