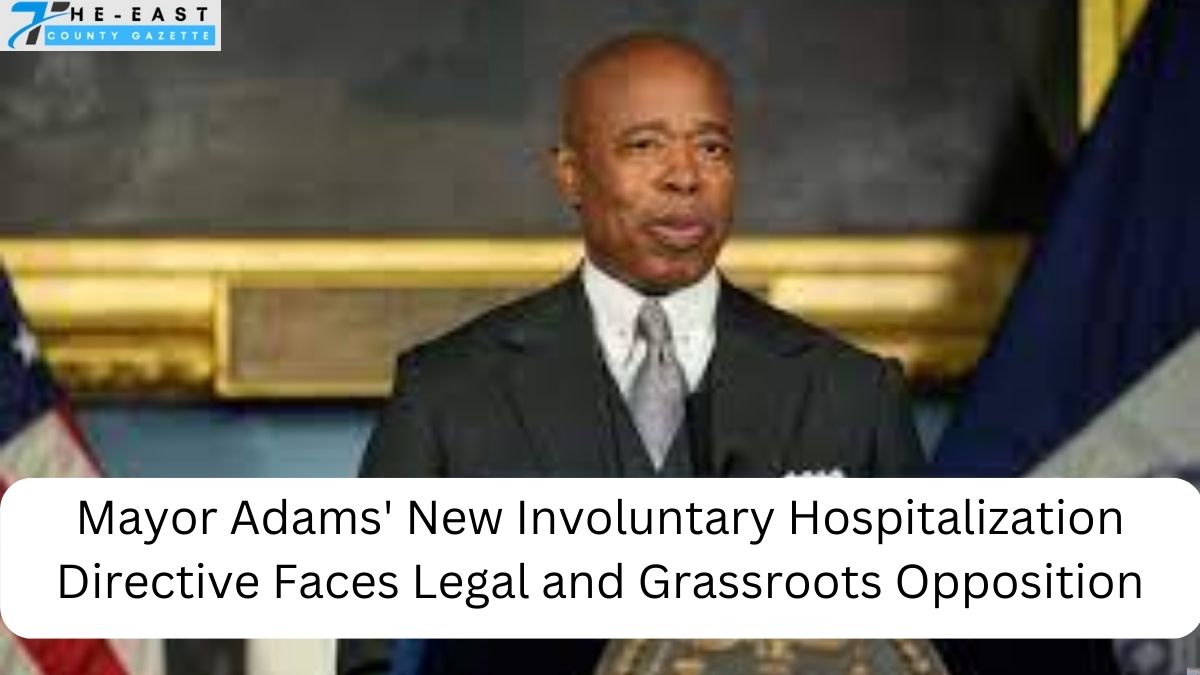 Mayor Adams' New Involuntary Hospitalization Directive Faces Legal and Grassroots Opposition
The public and courts are fighting Mayor Eric Adams' order to emergency responders to involuntarily hospitalise severely mentally ill people.
Lawyers and class action litigants think their municipal challenge will postpone the project.
Response to Mental Health Patients
A temporary restraining order was obtained this week to stop the Adams administration's new policy.
The court issued a preliminary injunction against New York. Even if they're safe, Adams will involuntarily hospitalise mentally ill people. Urgent.
NYLPI, Beldock Levine & Hoffman LLP, Marashi Legal, Community Access, and NAMI-NYC filed the lawsuit (NAMI-NYC).
Supported Critical Intervention Team Programs
NAMI-NYC CEO Matt Kudish said many coalition members suing New York City supported statewide Critical Intervention Team programmes, which educate law enforcement officers to respond to mental health inquiries.
After the police-led killings of New Yorkers with mental health crises—most of whom were persons of color—organizations started to examine officer engagement and oppose Adams' new order.
Also read: Mayor Adams: You Are The One Using Immigrants For Political Purposes
"I'm actually honestly thrilled that we have a mayor right now who's concentrating on severe mental illness, and I believe that there's a lot that we may do to better the lives of the folks he says he's so worried about," Kudish said.
Adams requested on November 29.The mayor's plan expands New York's forced hospitalisation policy for mentally ill New Yorkers to include unsheltered or dangerous people.
The city stated the courts postponed the judgement on Monday. Van Dalen said the lawsuit aims to replace police with non-police teams for mental health treatment and involuntary arrest, incarceration, and transfer.
The NYLPI interviewed 154 New Yorkers with prior mental health crises in October 2021 and discovered patterns of inadequate treatment, challenging sentiments, and terrible experiences that discouraged municipal service usage.
Communities United for Police Reform
15 black or other New Yorkers of colour were slain by New York City police during mental health crises since 2015, according to the Washington Post's fatal police encounter database.
On Thursday, December 8, Communities United for Police Reform protested Adams' new order outside City Hall (CPR).
"We are here today to demand that Mayor Adams put down this horrific scheme that disguises forced therapy as compassionate care," said CPR spokesman Anthonine Pierre.
Expanding NYPD power to institutionalise crisis victims would damage, violate, and traumatise the mayor's citizens.
New Yorkers shouldn't rely on NYPD officers for mental health and housing. They cannot coerce therapy.
Also read: Hochul and Adams have a comprehensive list of COVID goals
Public Advocate Jumaane Williams did not immediately challenge the decision, but he wrote to Adams requesting details on firing methods and the authority of private, non-city hospital EMS employees.
Williams noted on Nov. 29 that the mayor's statement left many components unsolved and issues unanswered and must provide more information on its aims, execution, and non-police investment.
"A system that emphasises overreliance on police, minimises the role of health professionals, and de-prioritizes peer assistance will not be sustainable or successful in helping New Yorkers in need or a city in crisis."
PBA Approved Mayor's Plan
York City police opposed Adams's appeal two weeks after the ruling. Despite scepticism and worries about NYPD staff, the Police Benevolent Association (PBA) approved the mayor's plan earlier this month.
"We need really clear guidelines and training on when and how we should advise them to receive help," said PBA President Pat Lynch.
Leaders must help. Leaders must realise that each new task strains our critically understaffed, overworked, and underpaid ranks. "We can't aid New Yorkers until our city quickly fixes the NYPD staffing issue."
At a news conference on Tuesday, December 13, the mayor announced mental health specialists would spearhead the campaign.
Adams thought two weeks short. Police training. We'll guarantee they use this method to make the best option for individuals who can't care for themselves and are a threat to others. We'll improve."
Source: https://amsterdamnews.com/