Massive US storm unleashes tornadoes to the South and threatens blizzards
The majority of the central United Regions, from the Rocky Mountains to the Midwest, prepared for blizzard-like conditions on Tuesday, while states farther to the South were hit by tornadoes.
The National Weather Service predicted that certain parts of western South Dakota and northern Nebraska might get up to 2 feet (61 centimeters) of snow. Blizzard warnings extended from Montana into western Nebraska and Colorado, and the region could receive up to 3 feet (91 centimeters) of snow. Meanwhile, the eastern Great Plains anticipated ice and precipitation.
In regions of Iowa, Minnesota, and South Dakota, the National Weather Service cautioned that up to half an inch (2.5 cm) of ice might develop and that winds could blow up to 45 miles per hour (72 kilometers per hour). The area was threatened by power outages, tree damage, falling branches, and dangerous traffic conditions.
"This is a 'we are not joking' kind of storm," the South Dakota Department of Public Safety tweeted on Monday, warning residents to stock up on necessities and remain inside until the storm arrives.
The South Dakota Department of Transportation predicted that sections of Interstates 90 and 29 will be closed by mid-morning on Tuesday due to "freezing rain, heavy snow totals, reduced visibility, drifting snow, and strong winds." It is said that secondary roads would likely become "impassable."
Tornadoes, strong winds, hail, and flash floods were anticipated further south on Tuesday, with eastern Texas, parts of Louisiana, and western Mississippi under the worst danger for severe storms. Tornado watches were issued for portions of central Oklahoma and north Texas on Tuesday morning.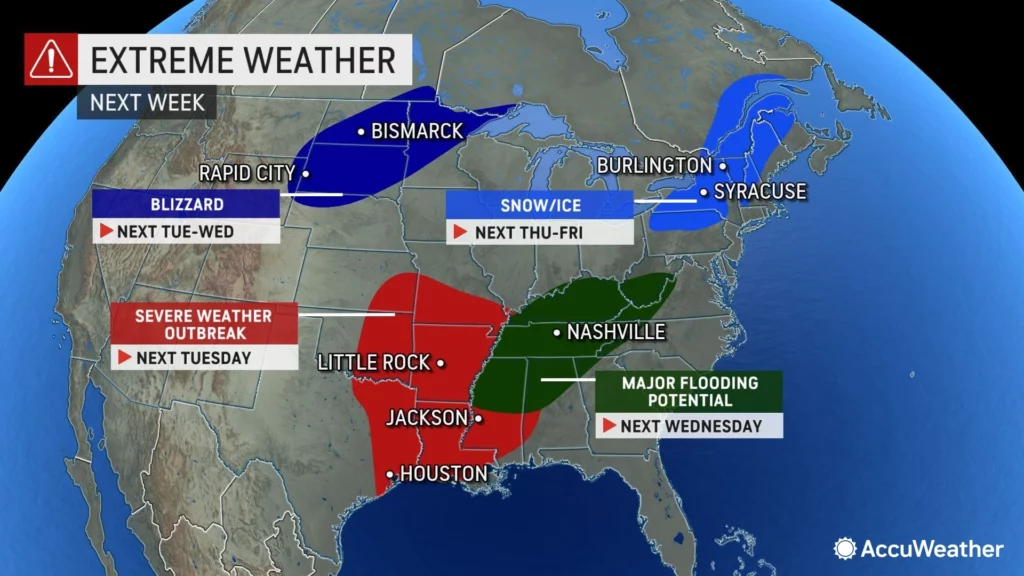 Shortly after 5 a.m. on Tuesday, the meteorological service issued a "confirmed tornado" alert for the Oklahoma town of Wayne. Oklahoma television station KOCO captured extensive damage to a residence near Wayne, roughly 45 miles (72 kilometers) south of Oklahoma City.
At least two tornadoes were detected along the storm's leading edge as it approached the Dallas-Fort Worth metropolitan region on Tuesday morning in Texas. However, the amount of any damage was unknown at the time.
According to the Storm Prediction Center in Norman, Oklahoma, the possibility of severe weather persists through Wednesday across Louisiana, Mississippi, Alabama, and the Florida Panhandle.
"It will be a busy week as this system advances through the nation," said Marc Chenard, a meteorologist at the offices of the National Weather Service in College Park, Maryland.
The weather is a component of the same storm that dropped significant snow on the Sierra Nevada over the weekend and then moved eastward.
Monday morning, a tour bus crashed in northern Utah as snow and subzero temperatures covered the area. The bus crashed onto its side near Tremonton when the driver lost control while changing lanes, according to a statement from the state's Highway Patrol. The Highway Patrol said that 23 passengers were hurt, some severely.
This week, thousands of high school athletes from Native American communities in Wyoming, Nebraska, and the Dakotas traveled to Rapid City, South Dakota, for the Lakota Nation Invitational. One of the organizers, Brian Brewer, said he had asked schools and participants to travel early.
"We warned them that if they leave tomorrow, there is a strong probability they will not make it," he said on Monday. The majority of mountain roadways in Northern California reopened on Monday. The remaining warnings for the mountains of Southern California expired Monday night, according to the weather service.
With winter still more than a week away, it was the most recent autumn storm to provide considerable precipitation to California, where years of drought have prompted demands for water conservation.
Northwest of Lake Tahoe, the UC Berkeley Central Sierra Snow Lab reported that the storm dumped 54.5 inches (138.5 cm) of snow.
When it melts, the Sierra snowpack, which is typically at its height on April 1st, provides a massive supply of water. Throughout the drought, scientists have warned against optimism on early season storms as climate change transforms what were once standard storm patterns.
In October of the previous year, a severe atmospheric river storm dropped massive quantities of rain on California, and a wet spell in December blanketed portions of the Sierra Nevada in snow. The state then saw the driest January through April in recorded history.