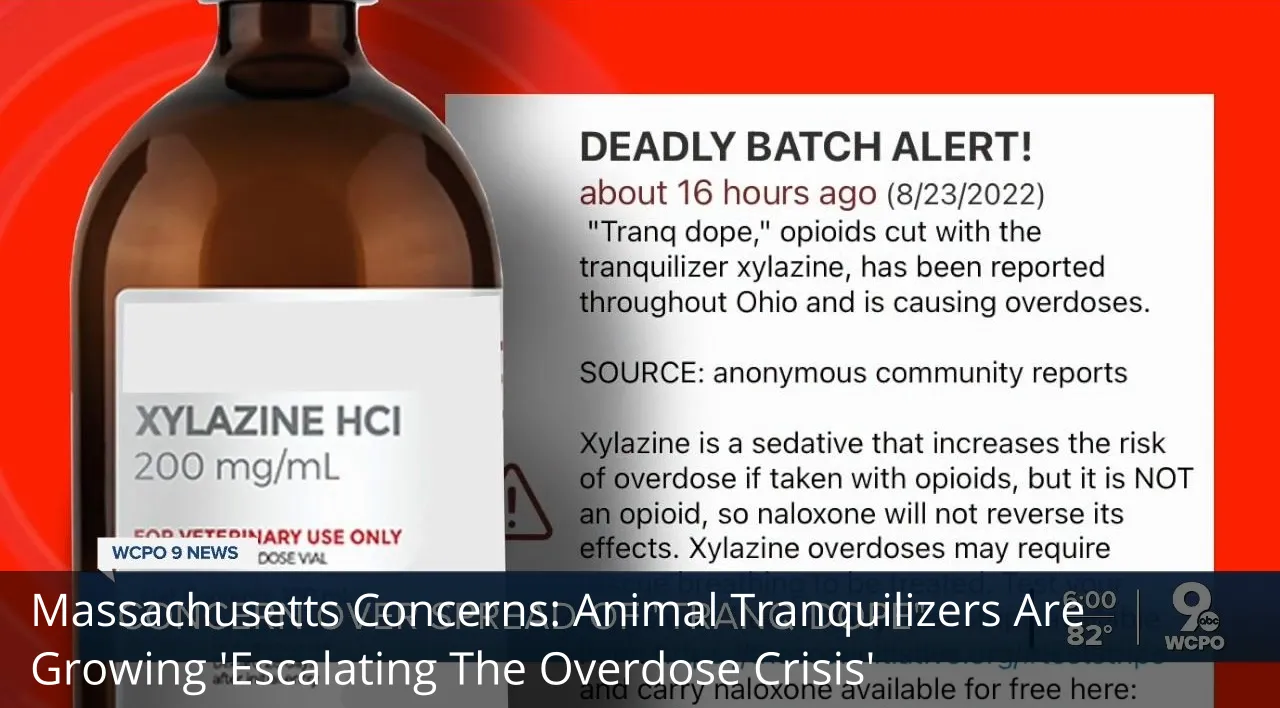 According to health experts across Massachusetts and Boston, MA – Animal tranquilizers are tainting the street drug supply.
Users Are Unaware Of Non-Opioid Xylazine Levels Are Up In Samples
The non-opioid xylazine is rapidly spreading in drug samples throughout Massachusetts, and users are unaware.
"We're trying to track the xylazine as it moves across the state to help community programs and drug users better equip themselves to stay safe." Traci Green of the Brandeis Opioid Policy Research Collaborative said.
Health care providers at Boston Medical Center and Mass General Hospital. They told Boston 25 News that they'd noticed a trend of recent overdoses. They are less responsive to Narcan or aren't responsive at all.
Local hospitals cannot currently test for xylazine. It has been challenging to determine how many overdoses are caused by it. Till it's too late, they're taking it.
The life-saving drug Narcan does not counteract the effects of xylazine. It raises further concerns.
Brandeis University researchers, the Department of Public Health, and local towns. The police departments were alerted as part of a state-funded collaborative tracking program.
In June, 28% of drug samples collected from various parts of the state tested positive for xylazine. According to the Massachusetts Drug Supply Data stream.
In some Massachusetts communities, the program continues to see an alarming rise.
"We don't have xylazine test strips. It doesn't appear on our toxicology report." "That is something we hope to have down the road to inform people who use drugs. Their treatment providers," said Dr. Laura Kehoe, medical director of the Substance Use Disorder Bridge Clinic at Mass General Hospital.
Doctors say Narcan should still be used to treat overdoses caused by opioids. But that may have been mixed with xylazine.
Overdoses Increase As Xylazine Levels Rise
A person's high after taking a drug laced with xylazine is described as long-lasting, intense, and in some cases, lethal.
According to the Massachusetts Drug Supply Data Stream alert, it is a "long-acting, non-opioid sedative that can cause unresponsiveness, unconsciousness, low blood sugar, low blood pressure, slowed heart rate, and reduced breathing."
The horse and cattle sedative causes wounds and sores on users' bodies, increasing the risk of soft-tissue infections and amputations.
"This is exacerbating and frightening the overdose crisis," said Dr. Miriam Komaromy, medical director of Boston Medical Center's Grayken Center for Addiction.
Traces of xylazine have been discovered in heroin and fentanyl powders. As well as pressed counterfeit pills, according to the state-funded tracking program.
"People think they're getting one substance, but they're getting another," Dr. Komaromy explained. "It has the potential to have unexpected and devastating consequences."
The National Institute on Drug Abuse has linked xylazine to an increase in overdose deaths across the country, with the Northeast bearing the brunt of the toll.
Xylazine was found in 91% of opioid samples in Philadelphia last year after first appearing in parts of Puerto Rico.