Mass Shooting During Birthday Party in Portage Park-The Court Ruled The Suspect be Held Without Bail
According to the judge, the man accused of shooting and killing three people and gravely wounding another outside a party in Portage Park over the weekend will be jailed without bail.
The 32-year-old suspect, Samuel Parsons-Salas, has been charged with three charges of first-degree murder, one act of attempted murder, and one crime of kidnapping in connection with the early Sunday shooting.
According to the police, he confessed to the shootings and expressed regret over the loss of the life of a victim who had taken cover behind a vehicle. Prosecutors claimed in court on Wednesday that everything started at 2:20 a.m. on Sunday when someone attacked Mariah Vera, 25, whose birthday was celebrated at the party.
After seeing Parsons-Salas outside, Ricky Vera, his daughter's father, asked who had hit his daughter. After that, Parsons-Salas got a gun out of a car and shot Ricky Vera multiple times, eventually taking his life. The suspect then fatally murdered Mario Pozuelos, 26, a close friend of the family.
Mariah is in critical condition after taking a blow to the head
While Mariah Vera was kneeling over her injured father, trying to help, he opened fire and tried to kill her. Mariah is in critical condition after taking a blow to the head; she has bone shards in her brain.
When Parsons-Salas saw Mercedes Tavares hiding behind a white van, the prosecution said, she alerted the police. He got in close and fired at her. The perpetrator then walked up to where she lay bleeding on the sidewalk and fired another shot into her head.
According to the police, Parsons-Salas escaped in a different vehicle driven by someone else. Prosecutors stated on Wednesday that she was Parsons-Salas' two-week girlfriend. When he opened fire, she took cover in a passing automobile.
Then, with a gun to her head, Parsons-Salas got in the car and ordered her to drive. She attempted a wreck out of desperation but was instructed to continue operating by Parsons-Salas. Once they arrived at an apartment, he threatened her again if she attempted to contact anyone.
The accusation of kidnapping stems from this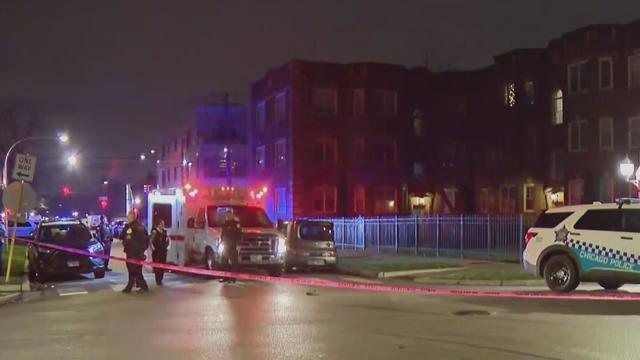 After serving time for an armed home invasion in the Albany Park area that claimed the lives of two people in 2009, Parsons-Salas was granted parole in September of this year. In 2009, Angelina Escobar and her fiance Alex Santiago were murdered in a home invasion and robbery on the 3500 block of West Sunnyside Avenue.
In 2014, he was arrested and charged with committing the crime. Christopher Doehring, another defendant, is behind bars for life for pulling the trigger.mAfter a year, Parsons-Salas was arrested for assaulting a corrections officer.
According to the official court documents, in 2018, Parsons-Salas entered a guilty plea for two offenses stemming from the same incident that occurred back in 2009. He received four years and eight months of credit toward his eight-year sentence. Prosecutors gave no apparent reason for why he was offered a bargain.
Diane Lauletta, Escobar's mother, spoke about her son's 2009 murder. Upon seeing the demon, Lauletta remarked, "I don't know what foolish entity would let a demon like that out on the street." Lauletta is outraged by her daughter's punishment and is shocked by the allegations against Parsons-Salas.
"Illinois should be ashamed"-A victim's mother says
"How do you sleep, whoever let him out?" In the words of Lauletta. "What's keeping you up at night? Three more innocent people have died. How can you sleep tonight?" She argued that it might have been possible to stop the Portage Park shooting if more precautions had been taken.
She remarked, "I was disgusted." I felt something horrible was going to happen, and I was correct. Lauletta, who spoke with us via Zoom from Los Angeles the day after having throat surgery, is familiar with Parsons-Salas.
Lauletta remarked, "Illinois should be ashamed; three more people have died due to this, and it need not have happened." While Doehring was found guilty of using a firearm during the 2009 home invasion, she underlined that Parsons-Salas was also a significant player.
"He made it possible for them to do it. He took them in his car, "the woman stated. They were murdered because of him. Parsons-Salas is back in jail for time already served, less than three months after being released on parole.
Who will offer an apology to these families on behalf of the legal system? In the words of Lauletta. Parsons-Salas' term for the house invasion had expired. Therefore the Illinois Department of Corrections claimed he was not "given parole" but was on parole at the time of the homicides last weekend.
The Vera family has a GoFundMe set up for their burial and medical costs. The mother of three, Tavares, has had a GoFundMe page put up for her family.
source: cbsnews.com