According to the U.S. Bureau of Labor Statistics, the national unemployment rate for Blacks, Latinos, Asians, and Whites fell to its lowest level since the pandemic began in 2020.
In January, the national unemployment rate for African-Americans fell to 6.9 percent, according to the most recent data. This is the lowest unemployment rate for Blacks over the age of 16 since January 2020, when it was 6.3%. Unemployment among African-Americans was 6.5% in November of last year, a record low.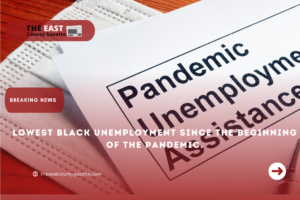 Due to increased hiring and companies returning to normal operations, the pandemic black unemployment rate has decreased.
There has also been a significant decline in the national unemployment rate for white, Latino, and Asian populations. It is estimated that 4.9% of Latinos and 3.6% of Asians were unemployed in the United States in March of this year. Last month, the unemployment rate for white people in the United States was 3.4%.
Biden commended the low figures, especially for Blacks who have long lagged behind other ethnic groups in the job market. President Joe Biden.
Despite the fact that black unemployment was down in February, it remained twice as high as white unemployment and the national average. In August and September of this year, just 5.4 percent of Blacks were out of work, but January's percentages are higher than that.
It was around this time that the jobless rate for African-Americans rose to double-digits. Between April 2020 and December 2020, the Black unemployment rate decreased from 16.6 percent to 10 percent, according to labor statistics.
The retail, industrial, and hotel industries employed many Blacks who lost their employment as a result of the pandemic. In the wake of the reopening of these enterprises, many Blacks refused to return and many were not recruited again.
Once schools reopened and government aid programs ended, the job market for Black women began to pick up speed. In spite of this, it has been stated that Black women are still having difficulty finding employment.
However, President Biden claimed that the February report was one of the strongest in recent memory.
"We've made history here," Biden declared.
As President Biden put it, "It comes at a time when the unemployment rate has dropped to its lowest level in nearly four decades, child poverty has declined at its fastest rate ever, and the economy has grown at its fastest rate in nearly four decades."
As food and gas costs continue to climb substantially during the pandemic due to labor and supply constraints, President Biden admitted that many American families are still experiencing inflationary pressures.
President Biden observed, "The cost of everything is taking a toll on the average person." Fuel costs are rising at the pump." Despite our best efforts, they continue to rise. Cost of food has risen. Additionally, we're doing everything we can to bring them down.
There was an increase in the number of Black people out of work in December, according to U.S. Labor Secretary Marty Walsh: "We are committed to establishing an inclusive recovery that lifts up all workers and communities," Walsh said.
We are ensuring that the President's Bipartisan Infrastructure Law creates high-wage jobs for every community by investing in job training programs and career services, strengthening health
and safety, wages and anti-discrimination protections for the most vulnerable workers, and making sure the President's Bipartisan Infrastructure Law creates good jobs for every community." Morning, noon, and night, we are committed to enabling all employees."
House of Representatives voted 222-210 to enact the COMPETES Act, which is designed to help the United States keep pace with China in the semiconductor chip business prior to President Biden's remarks.
Current economic challenges, such as supply chain interruptions and global scarcity of semiconductor chips, are the focus of the legislation, which is expected to be signed into law by President Trump.
As part of an effort to level the playing field for American businesses and oppose China's market-distorting trade practices, the bill would make a number of modifications to American trade standards.
Representative Nancy Pelosi (D-Calif.) stated that Democrats are ready to build on the amazing economic momentum by continuing their efforts to cut families' prices, strengthen our supply chains, and produce more goods in the United States (D-Calif.)
President Biden and House Democrats will continue to lead our nation to Build Back Better to generate more good-paying jobs and cut costs for families across America," Pelosi declared.