Inflation is expected to cost Americans an additional $276 per month as a result of the current rate of growth.
According to a new Moody's Analytics report, the average American is spending an additional $276 per month as a result of the greatest rate of inflation in four decades.
Consumers are dealing with a once-in-a-generation case of sticker shock, as the cost of everything from automobiles to groceries to fuel to furniture continues to rise dramatically.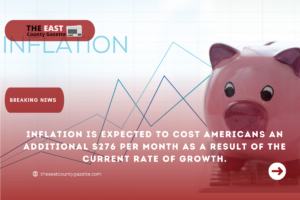 According to a new Labor Department report released this week, the consumer price index increased by 7.5 percent in January compared to the same month the previous year. This is the largest increase since February 1982, when inflation reached 7.6 percent.
Over a one-month period beginning in December, the Consumer Price Index (CPI), which measures a variety of items ranging from fuel and health care to groceries and rent, increased by 0.6 percent.
READ ALSO: QR code for Coinbase It was so popular that the app crashed.
It costs the average household $276 per month to be living in an environment where inflation is 7.5 percent on a year-ago basis, as opposed to the 2.1 percent average growth in 2018 and 2019, according to Ryan Sweet, a senior economist at Moody's Analytics.
Sweet arrived at that figure by comparing the prices of products and services when inflation reached 7.5 percent to the prices that families would have paid for those same items when inflation was 2.1 percent, which was the average rate in 2018 and 2019.
Although energy costs rose only 0.9 percent in January from the previous month, they are still up 27 percent from the same month the previous year.
The increase was widespread last month: Gasoline is now 40 percent more expensive on average than it was last year. Food prices have also increased by 7 percent over the course of the year, while used vehicle and truck prices – which account for a significant portion of inflation – have increased by 40.5 percent.
The cost of housing increased by 0.3 percent for the month and by 4 percent year over year.
"A large number of people are suffering as a result of increasing inflation. $276 a month is a significant financial strain "Sweet spoke with The Wall Street Journal about his experiences. "It really drives home the notion of 'what is the price of inflation?'" says the author.
The financial impact of soaring inflation is not distributed evenly and varies according to income and demographic groups, among other things.
According to a different Wells Fargo analyst, lower-income Americans, particularly those who are renters, are likely to be facing significantly higher inflation than wealthy owners of their own homes.
Prices rose by 6.7 percent in December, which was 0.5 percentage points greater than the increases experienced by households in the lowest and highest income bands. Middle-income households were the hardest hurt by the price increase.
The reason for this is largely due to transportation costs – middle-class households tend to spend significantly more on fuel than households from other income levels.
They are also more inclined to purchase secondhand automobiles, whereas wealthy individuals are more likely to purchase a new automobile. Secondhand car values, a crucial component of the inflation surge that has been ongoing for several months now, rose again last month, up 1.5 percent from the previous month and 40.5 percent year on year.
In contrast, the price of new cars increased by 0.6 percent in December compared to the previous month and by 12.2 percent compared to the previous year.
Additionally, higher-earning households spent more money on dining out and dining establishments, which increased at a slower rate than total inflation.
Finally, Hispanic and Latino households saw inflation of 7.1 percent, primarily as a result of the disproportionate usage of fuel and pre-owned automobiles by this group. That compares with an average inflation rate of 5.6 percent for Asian households, which tend to be wealthier than the average American household.