In California, a police helicopter crashes into water, killing a police officer.
A California police officer was killed, and another was badly injured after a law enforcement helicopter crashed into the water off the coast of Orange County on Saturday night, authorities said.
According to local news accounts, the helicopter crashed into the water shortly after 6:30 p.m. near Newport Beach, roughly 40 miles south of downtown Los Angeles, in front of a large crowd of people who were sitting on the beach at the time.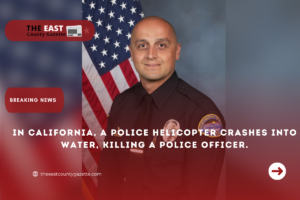 During a press conference held Saturday night, Huntington Beach Police Chief Eric Parra announced that Nicholas Vella, 44, had died as a consequence of injuries he incurred in the incident. Vella served with the department for 14 years.
Immediately following the crash, Vella and his partner were both retrieved from the sea and sent to a local trauma clinic for treatment.
According to police, another officer, a 16-year veteran, is in stable condition at the trauma center after being shot.
It was not immediately obvious what had caused the crash. As of 8 p.m. local time, the airplane was still submerged in water.
Officials confirmed that the aircraft belonged to the Huntington Beach Police Department, which is just a few miles away.
"We can confirm that our police helicopter, HB1, came down in the Newport Beach vicinity and was destroyed. Rescue operations are currently ongoing, and additional information will be shared as soon as it becomes available," the department stated on Twitter.
An earlier helicopter crashed into the ocean off the coast of Miami Beach, Florida, in front of hundreds of beachgoers, was reported earlier on Friday. There were no recorded casualties in the accident.