Republican Blake Masters, who was falling behind in his Arizona Senate race as the ballots rolled in, appeared on Tucker Carlson's Fox News program and singled out Senate Minority Leader Mitch McConnell for blame.
"Tucker, you know what else is incompetent? the business. Masters referred to those in charge of the purse strings before charging that the long-serving GOP leader and the super PAC supporting him were underspending on TV advertising. "This election would have been decided if he had decided to spend money in Arizona. If the Senate had a majority, we would be jubilant right now.
Not only did Masters lose the election to Democratic Senator Mark Kelly. He lagged behind every other Republican candidate in Arizona for statewide office. However, Masters neglected to mention another issue: He was unable to gather a sizable sum of money on his own. He was hardly alone.
Republicans are engaged in a round of finger-pointing as both parties sort through the results of Democrats' stronger-than-expected showing in the midterm elections. This includes a failed attempt by Florida Sen. Rick Scott, who oversaw the Senate GOP's campaign arm, to challenge McConnell for the leadership position.
However, the blame games mask a much bigger problem for the party. A large portion of their nominees, many of whom were first-time runners who took far-right positions, were unable to acquire the funds necessary to run competitive campaigns. The result was that party leaders, particularly in the Senate, were forced to make difficult decisions and direct their resources to the races they believed they had the best chance of winning. As a result, they frequently paid exorbitant fees to TV stations even though they were legally required to sell the same advertising time to candidates for much less.
Democrats were able to reach voters early and unopposed as a result of the poor financing, whereas GOP candidates had the means to do the same.
According to Steven Law, a former McConnell chief of staff who now heads Senate Leadership Fund, a super PAC that spent at least $232 million on advertising to elect Republicans to the Senate this year, "this has become an existential and systemic problem for our party and it's something that needs to get addressed if we hope to be competitive."
"Our (donors) are becoming increasingly concerned that they are being forced to foot the bill for candidates in competitive races who have poor fundraising efforts. And something must be sacrificed. It just isn't sustainable, according to Law.
According to an Associated Press analysis of campaign finance data, Democratic candidates outraised their Republican counterparts by a ratio of almost 2-to-1 in crucial Senate and House battlegrounds.
Take a look at the few elections that assisted Democrats in keeping control of the Senate.
Kelly outraised Masters in Arizona by over 8-to-1, according to statistics, and Kelly spent at least $32 million on TV advertising from August through Election Day. After Senate Leadership Fund withdrew from the race, Masters spent slightly more than $3 million on advertising within the same time frame.
Sen. Catherine Cortez Masto raised $52.8 million in Nevada, while Republican Adam Laxalt only raised $15.5 million. Additionally, Democratic Senator-elect John Fetterman raised $16 million more than his Republican opponent, Dr Mehmet Oz, in Pennsylvania. That's true even if records indicate that the famous TV doctor contributed $22 million to his campaign.
Similar discrepancies also appeared in other critical House elections, such as those in Virginia, Pennsylvania, and Nevada, which helped keep the number of Republicans in the House to an unexpectedly small margin.
Democrats' funding advantage resulted in significant gains when it came to acquiring TV commercial time. The lowest price must be provided to candidates by ad sellers by law. Super PACs, which Republican candidates frequently paid a premium to use to narrow their funding difference, are excluded from that same benefit.
According to advertising data given to the AP, a candidate could, for instance, spend $598 on a TV ad unit in Las Vegas. A super PAC had to pay $4,500 for that identical portion. A super PAC paid $1,270 for a $342 ad in the Raleigh-Durham media area in North Carolina. The advertising data also reveals that a super PAC spent over $2,000 on a $580 Philadelphia-area candidate segment.
Additionally, Republicans were forced to play defense in states where there was no real competition.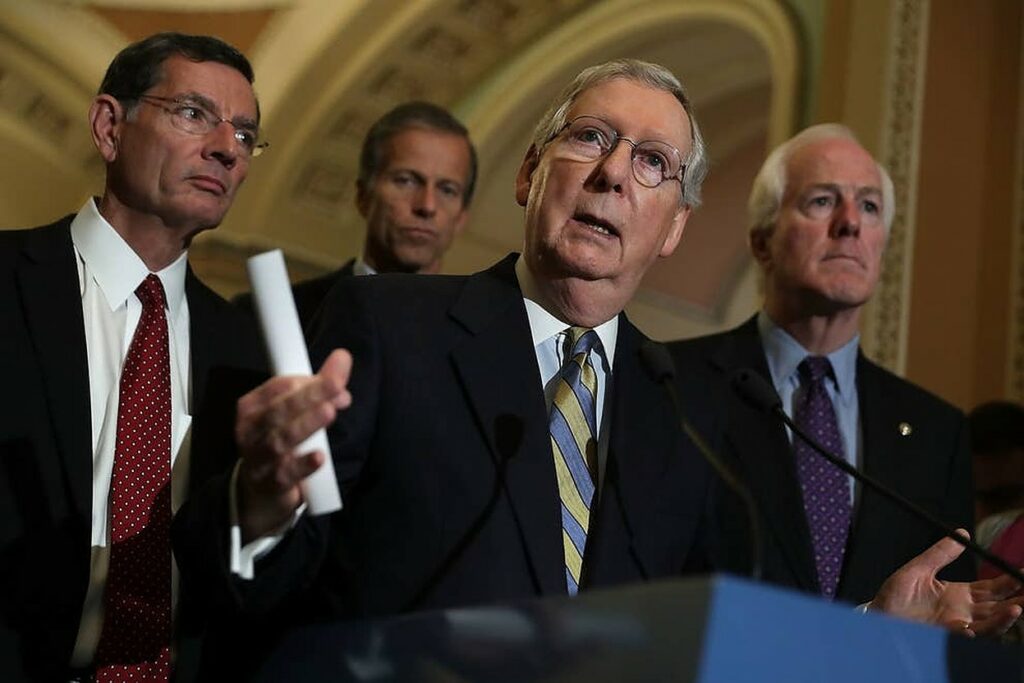 Democratic Rep. Tim Ryan raised over four times as much money as J.D. Vance, who defeated him in the battle for the Ohio Senate by more than six percentage points. The Senate Leadership Fund invested $28 million in the state to support him. In the end, the group was responsible for around 70% of all Republican media spending from August through Election Day.
A similar scenario occurred in North Carolina, where 82% of Republican advertising expenditures during the same period were made by the super PAC aligned with McConnell. Ted Budd, a Republican, won by more than 3% of the vote. Money problems weren't the only obstacle, though.
Several first-time, unproven candidates were boosted by Donald Trump. They included Masters, Vance, and former NFL player Herschel Walker. Walker has a murky past that includes allegedly threatening to kill his ex-wife, making up business success, and being accused repeatedly of pressuring a girlfriend to obtain an abortion. Walker denies these accusations. Then there was Oz, a candidate for the position who relocated to Pennsylvania and received Trump's support as well. However, he was derided by Democrats as an out-of-touch carpetbagger.
The former president supported them, but he was frugal when it came to contributing some of the more than $100 million he'd earned to a group that supported rival candidates. According to data, he ultimately spent $15 million on advertisements for five Senate contests.
Scott commanded the National Republican Senatorial Committee, which frequently clashed with McConnell's political machine.
Scott decided early on that he would not interfere in primaries because he considered it to be improper. Meanwhile, McConnell's supporters moved to block candidates they believed to be unqualified for the general election, such as Don Bolduc, a far-right conservative who lost his New Hampshire primary last week by nearly ten percentage points. Against a conservative challenger, McConnell's supporters also protected Sen. Lisa Murkowski, a GOP moderate.
Senate elections are just different, McConnell noted in August. "The outcome has a lot to do with candidate quality."
Without naming him specifically, Scott responded by claiming that any "trash-talking" by Republican candidates was an "act of cowardice" and "treasonous to the conservative cause" in an opinion piece that appeared in the Washington Examiner.
But his group also failed as a result of a string of unsuccessful wagers, which included an expensive expenditure to increase the committee's internet fundraising.
According to an internal document obtained by the AP and previously published by The New York Times, the committee spent $23.3 million between June 2021 and January 2022 developing their digital fundraising program. However, the NRSC had a deficit throughout that time, raising only $6.1 million. Then the flow of money from internet contributors slowed to a trickle as inflation shot up.
Because of this, the NRSC was unable to spend as much money on television advertisements as in the past, despite Scott's optimistic predictions of up to five Senate victories. However, the digital fundraising campaign was beneficial for consultants, who received at least $31 million in payments, according to disclosures.
Now, some Republican senators are demanding a committee audit. Maine Senator Susan Collins questioned Scott's administration of the NRSC during a sometimes contentious Senate GOP lunch last week at the Capitol.
Scott's aides denied any financial irregularities and instead charged McConnell with undermining the investigation.
Scott requested donations for the NRSC, which is currently at least $20 million in debt, from senators during a Senate GOP lunch in August. Two people familiar with the conversation who asked to remain anonymous to describe it said that McConnell then addressed the room and instructed the senators to give to the Senate Leadership Fund in preference.
According to Chris Hartline, a spokesman for the committee, the conversation was a part of a larger strategy McConnell used to undermine the NRSC. Donors were given the very obvious message that they shouldn't support the NRSC, "said Hartline. "As a result, it made it harder for us to support and promote our candidates.
However, according to senior Republicans strategists, McConnell's allies believe Scott was using his position to enhance his reputation at the expense of the party, possibly to position himself for a presidential run. They spoke anonymously because they weren't allowed to divulge the McConnell allies' findings.
The conversation, according to Chris Hartline, a committee spokesperson, was a component of a bigger plan McConnell employed to discredit the NRSC.
Donors were informed in a very clear manner not to fund the NRSC "Hartline added. "It consequently made it more difficult for us to support and advance our candidates.
Senior Republican strategists, meanwhile, claim that Scott's supporters believe he was abusing his position to advance his name at the expense of the party, maybe to set himself up for a presidential bid. They spoke under the alias since they were forbidden from sharing the McConnell friends' discoveries.